PCs have many advantages, but they also need adequate protection against cyber threats. The best anti-ransomware for PC can't be chosen by simply looking at its promotions. To get the best out of it, you should consider the quality of decryption tools available in Anti Ransomware software. 
How Does Ransomware Decryption Tool Works?
When ransomware attacks a computer, it encrypts or locks sensitive user data like bank details, financial statements, etc. They use a strong encryption tool to do this. Now they ask for money from the owner to give him the decryption tool or process.
The cyber security experts have closely monitored the encryption and decryption of files by the hackers and developed an algorithm that can be used to unlock ransomware-affected files. The decryption key analyses the loopholes between the encryption process that can be short as a millisecond. Reputed antivirus companies use these algorithms to give protection to their users.
Also Read- Ransomware File Extensions List
List of Best Ransomware Decryption Tools for Windows 10, 11 in 2022
No More Ransomware Project

 Kaspersky Rakhni Decryptor

Trend Micro Ransom File Decryptor

AVG Antivirus

Bitdefender Antivirus Plus

Avast Antivirus

Webroot Antivirus

McAfee Ransomware Recover
As mentioned earlier, it may not be easy to select a good ransomware protection provider. We have made a list for you. The list contains all the effective ransomware decryption tools that will help you decrypt your affected files and provide further precautions so that ransomware remains far away from your device.
1. No More Ransomware Project
No more ransomware decryption tool is developed by well-known law enforcement agencies and cyber security companies worldwide. It focuses mainly on protecting its users from ransomware attacks by identifying and removing the various types of such files. The software has more than a hundred encryption keys as a solution to Cyberattacks. 
Some of the additional features of the No More Ransomware Project include reporting of encrypted ransomware files, availability e in 25 languages,  frequent updates, etc. In addition, the decryption tool protects its user from ransomware and educates them on how to take preventive measures against it.
Price: Free and Paid
2. Kaspersky Rakhni Decryptor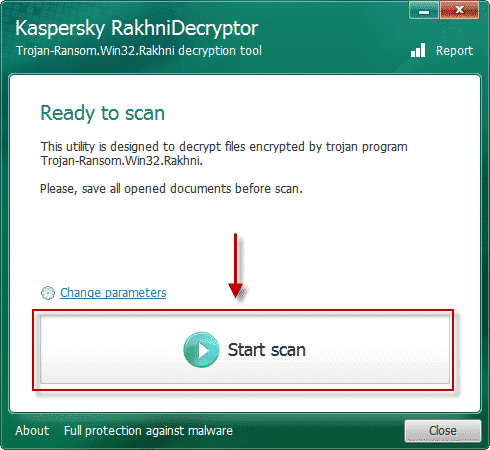 If you want a reputed software brand to decrypt your ransomware-affected file for free, Kaspersky will be the best choice for you. It provides a powerful description facility with more than 30-decryption options that will work on a wide variety of corrupt files. In addition, users get a complete guide in Kaspersky where they learn how to prevent and remove ransomware.
The software also gets regular updates that renew its decryption bundles, thereby increasing its effectiveness. Thus, all over Kaspersky can be called a pocket-friendly ransomware solution to use.
Price: Free
3. Trend Micro Ransomware File Decryptor
It is comparatively a new software that prevents ransomware threats from reaching your computer with its powerful filtering Technology. Furthermore, the ransomware decryption tool also works on the infected systems and can help you unlock a Virus encrypted file effectively. Moreover, Trend Micro Ransom File Decryptor is lightweight and easy to use.
There are both manual and auto-detection modes in this decrypter. The auto-detection feature automatically detects the file type that has corrupted your data and unlocks it.
Price: Free and Paid
4. AVG Ransomware Decryption Tools
AVG Antivirus Is another effective ransomware description tool. The antivirus has a clean and straightforward user interface with all automatic features that will save your time. It provides security from downloadable threats and suspicious links to its uses. Additionally, AVG Antivirus Can be used to scan your PC with your mobile remotely.
The most promising aspect of AVG Antivirus is that it has two variants, one free another paid. The free version has all the required features, but the advanced features require a premium download.
Price: Free and Paid
Visit Site
5. BitDefender Anti-ransomware
It is a cost-efficient antivirus cum ransomware decryption tool that has lots of virus protection mechanisms. Bitdefender is trusted by millions of users who have fetched it the "Best Independent Antivirus" title. The antivirus scan accurately detects, eradicate and block malicious URLs to keep your online banking and other sensitive actions safe.
Moreover, you will get a password manager and anti-phishing alert with Bitdefender Antivirus Plus. The ransomware decryption tool scans all your link devices to lower the threats.
Price: Free and Paid
6. Avast Antivirus
Our following inclusion is a complete solution to different cyberattacks, including ransomware threats.  Avast is famous for providing free cyber security to its users. It protects its users from ransomware threats by network filtering and decrypting ransomware encrypted files.
Avast also has a mobile version that will protect your device from address and phishing attacks. The best thing about this ransomware decryption tool is that you will get almost all features free of cost.
Price: Free and Paid
7. Webroot Antivirus
If you want lightweight ransomware description software, then Webroot Antivirus will be a perfect choice for you. The downloadable program is hardly 2 MB in size and doesn't even try to bother your RAM much. But despite its small size Webroot will protect your sensitive data from all types of ransomware encryption effectively.
Although there are very few expert reviews available for this anti-ransomware software, generally, it has topped all the tests done. It will be an injustice to compare Webroot with other reputed brands.
Price: Free and Paid
8. McAfee Ransomware Recover
This is one of the oldest cyber security software that provides best-in-class decryption Technology for corrupt files. McAfee developers are continuously working towards making it a better variant to protect users against all the latest threats emerging in the digital world.
The tool has the potential to unlock user files,  applications, databases, etc., that are encrypted by ransomware. Finally, all these advanced features are available free of cost.
Price: Free 
Visit Site