Smartwatches are the recent inclusions in the segment of convenience gadgets. Nowadays, you can receive, reject or forward calls directly from your wristwatch. However, there are many more things for which you can use it. For example, taking notes.
Taking notes now and then might become necessary for a person. We have long forgotten to do so in pen and paper, and smartphones have become our digital notebooks. But what if I told you you could just use your smartwatch to do the same? Yes, it is possible using voice commands.
Apple Watches can be said to have the most features. So today, we have listed some notes keeping apps for iOS watches. These applications will help you to record important reminders without using your iPhone.
Also Read- Best Live Wallpaper Apps for iPhone
List of Notes Apps For Apple Watch
Notebook

Bear – Markdown Notes

Microsoft OneNote

Drafts

SnipNotes

Evernote

Cheatsheets
1. Notebook
The user interface of Notebook is pretty straightforward, making it one of the favorites for the users. It is one of the simplest notes apps that you will get for your latest Apple watch. You can use it to make notes on your iOS device, which can be accessed through your wearable.
Additional features are also available with Notebook apps such as night mode, history, watch dictation, etc. However, you will not get the part of directly creating notes from your Apple watch. In addition, some advanced options are behind the paywall, making it expensive.
Price: Free, Offers in-app purchases
2. Bear – Markdown Notes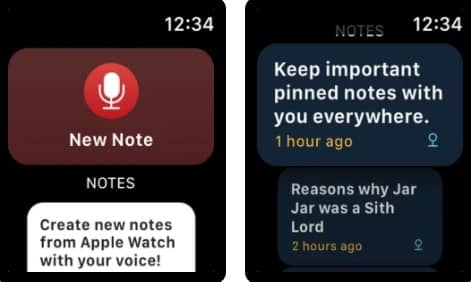 This is a useful notes app for Apple watch that allows users to take notes on their watch. It has a voice-to-text option that makes you do this job easily. Now, you can note important events on your iOS device without bothering to touch your phone.
The app is free to use but only with basic features. Moreover, the notes recorded on the Bear app can be shared with other users if required. Multi-device syncing is also available, making the app more versatile to use.
Price: Free, Offers in-app purchases
3. Microsoft OneNote
It is a well-known app offered by Microsoft to record your ideas, plans, and discoveries. The best part of Microsoft OneNote is that you can use it with your apple watch and access your notes through it. You will also get notifications for your upcoming events on your Smartwatch.
Microsoft OneNote's settings are simple and let users become familiar with it quickly. In addition, you can add pictures and dates with your notes to make them vivid. Finally, the app is entirely free to use.
Price: Free, Offers in-app purchases
4. Drafts
Drafts is another popular not keeping app for iOS devices. You need to create an account to use this application. This ensures your data syncs on all your devices, including iPad and apple watch.
Additionally, you can also access your notes from the web application of the app. You can also send those notes via email, messages, etc., directly from Drafts. Drafts will be a good choice as a notes app considering all these features.
Price: Free, Offers in-app purchases
5. SnipNotes
Our subsequent inclusion is an excellent note-taking app that works well with Apple wearables. The app is named SnipNotes and is presented by Felix Lisczyk. SnipNotes' main USP is easy to digest interface and sleek design.
An average user will find almost every required function in the app. For instance, you can add pictures, important dates, contact details, etc., as reminders. You can also convert your notes into PDF and Docx format.
Price: Free, Offers in-app purchases
6. Evernote
You all may have heard about this particular app once in your lifetime. Evernote is one of the oldest Notes apps that one can have on their smartphone. And most recently, the app is available to access through the Apple Watch, which has made it relevant to iOS users.
Evernote is available on almost all platforms, including Chrome, Android, Mac, etc. It has a hidden benefit: you can sync your notes across all those platforms, making it a cross-platform application. However, users cannot use their Apple Watch to take notes in Evernote.
Price: Free, Offers in-app purchases
7. Cheatsheets
If you want a Notes app to add or delete notes right from your wrist, then Cheatsheets will help you out. The app lets you keep short notes like ID number, hotel room number, luggage combination, etc., in the form of widgets.
You can arrange the cheats according to their priorities, and they will show up on your iOS watch. In addition, you don't have to connect your phone with the watch to access notes as all of them are synced in iCloud.
Price: Free, Offers in-app purchases