We all have duplicate files in our Windows system,  try to delete them manually, but it is time-consuming, and there is a possibility that you will miss many duplicate files. Duplicate files are a problem for many people who download stuff and forget about it. It ends up with ten different versions of 10 different files that are the same file.
Having a duplicate file finder tool in your device is one of the basic needs nowadays to manage & organize files efficiently. To remove duplicate files from your device, you need a utility tool that can find and delete the duplicates created on your device.
Also Read- Best Driver Updater Software For Windows
List of Best Duplicate File Finders for Windows 11/10
When you use a computer actively, it accumulates quite a lot of duplicate files. You may not even know how many duplicated files your computer keeps, but still, they will take up precious space. Duplicate files can be located in different places on your computer.
Files in your "Downloads" folder that you have downloaded several times; similar photos & music files are hidden so deep that you don't even come to think of searching for them until the task of cleaning the disk finally gets your attention.
Technically, you could get rid of all those files manually, yet it sometimes gets too complicated. That's why these unique programs are made, which helps you find and delete duplicates.
1. CloneSpy
It has an intimidating interface and is free to use. This software works exactly like the paid ones. It finds duplicates on your device by byte-by-byte comparison. With the help of this software, you can scan your local hard drive and network drives as well.
This option to scan network drives is not available on many paid sites. It not only makes space by deleting unnecessary files but also makes a report of that. One drawback it has is that it looks obsolete.
2. Easy Duplicate Finder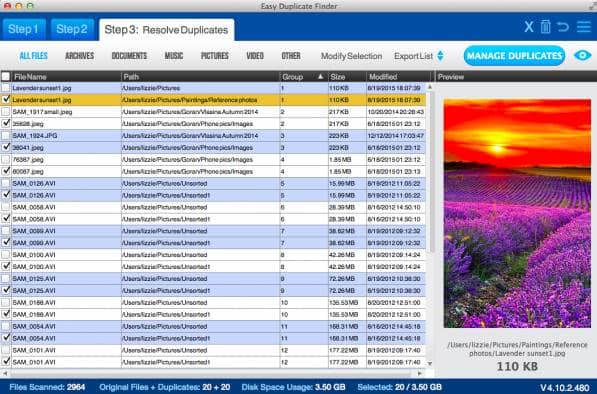 This one provides an ultra-fast search with 100% accuracy. It has lots of different scale modes and is very quick. The most important thing is that it's very accurate. Through this software, you can delete duplicate files with just one click. In addition, you can preview them before deleting them or moving them to a folder when you find a duplicate.
This tool is compatible with Windows and Mac and can effectively delete all duplicate files and folders irrespective of the file format. It deletes duplicate files even from iTunes account and Windows Media Player list as well. Also, it has an undo button for easy recovery to protect system files and folders from being deleted.
3. Quick Photo Finder
One of the most known Duplicate File Remover software you can use to find and remove duplicate images from your computer. Quick Photo Finder is the fastest and has a simple interface. You need to click one button to remove all of the duplicate images from your computer.
It includes more cool features, such as using advanced algorithms to find duplicate pictures and effectively organize your photo gallery. In addition, you can use their additional features like matching level, time interval, dimensions and image sizes, etc.
4. CCleaner – Awesome Duplicate File Cleaner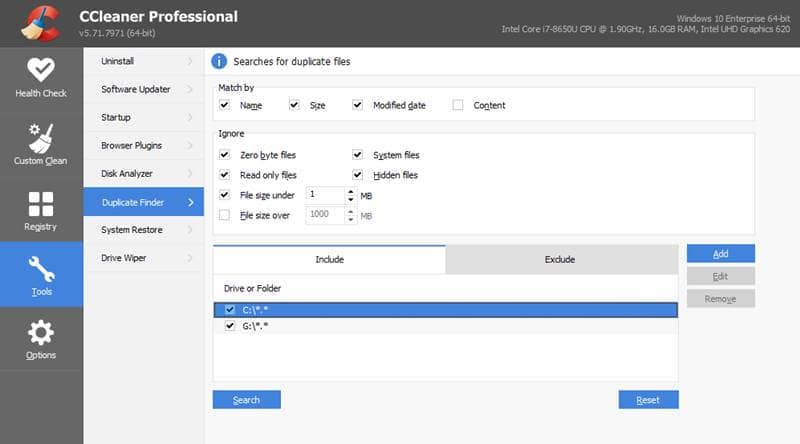 One of the most prominent tools for removing duplicate files from Windows systems. CCleaner removes unnecessary files that are stored in your device registry. For example, it deletes cached passwords and internet files, speeds up device booting time by deleting unnecessary programs.
CCleaner is the most famous duplicate file cleaner available in the market. The paid version offers real-time scanning to scan any files & extensions loaded on web browsers. It's available on multiple platforms like Windows, Mac & Android.
5. dupeGuru
Search for both files with similar or identical names and those having similar contents. It is an excellent tool for dealing with music files, and it can even find identical music files with different tags.
Besides, it can compare pictures to find out similar pictures. The interface is user-friendly and accessible. It's available on every platform like Mac, Linux, and Windows. You can download the program from the official website for free.
6. Auslogics Duplicate File Finder
Get rid of duplicate files/apps and reserve space on your hard drive with Auslogics Duplicate File Finder. Select the drive or specific folders for scan. Configure advanced search parameters. Select to move the files to the recycle Bin or Rescue Center, with the possibility of restoring or removing them permanently.
You can start the scan for duplicate images, audio or video files, archives, or applications. Then, preview the found results and select to remove the specific files, leaving at least one main file.
Also Read- How to Full Scan Your Windows 10 PC
7. AntiDupl
If you have many duplicate photos in every folder and think it will take ages to sort them the right way, then AntiDupl is the best software for you. This tool can scan to find and delete all duplicate and similar-looking images for easy management. In addition, it is a powerful tool to scan both identical and similar-looking images.
It supports almost all image formats like JPEG, GIF, TIFF, BMP, WMF, and many more with an impressive and easy-to-use interface. You can also customize image comparison based on Matching level, Bitmap Size, and detect blemishes. Available for Mac, iOS, and Android.
8. XYplorer
A multilingual file manager and explorer for Windows with a tabbed interface. It's a hybrid file manager that combines features found in the navigational and orthodox file manager. Xyplorer lets you quickly and easily navigate through your files and folders.
You can search for specific files by their name and other parameters. It provides you basic features like cut, copies and pastes files. Besides, you can also customize the layout according to your liking.
9. Wise Duplicate Finder
This one is a duplicate file management tool that helps you find and delete copies of files and documents by comparing file names, file size, or content. Through this software, you can get rid of annoying duplicates and free up more space on your hard drives.
Also, it allows you to delete duplicate files automatically. If you deleted some file by mistake, there's a feature that lets you recover that deleted file, making it more efficient to use.
10. AllDup
It has a multilingual interface, and it is free to use. The settings menu is quite impressive. The interface is easy to understand. For example, to delete the duplicate files, select a folder to find the duplicates, set the search method & comparison criteria.
Configure the file filter by file type or file size, specify file formats you'd like to preview, click the 'Start search' button, and the app will begin looking for duplicates. In the end, It will show you the list of files that have one or more copies, which helps you to sort quickly.