In this fast-growing technology where everything is at our fingertips, why waste time doing mathematics calculations? As we all know, doing mathematics calculations is a time-wasting problem where you must calculate in bulk.
So we need to see the calculation tips. Sometimes you forget the solution to maths problems. Don't you think the best math solver apps for Android will be useful for us?
A human can make any mistake in the calculation, which can create any problem. So with the help of Android Math Apps, we can avoid such errors. The best part is we can do any collection anytime, without carrying anything.
List of Best Math Apps For Android in 2023
These apps can also help you make your maths reliable by cross-verifying the solutions. Learning from this app can even help you strengthen your maths part. So we can say there are various advantages if you use these apps. So here, we researched and found some helpful apps. So let's check it out now.
1. Brainly
It is the best app to connect worldwide, help everyone with their questions, and provide the correct answer. This app gives you the community to help with your problems and assignments.
You even can get the experts here who help you with various topics. You can post your questions on the app; people worldwide will help solve that. You can also help people by answering their questions.
Download Brainly
2. Math Tricks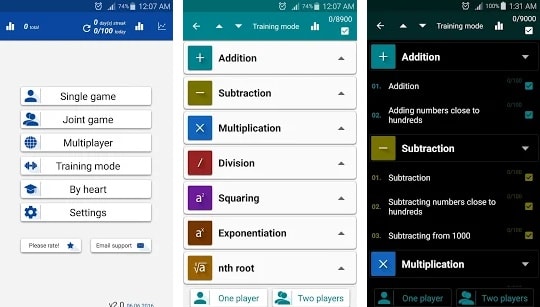 This can be considered in the best math android apps as you will get the various tricks to solve any calculation in less time. So this app will help you to fast your calculation by following the different tips.
Along with tips, you will get various interesting facts about maths. Moreover, the app provides the feature to interconnect with your friends and care about your solving score.
Download Math Tricks
3. HiPER Scientific Calculator
Now this app will blow your mind. You can say this calculator is an all-rounder as it can solve the maximum problems of any standard or college. It is a type of scientific calculator where you can calculate a large number too. Along with it, you can also get the unit conversion, which is the best part. You can also solve trigonometry with the help of this app.
Download Hiper
4. Khan Academy
Many of you will already know the app's name, as it is the best math solver app of the year 2016. You will get the best and proper environment here for learning. You can learn anything from here as it has 5000+ videos with different question papers.
So solving question papers will help more to clear the specific topic. Along with maths, you will get various subjects which you can learn here quickly.
Download Khan Academy
5. Lecture Notes
As the name suggests lecture Notes, clearly stated that the app is for preparing notes. Therefore, this is the best app if you genuinely want to make the best notes for study. You can write the notes here along with it.
You can also draw diagrams. The best part is that even you can record your teacher's voice in the background of the notes. Additional features like video records will enable in the premium version.
Download Lecture Notes
6. Maths Expert
This app will help you solve any complex problem, and along with it, you can even solve physics problems here. The best part is you can answer any simple to difficult questions by just putting their values. You can also solve graph questions where you want to give the coordinates; the rest app will do.
Download Maths Expert
7. Photomath- Camera Calculator
This is just a unique app from all the above because you will get excellent features here. For example, you can solve any of your math problems only by clicking the picture. Feeling shocked? But it's true, yes, you can solve it. You have to open the app and click the image of the question, and the app will solve it.
Along with this, you didn't get a direct answer. Instead, you will get the step-by-step process of how the question is done to understand it better. By going through the process, you can understand the process of solving.
Download Photomath- Camera Calculator
8. Maths Formula Free
As the name states, the Maths formula is free. This app will provide you with every formula from primary to secondary education. Along with the formula, you will get a proper explanation of how this formula is derived. Even you could create your formulas if you didn't find any formula in the app to remind yourself.
The app supports different languages; that's why a student will not suffer from any language problems. Moreover, you can share your customized formulas on social media. Probably maximum topic formulas are covered in this app.
Download Maths Formula Free
9. Graphing Calculator
What's better than solving complex equations via a graphic-solving app? A graphic calculator is one of the best applications which can help you solve your math homework. It can plot simple or complex graph equations on a map so that you find out minima, maxima, points of intersection, and so on.
It works really well, and more than 10,000 people are using it daily. It is effortless to use and fast as well. The graph can be plotted in seconds, no matter how complex the equation you put into it.
Download Graphing Calculator
10. Socratic by Google
Socratic is one of the newer math apps. It can be an equation from a photograph or your camera and can show up the results. This app can spit out results in seconds. The great part is that it also shows stepwise solutions, as well. So it is a great app for cheating on your homework and learning the methods at the same time.
It even includes video examples in some cases. Like most, there is a ceiling when it comes to how complex the problem can be. However, it should work for most people. It's also completely free with no in-app purchases.
Download Socratic
11. MalMath
MalMath is one of the finest math solver apps widely used by students. It helps solve all the major aspects of mathematics from algebra, trigonometry, derivatives, integrals, etc. The best thing is it is a free app that you can even use offline.
This math problem solver provides you with step-by-step guidance on how to solve any problem. Besides, it also offers a graph analysis, generates solutions based on several categories and difficulty levels, and allows us to save and share them.
Download MalMath
12. WolframAlpha
WolframAlpha is a great option to rely on. The app managed to earn rapid popularity and now counts among the world's most definitive math problem-solver sources. Moreover, it is used by students worldwide and is loved for providing an instant solution.
WolframAlpha further uses a massive collection of its data and algorithm, which helps in computing complex problems and displaying the report to you. Besides normal mathematics, you can even use it for statistics, physics, chemistry, engineering, and higher-level subjects.
Download WolframAlpha