Playing games has always been a way to kill time or keep one engaged on their smartphones. When it comes to gaming on mobile, we have games for Android and iPhone devices.
Some of these games can be played solo and some make sense as multiplayer. The multiplayer games allow you to connect with friends or players from around the world. It's just about finding the right game with non-stop multiplayer gameplay.
In this article, we've curated the best multiplayer games for iPhone users. If your smartphone is running on iOS and you need games that'll connect you with other players on the internet. You've got the best titles listed below; they're engaging and addictive to play.
Best Multiplayer Games for iPhone in 2023
Whether you're a fan of car racing, football, or casual strategy games. From the list of games mentioned below, you'll find the one that meets your preference.
1. Asphalt 9: Legends
The first game on our list is Asphalt 9: Legends and it is an intense racing game for iPhone users. This is so far one of the best from the Asphalt racing series and it sets the standard for mobile multiplayer racing games.
Besides, Asphalt 9: Legends comes with stunning graphics and a large collection of real sports cars. In terms of gameplay, there are both online and offline modes available for everyone.
Asphalt 9: Legends features multiplayer modes such as club races and world series. These modes will let you race against other players in real-time. Furthermore, you can expand your garage by collecting cars won from different competitions.
2. eFootball™ 2024
Next on the list is eFootball 2024, it is a game handpicked for football lovers. One of the unique features of this game is the realistic graphics and unique soundtrack. It brings back the football experience of console and PC gaming.
eFootball 2024 features a multiplayer mode where players can go 3 vs 3 matches with friends. In addition, the game offers other multiplayer competitions and matches against AI opponents.
Another reason why it is the perfect multiplayer game you should play is due to user-friendly controls. eFootball 2024 features real football players and teams; there's an option to develop and sign players as well.
3. Vainglory
Vainglory is a cross-platform game that brings intensity and depth to mobile screens. If you're looking for fast-paced action gameplay with a touch of strategy in a multiplayer game, it is your go-to option.
Moreover, this is a game where all players must team up and defend against other opponents. Vainglory features 3v3 battles and a set of unique heroes to unlock.
Furthermore, the game emphasizes strategy, teamwork, and individual skill. You'll need to choose your hero wisely, coordinate with teammates, and adapt your tactics that'll prove helpful in the game.
4. Riptide GP: Renegade
One of the best multiplayer games for iPhone is Riptide GP: Renegade. Aside from the realistic jet ski racing gameplay, it features thrilling and competitive races that keep players engaged.
Riptide GP: Renegade features an online multiplayer mode where up to 8 players can engage in intense racing. There's also a challenge mode available and a deep career mode.
Despite being a popular game on the internet, it can't be downloaded for free like most games. In order to have Riptide GP: Renegade on your device, it will cost you $2.99
5. Arena of Valor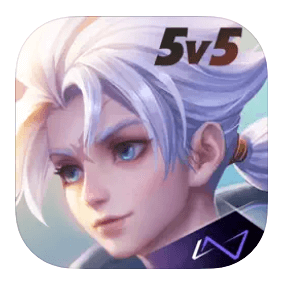 While most games in the MOBA category have 3v3 features, Arena of Valor sets the difference with its 5v5 mode. In this game, you'll choose from a diverse roster of heroes, each with unique abilities.
Connecting with friends from different sides of the world is quite easy in the Arena of Valor. The game features clan events and weekly events filled with tons of rewards.
Arena of Valor will let you team with players from around the world to fight in quick, action-packed battles. Moreover, the graphic is well blended to give iPhone users a smooth gameplay on their device.
6. Clash Royale
Undoubtedly one of the best card-battling games on the internet, Clash Royale is a recommended game. Known for delivering dynamic and engaging real-time multiplayer gameplay.
In Clash Royale, you'll need to collect and upgrade cards featuring Clash of Clans troops, spells, and defenses. The gameplay gets really interesting when you duel against other players to win trophies and climb the leaderboard.
Clash Royale is worth playing because it features all the multiplayer elements a game should have. Lastly, you'll need to manage your elixir resources, deploy troops, and cast spells strategically to dominate your opponents.
7. Modern Combat 5
Another game on the list is Modern Combat 5 and it is the perfect multiplayer game you'll enjoy playing on your iPhone. One of the notable features is the stunning graphics, customizable characters, and intense multiplayer.
In Modern Combat 5, you need to step into the role of an elite soldier and engage in intense battles against other players. This game also features first-person shooter gameplay for iPhone users.
There are different game modes ranging from team deathmatch to capture the flag, etc. Furthermore, players can customize guns with skins and earn rewards from online events.
8. Dots and Boxes
Dots and Boxes also make sense as one of the best multiplayer games for iPhone users. When looking for a game to pass the time, Dots and Boxes fit such a category. The gameplay in Dots and Boxes is quite unique.
In the multiplayer, two players take turns drawing lines between dots on a grid. When a player completes the fourth side of a 1×1 box, they claim the box and take another turn.
Basically, the main goal is to capture as many boxes as possible while blocking your opponent from doing the same thing. While Dots and Boxes might be very easy, it does require logical and tactical thinking.
Conclusion
With these multiplayer games for iPhone, you will have different options to choose from. Each game has unique gameplay and they require a different approach when it comes to facing opponents. Also, their graphics and smooth controls add more reasons why they should be played.