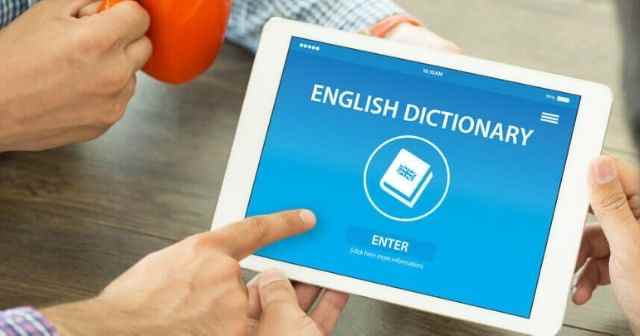 These days using the internet has become common. You will not find a single person who is not using the internet. With the help of the internet, you can do anything. It helps us in many different ways and solves every problem if used correctly. But what if someday you don't have the internet and you want to know the meaning of any word. In this situation, Offline Dictionary Software helps you.
The Offline Dictionary apps are not only helpful when you don't have internet but can also be helpful when you are in a hurry. Here we made a compilation of the best Offline Dictionary software for Windows PC.
Also Read- Best Dictionary Apps for Android
List of Best Offline Dictionary Software & Apps for Windows 10 PC
You will find so many offline Dictionary software on the internet. Here are the most trusted apps that you can use on your Windows PC.
1. The Oxford Dictionary
It is one of the best and perfect free dictionary software for Windows. The Oxford dictionary app gets updated regularly with new words, phrases, and their meanings. As you type a word in the search box, the autocomplete function predicts it. It offers the latest vocabulary and highlights the global adaptability of English.
Price: Free
2. Dictionary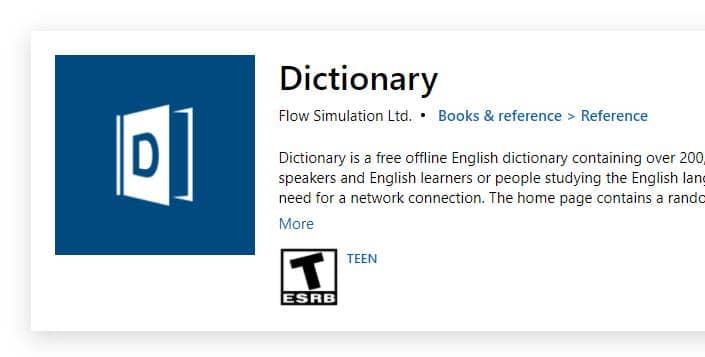 Dictionary is a free offline app that contains more than 200,000 words and definitions. This app is perfect for both English learners and native English speakers, or even people studying the English language.
The definitions are stored locally, and there is no need for the internet to use the app. On the home page, there is a randomly selected word cloud and it will improve your vocabulary.
Price: Free
3. WordWeb Dictionary
It is the perfect app to find the meaning of any word anywhere on your PC. Apart from seeing the meaning of words, you can also check for other similar words, synonyms, pronunciation. And if you are connected to the internet, you can do an in-app Wiki search.
This app is free to use and does not have any advertisements. It offers a massive database of words of about 15000. Moreover, it provides you the word translation in just one simple click.
Price: Free
4. Perfect Dictionary
Perfect Dictionary helps you to get all the information in one place. This app lets you download different language packs like Greek, Italian, Japanese, Portuguese, and more. It is not only a dictionary app but also a translator. One of this app's unique feature is that you can pin the definition tile in the start menu.
Moreover, while typing, it automatically suggests a word. It has the ability to see the history of searched words and clear history whenever you want.
Price: Free with in-app purchases
5. Advanced English Dictionary
Advanced English Dictionary app shows you the word definition with pronunciation in both UK and US English. It is a complete English dictionary app that comes with more than 400,000 entries.
The user interface is spotless and modern. There is an intra-word search feature, like click on any word in the app and get a meaning for it.
You can mark several words as your favorites. It is a free app with in-app purchases that removes ads and has amazing features.
Price: Free with in-app purchases.
6. Ultimate Dictionary
Ultimate Dictionary software for windows has around 61 dictionaries that have words in different languages like English, French, Polish, and Spanish. It has almost all the information related to a word. We can say, this tool is an all-around solution for all the queries.
In just one lookup, you will get all your information for a word search. When you enter a word in a search box, you will get results in all the 61 dictionaries at once and shows the definition from each.
Price: Free
7. The Free Dictionary
One of the most powerful dictionary app that has multiple search English dictionaries including offline dictionary. All the results are from most of the trusted sources, including Medical, Legal, Financial, Acronyms, and even Wikipedia. You can access dictionaries in 13 different languages and translate words into more than 40 languages.
With this app, you can read articles daily, add bookmarks, share content on social media and email. Moreover, it also allows you to play word games and customize the homepage.
Price: Free with in-app purchases
8. Search Box
Windows do not have a local dictionary app but has a search box that is an online dictionary. With this Search box, you can get the meaning of any word. As it does not work offline, as we all know, everyone uses the internet; some curfews users use PC/laptops without internet.
So, as there is an active internet connection, you can easily do-right on the taskbar, click on search and select Show the search bar. Write any word in the box, and the meaning of it is in front of you.