Virtual Private Network (VPN) is an essential part of our internet activity. They keep us safe from internet threats like trackers and also allow us to access blocked websites. When it comes to choosing a VPN, there are a lot of options out there.
If you're a Windows 11 user who wants to have a VPN on your PC but doesn't know which one to install. Well, you have to consider what you want to use it for because all VPNs have their area of expertise.
Whether it's for gaming, streaming, or heavy downloads, here's an article you'll love. We've handpicked the best VPNs for Windows 11. The list features a compilation of both free and paid Virtual Private Network clients.
Best Free VPNs for Windows 11
When choosing a VPN for your PC, one of the things you have to consider is the number of servers. Also, the type of protocols used and also no-logging policy, the VPNs below meet these criteria.
1. ExpressVPN
ExpressVPN is a very popular VPN client and also one of the best you'll come across. On Windows, this is one of the best options when it comes to staying protected. With ExpressVPN, you'll have access to a lot of servers from different countries.
One of the cool features of ExpressVPN is fast servers that'll let you access any website. Furthermore, it is perfect for streaming movies and sports from different sites. Also, ExpressVPN uses protocols such as Lightway UDP, Lightway TCP, OpenVPN UDP, and OpenVPN TCP.
Well, the only downside of ExpressVPN is that it is a paid VPN client. There's only a 7-day trial available but can be upgraded if you find sense in the services it provides.
2. NordVPN
Just like ExpressVPN, NordVPN is another top choice when it comes to choosing a VPN client. It is a cross-platform VPN client that allows up to 6 devices to stay connected, including Windows 11 PC.
If you want to enjoy an unmetered internet connection with speed and privacy on your PC. Installing NordVPN might just be one of the best decisions you've made, it also features a lot of servers.
With over 5500+ servers available, NordVPN gives access to internet freedom. Furthermore, it uses VPN protocols like OpenVPN and NordLynx based on WireGuard. Also, you can access features such as split tunneling and custom DNS.
3. Proton VPN
Proton VPN is one of the best free VPN clients on the internet; for sure, it does offer premium services. If you're looking for a Virtual Private Network client that'll give you internet freedom for free.
You just need to download Proton VPN, register an account and you're good to go. Even as a free user, you'll be able to access free servers without any limitations. Proton VPN features a strict no-logs policy and it offers DNS leak protection.
There are a lot of fast servers available on Proton VPN, which makes it an excellent choice for Windows 11 users. If you want to stay protected on your PC, you should install Proton VPN.
4. Private Internet Access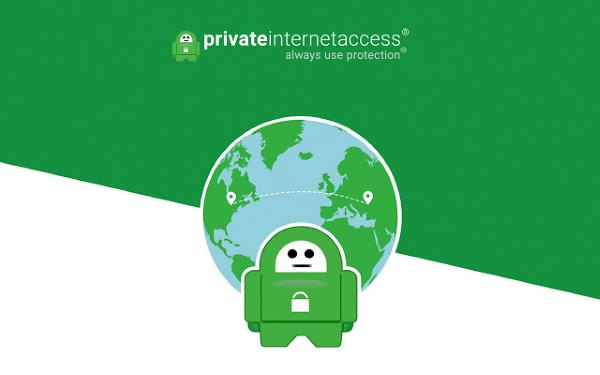 Popularly known as PIA VPN, Private Internet Access is another top VPN that makes sense for Windows PCs. It offers IP protection, which makes sure your IP address can be tracked.
One of the cool features of PIA is that it'll let you access any blocked websites and also download geo-restricted apps.
When comparing top VPN clients, Private Internet Access is one of the best, without a doubt. Lastly, it also allows the use of one premium account on multiple devices.
5. Windscribe VPN
As someone who has used several VPNs, I'll surely recommend Windscribe VPN to any Windows users. It doesn't matter if you're on a newer version of Windows OS or older.
Windscribe VPN also makes sense as a free VPN client, that's because you can enjoy 10GB of bandwidth for free. Besides, there are a lot of fast servers available on Windscribe VPN; it has a browser extension as well.
On browsers like Chrome or Firefox, you can download the Windscribe VPN extension without installing the main VPN. In addition, it uses protocols such as OpenVPN UDP/TCP, IKEv2, and Stealth.
6. VPN by CyberGhost
VPN by CyberGhost is one of the oldest Virtual Private Network providers with a lot of servers. With over 7,000+ servers located in different countries, you'll always stay protected.
When it comes to a user-friendly interface, DNS leak protection and fast servers, this VPN got you covered. If you're looking for a VPN that'll help you leave no trace of your internet activity.
Without hesitation, you should download VPN by CyberGhost on your PC. It works well on Windows 11, and you can also connect easily without any long process.
7. 1.1.1.1 + WARP
1.1.1.1 + WARP is one of the best VPNS for Windows 11, although it doesn't work like most VPN clients. Developed by Cloudflare Inc., 1.1.1.1 + WARP uses a DNS resolver to encrypt your internet connection.
Unlike most VPNs where you can select servers, you only need to hit the connect button on 1.1.1.1 + WARP.
What makes it recommended is that it is completely free and it doesn't require any registration or payment.
8. Hotspot Shield VPN
Another recommended VPN is Hotspot Shield VPN and it is known to be one of the oldest out there. One of the standout features is the amazing speed, which makes it perfect for streaming and gaming.
Hotspot Shield VPN covers servers from different locations, it is also quite affordable than most VPNs.
As a Windows 11 user, Hotspot Shield VPN is one of the best Virtual Private Network clients you can use on your PC. There's no limit to the level of protection it offers, it also protects against malware and phishing sites.
Conclusion
Regardless of what you do on the internet, you'll surely need a VPN client. Hackers and phishing websites are targeting newer OS like Windows 11 and that's why your internet anonymity is important. With the above-mentioned VPN clients, you'll be able to surf the internet with less worries. They're perfect for streaming, downloading and playing online games.