We all know that Apple is known for its premium and innovative smartphones. But, one segment where they are falling behind from Android smartphones is its battery capacities. Generally, this is why users always complain about quick battery drainage issues.
Although the iOS is exceptionally well cautious and manages everything to ensure that the users will not have to run out of battery very frequently. But, somehow, they fail to do so. So, to get rid battery drainage issue, you may try using black wallpapers for iPhone to increase your battery life slightly.
But does black wallpaper saves battery life? Let's find out in this guide. Well, here we have discussed some beautiful black iPhone wallpapers that you can use without spending a single penny.
Also Read- Best Live Wallpaper Apps for iPhone
List of Best Black Wallpapers For iPhone (Free Download)
There are many beautiful and stunning black wallpapers available for your iPhone that you can use for free. But, here we have mentioned bests among the best. So, with these wallpapers, you may love the look of your iPhone.
1. Minimal Black Wallpaper iPhone
If you love a simple and decent wallpaper with minimal art in the background, then this black wallpaper is for you. This minimal wallpaper features stars and colorful exhaust smoke released by four aircraft in the sky.
2. Street View in Night OLED Wallpaper
It is always interesting to have a neon look, but there isn't much free neon black wallpaper in the market. But, with the street view in Night OLED black wallpaper, your dream comes true. With this black-themed wallpaper, your iPhone will look classy and attractive.
3.

 

Mario Sketch Dark Wallpaper
Mario, our childhood love! Well, most probably, no one doesn't love Mario because it's the only game character we have in our childhood. So, if you are a fan of Mario like me, you should this Mario Sketch Dark wallpaper as the art looks so pretty and majestic.
4. Fire Black iPhone Wallpaper
The best campfire dark wallpaper that I've found in Google. Well, around 85.64% of pixels are black in this wallpaper, which is really fantastic when it comes to saving the iPhone's battery.
5. From the Moon to Mars Black
This wallpaper was created and designed on Apollo's 50th anniversary by Nitin Kale. The title reflects what they want to convey to users with the overall look of the wallpaper.
6. Cat in the Black
Do you have a cat pet? Well, if so, then you will surely love this wallpaper. The artistic view of this wallpaper really reflects what its title sounds like. So, we suggest you definitely try this out. 
7.

 

Spiderman iPhone Optimized Wallpaper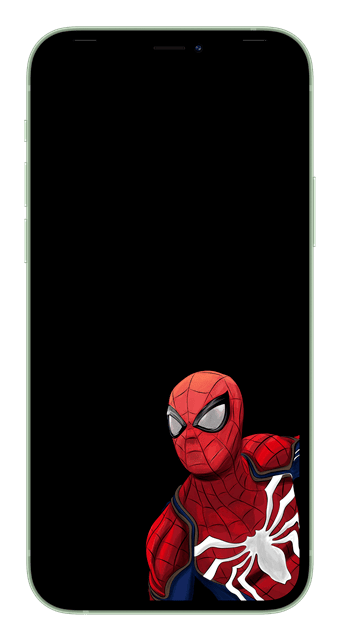 Finally, Marvel fans, we have something for you. First, of course, we all know the popularity of our beloved Spiderman. So, keeping that thing in mind, the creators of this wallpaper does an extraordinary job by combining Spiderman with a black background.
Although you can use it as a home screen wallpaper, we suggest you use it on your lock screen as it looks better in the lock window.
8.

 

Squid Game OLED Black iPhone Wallpaper
Currently, everyone just got crazy about the Squid Games theme. So, to fulfill the crazy demand of users, some creators combine the Squid Games theme with a black and dark background which looks fabulous.
9. Modern Racing Car OLED Background
If you love cars, then you must go with this black wallpaper. It features a racing car in which creators use abstract texture for the car along with a black background. Well, trust me, this looks impressive.
10. Dark Road Wallpaper
People who love traveling and empty roads will love this dark iPhone wallpaper. This one is a perfect night dark road wallpaper representing a slight turn with orange light. You can download this wallpaper in HD resolution for free.
So, that's all we have for you on some best black wallpaper for your iPhone that you can download and use for free. We hope you liked our wallpaper suggestions. For more information, comment below.