Sometimes, we need hidden camera detector apps when considering privacy. Technology has advanced over the years and these days, we've seen stealth drones and other cool techs in public places.
Cameras are everywhere. You'll find them in offices, banking halls, schools, and public street lights. While it is normal to see them around those places, you're not supposed to find them in rooms or toilets.
If you don't feel secure in a room or public toilet where you feel there's a hidden camera. Worry no more because there are apps that'll help you detect any invisible camera. In this article, we've handpicked the top camera detector apps for Android & iOS.
Best Hidden Camera Detector Apps for Android & iOS
These apps offer a unique approach towards finding cameras that aren't placed in visible places.
1. Hidden Camera Detector
If you value privacy in public toilets or hotel rooms, there's an app. Hidden Camera Detector is an amazing app that lets you find invisible cameras without stress.
One reason it makes sense is that it uses accurate scanning to detect objects. Just point your smartphone camera to the area you want to scan, and it will detect anything.
Also, Hidden Camera Detector can help you find hidden microphones in any room. The app includes a built-in compass, which makes it easier to locate a hidden camera.
2. Hidden Camera Finder
Next on the list is Hidden Camera Finder, which works as a security cam that ensures there are no spy objects around. Whether in a room, office or any environment, this app covers you.
Hidden Camera Finder works with the iPhone camera, giving a real-time scan with extra accuracy. Besides, the app is very easy to use, which makes it recommended.
If you're looking for a hidden camera app for your iOS device, consider this one. It also has a unique way of letting you know it found a hidden device.
3. Hidden Spy Camera Finder Pro
Some spy cameras are designed to work with networks, sending real-time data to their connected server. Hidden Spy Camera Finder Pro is an app that'll help you detect such a camera.
This app is unlike any hidden cam finder you might have come across. Well, that's because it is a paid app with many premium features.
If you want to use it, it works almost anywhere, even in public areas with many people. Finding a hidden camera has been made easy with this app; it works mainly for iOS users.
4. Spy Radar
Another app on the list is Spy Radar for Android users. You will love how it works. Spy Radar lets you use magnetic sensors to explore hidden cameras around you.
One of the reasons why it is a recommended app is because it the advanced algorithm that it uses. Finding hidden cameras around you won't be a difficult task, thanks to Spy Radar.
For users who want a comprehensive hidden camera detector app, you should consider using Spy Radar.
5. Hidden Device Detector
Undoubtedly one of the easy-to-use camera detector apps on the internet. This app is perfect for anyone looking for not just hidden cameras.
This app can find spy microphones, cameras, or any other spying app. It also functions as a surveillance app that uses both your front and back cameras.
In addition, this app is free and can be used offline without an active internet connection. While there are many apps for finding hidden devices, Hidden Device Detector is one of the best.
6. Spy Hidden Camera Detector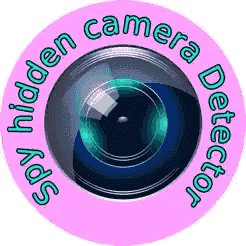 Most times, people spend money on expensive gadgets that detect hidden cameras. Meanwhile, this app is out there to help reduce costs and it works with just iPhone camera only.
While it is not a free app, it does come at an affordable price and can be owned for a lifetime. Spy Hidden Camera Detector offers a straightforward and efficient approach to finding hidden cameras.
Also, the app comes with a sound alarm and a visual notification alert. This feature is quite helpful and it'll give you quick notifications that it has found a threat.
7. deviceOwl
deviceOwl is one of the best-hidden camera detector apps for iPhone users. For anyone who wants an app that can detect any hidden spy devices, you should use deviceOwl.
This app's detection process goes beyond looking for an exact camera or microphone. What makes it unique is that it scans any household objects or random objects. So if that object is under disguise, deviceOwl will let you know.
Another reason why you'll like this app is that it uses an AI algorithm to enhance its detection. When using it, you only need to point your camera at the exact spot or object, and it does the rest.
8. SpyC
SpyC also helps you spend less when it comes to finding spy objects. With this app, you don't have to depend on expensive gadgets. Besides, it uses one of the best detection methods to find hidden apps.
With a straightforward approach, you'll be able to find hidden microphones, cameras and other spy objects.
This app's cool interface makes it a great choice. It uses a real-time scan alongside your device's camera. If you want to find a hidden camera faster in a room or public toilet, SpyC is one of the best apps to use.
Conclusion
In conclusion, these are the top apps to find hidden cameras. If you're always unsure about being monitored in a room or toilet. Once you install any of these apps, everything becomes easy. While some of the above-mentioned apps are free, some require a subscription for paid features.