Maintaining hand-written receipts had been very difficult. If you lost your receipt book, it is impossible to retrieve that information. Also, sometimes people cannot manage their information correctly due to a lack of skills and time. And this might result in serious issues in times of need. So, to avoid such situations, one can take the help of an online receipt maker.
These tools are free to use, and almost anyone can use them to generate their required receipt. So it doesn't matter if it is a tax receipt, ATM receipt, grocery invoice, or hotel receipt, you can make your own receipt and customize them as per your wish, and the main thing is you don't need to have any special skills for that.
Best Free Online Receipt Maker
A huge list of such tools is available on the internet today, and people often get confused about which online receipt maker tool would best suit their work. So, here is some great online receipt maker software to make your work easier and faster.
1. Invoicely
Invoicely is a free online invoice-generating tool; it is very simple and offers pre-designed templates. It allows you to create unlimited free invoices. You need to add your information in the fields.
It also provides you with real-time calculations, making your work much faster. You can add unlimited items, and it also gives an option to download a pdf version of your file.
Visit Website: Invoicely
2. Online Receipt Maker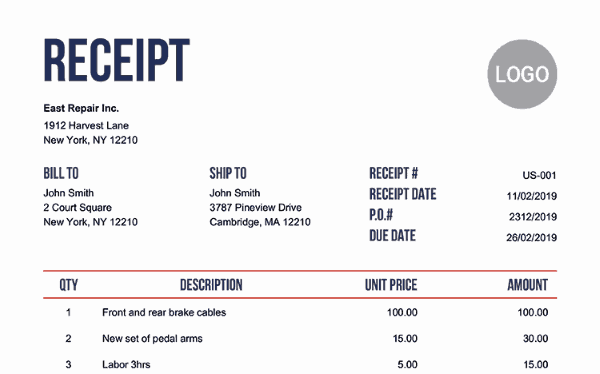 The online receipt maker can be a good option for people getting started with online invoice tools as it is very reliable and easy to use. It lets you create quick custom and fake receipts.
And provides you with step-by-step instructions for creating fake receipts. In addition, this tool does not add any limit to your list, so you can add unlimited items to your receipts.
Visit Website: Online Receipt Maker 
3. InvoiceApe
Invoice Ape is one of the best invoice creators. This tool is completely free and provides you with lots of advanced features. It is easy to use and comes with several pre-built templates.  It also allows you to customize your receipts by changing colors, themes, etc.
Visit Website: Invoice Ape
4. Fast Due
Fast Due is a free invoice creator that lets you create receipts and share them online. It also provides a library containing business document templates, agreements, contracts, etc.
Fast Due is straightforward to use and the perfect platform to create multiple invoices. It is an excellent resource for any business and helps get your job done in an organized manner.
Visit Website: Fast Due
5. Free Invoice Generator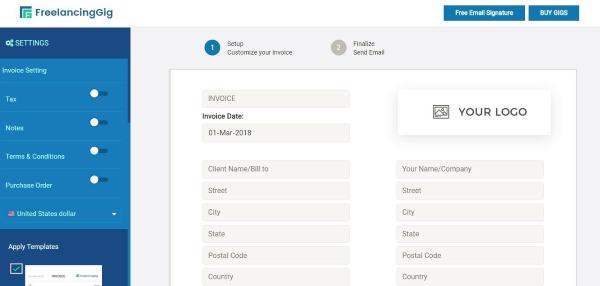 Free Invoice Generator is an invoice creating tool which is completely free to use and comes with pre-designed templates. You can create receipts/invoices quickly, you need to add your details, and all your job is done.
It also allows you to send your invoices directly to the recipients by adding their details in the recipient's field. A free Invoice generator can be a great option for those looking for a completely free receipt-making service.
Visit Website: Free Invoice Generator
6. ExpressExpense
Express Expense is another great option for looking for a good receipt maker that focuses on quality. However, it will cost you a little if you want to use it without the watermark.
But it is worth paying as it provides you with a simple interface, pre-designed templates, and many different features. In addition, it allows you to create invoices with a complete professional touch.
Visit Website: ExpressExpense
7. Free Invoice Creator
Free Invoice Creator is a free tool that helps quickly create professionally designed invoices.
It provides step-by-step guidelines and lets you send your invoice through email. You can also save your receipt as a pdf file.
Visit Website: Free Invoice Creator
8. Samahope
This invoice-making tool provides you with various high-quality styles and pre-loaded templates to let you create your receipts easily and also helps to save you time. You can create different receipts like tax receipts, parking receipts, gas receipts, hotel or restaurant receipts, etc.
Visit Website: Samahope
9. Fakereceipt.us
A fake receipt is another powerful tool that helps create custom receipts and is the last on our list. It comes with a straightforward user interface. It is a free tool and is quite easy to use.
You can fill in your details and generate fake receipts. It is similar to the other receipt makers listed in this article and can be a good option if you want a free tool.
Visit Website: Fakereceipt
10. Need Receipt
Need a Receipt is an impressive tool for creating online custom receipts.  The website is straightforward and user-friendly. All you need to do is select your receipt, customize it by filling in your details, and save it.
It provides an extensive collection of selected custom templates where you can add text and logos. In addition, it offers different receipts like restaurants, retail stores, Spa, gas, taxi, and many more.
Visit Website: Need Receipt
11. Template.Net
Not just limited to receipts, template.net lets you explore some exclusive templates collection (both free and premium). There are more than 100,000 templates available on the site designed by professionals.
Starting from business cards to WordPress themes and certificates, it includes everything. So, it is undoubtedly one of the best places to look around.
Visit Site: Template.Net