Check out the Best USB Data Recovery Software for Windows. There can be many reasons you can lose the digital form of your data. And This Data can be family pictures, professional files, office documents, and sometimes project repositories.
No information is less valuable than the other. So, when such accidents happen on your computer – where you accidentally delete your Data. But, You wish that you could get it back using data recovery. But there is no Ctrl+Z in life. (Undo)
Here in this article, I will solve this problem you are facing. I've picked the best tools for USB Data Recovery for Windows. They'll help you out in recovering your data from the depth of HDD sectors. So let's have a look at them.
Best Free USB Data Recovery Software for Windows 11/10
Based on the popularity and user reviews, here's the list of the best data recovery programs for Windows that I've selected for you. And I've also tested most of them for personal purposes. And they worked fine. So, you should also give them a try.
It is one of the Best and most used programs by geeks to recover their lost data from the hard disk. This program will recover the same directory tree you've lost on the hard drive.
You can either do a Full HDD scan or select a partition. The program will work according to the selected area of the USB or Hard-drive.
Test disk is a CMD-based – Old fashioned looking tool, which can become so helpful – when you want to extract the dead bodies of your data files from the deep depth of your Storage media. It can be your HDD, Memory cards, USB drives, etc. This program will help you out in all kinds of scenarios.
PhotoRec Data recovery program is intentionally made for recovering lost Pictures of Images/media files from the storage device. Later, the program's code seems to be working for all kinds of files.
So, this program became famous for quickly recovering data files from the media. And it is most likely the Test Disk Data recovery program.
Disk Drill is an excellent tool for finding your lost data files from any media device. And It comes with a great User interface – where you can select and divide the media devices into any category. Just one click of the button will start all kinds of processes and recover the required files.
The Steller Data Extracting program will ask the user to select the media they want to recover. Getting that info only focuses on those lost files of similar types.
Thus, making the process more efficient and fast. If you want to get files fast and quickly, this program should be your first choice.
As the program's name suggests – Undelete 360 is a great tool to solve the problems of lost data files. You can recover all kinds of deleted files using this program—all you need to do is select the path and click on the scan button to extract the data. And the program will create a list of documents. You can select and recover any of those files.
Pandora's recovery program will also help you get your deleted files back. The main feature of this program is that it is well-designed for layman users. Any person other than a geek can easily use this program. The coloring of the recovered files will help the user understand the program's finding depth.
MiniTool Power Data Recovery software is your way to go if you're looking to recover data without losing quality. Most data recovery software can only recover some part of the data, whereas MiniTool Power Data Recovery can recover images, files, text files, docs, pdf, videos, etc. If other data recovery plans are not working for you, this definitely will.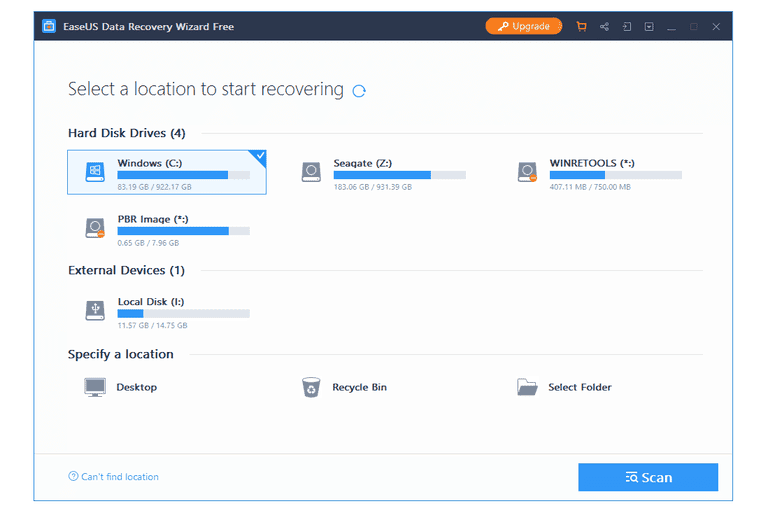 EaseUS Data Recovery Wizard is another high file undelete program. Recovering Data is very easy to do with just a few clicks. Also, the software is entirely GUI-based and is very easy to use. You can also select the type of files you want to search for and undelete.
The structure is much designed like any windows explorer, which is very easy to use. The significant part is that EaseUS Data Recovery can recover files from hard drives, optical drives, memory cards, and iOS devices. And it can also recover data from deleted partitions.
Here is a free file recovery tool that offers some advanced features that work. If you're on this list, then most probably you have used some third-party software that can recover the files but wants you to purchase its license. Well, UnDeleteMyFiles will do everything for free.
This freeware program can be used for many purposes, including commercial applications. It can recover a complete file system or just selected files and has a Mail Recovery Wizard to improve deleted emails.
Stellar Phoenix is a multi-purpose application that can improve your files in the fastest way possible. It is user-friendly, which makes it best to deploy to your clients.
In addition, you can quickly recover your deleted files, including any images, documents, project files, etc.
It searches for all files, so no matter what file extension you have just lost, you might recover it with Stellar Phoenix. The best part is that it can recover files from deleted partitions.
So if you're Harddisk or Pendrive has crashed, and you need to recover data, then Stellar Phoenix is the best way to recover it all back.
Puran File Recovery is an easy-to-use file recovery software that can help save you time and money. It can scan any drive that Windows sees or detect. In addition, many advanced options can help you locate and recover files from deleted partitions.
Also, Puran File Recovery uses advanced algorithms to find files. Which can scan and recover more files than other file recovery software? Puran File Recovery will recover lost partitions if they haven't been overwritten yet.
Wise Data Recovery is a free undelete tool supported in Windows 10, 8, 7, Vista, and XP. It runs quick scans for deleted files on various USB devices.
This tool is quite simple to use and does fit the job correctly. Both options are available for a quick scan, which makes it much faster, and a full scan to perform more in-depth scans throughout the device.
However, there are some drawbacks, and while performing the undelete process, the original folder structure is lost. Also, it is not compatible with Mac or Linux.
The Soft Perfect File Recovery is another undelete program on the list. It is effortless to use and works from any portable location. You can search the deleted files with their names and extension and recover them from hard drives, pen drives, memory cards, etc.
However, it does not support CDs or DVDs. Additionally, the software is a slight recovery tool of just 500kb and also supports 64-bit versions of Windows.
The last software is iBoysoft Data Recovery. It is in the last place, but it doesn't mean it is less powerful. It is an all-in-one data recovery for Windows that can restore data from hard drives, USB flash drives, SD memory cards, etc. Its intuitive and user-friendly interface makes data recovery easy, even for beginners.
It has two scan modes, a quick scan and a deep scan, to better scan the disk. A quick scan can help you find the accidentally deleted files quickly, while a deep scan will further dig the disk to find the lost files due to formatting, corruption, or malware attacks.
It also provides fantastic pre-recovery previews. Users can directly preview the files within the software or invoke pre-installed software to preview scan results.
Users can also input the file name or extension in the search box to locate the wanted files efficiently. It is fully compatible with Windows 10/8/7/Vista/XP and Windows Server 2019, 2016, 2012, 2008 & 2003.
4DDiG is yet another USB data recovery software for Windows PCs. Whether you want to recover an external or internal hard drive, Tenorshare is always a handy and auspicious tool.
Besides this, you can also use it to recover USB Flash disks, SD cards, and NAS Storage. Furthermore, it can recover more than 2000 file types at once. Even if you want to repair corrupt files, Tenorshare 4DDiG is also ideal.
From Editor's Desk
Finally, Something that has a beginning – also has an end. (except circle) So, now – this is the end of this article on Best USB Data Recovery Software for Windows 11/10. If you have any doubts or suggestions/queries – feel free to comment below in the comment field. I'll try to help you out with all the possible resources.