As we all know, some files and folders are hidden in android phones and taking the storage of our phone. What if we find those files and remove the junk and unnecessary files? Well, 'let's discuss. Having unnecessary hidden files on your phone will result in several problems. These problems are slowing working on the phone, Process stopping, and hang. Then why not delete these files. There are various ways to view hidden files in android.
As you cant, delete any hidden files, so first, you have to unhide the apps. With the use of different apps, you can view the hidden files. These apps will help you to simplify your work by unhiding the files. By performing some simple steps, you can quickly check the files which are hidden in android. So, let's review the app now and proceed with your task to unhide and remove them.
Also Read- Best Hidden Spy Apps For Android
List of Best Ways to Show Hidden Files and Folders on Android
1.) Using ES File Explorer
Now, this app is not best to unhide the hidden files but also provides various features. This app is the best app for 2016 for viewing the hidden files in android. The interface of this app is quite simple 'that's why you can quickly proceed with unhiding the files.
Along with this, you will get a similar interface to a file manager. Now you can also manage various files here and even can extract and compress zip files. So now, let's check out how to unhide the files using this.
Step 1: First, you have the download and install the ES File Explorer.
Step 2: Now, after installing, just click on the top left button, and you will see multiple options.
Step 3: Now scroll down, and you will get the option "Show Hidden Files." Just enable the option, and you are done.
Tip: You can see system hidden files too by tapping on the root, which you will get below the show hidden files option.
2.) Using the Default File Manager
Maximum of you know the name of file explorer as it comes pre-built in your device. It can come with two names, either with a file manager or file explorer. Now with proceeding simple steps, you can unhide the files. The best thing is you 'don't need to install this app as it is preinstalled. So now, let's see the steps to unhide the files.
Step 1: So first, search for file manager or file explorer on your phone.
Step 2: Now, open the app, and you will see the three dots.
Step 3: Click on that three dots, and the settings will open and now enable the option- "Show Hidden Files."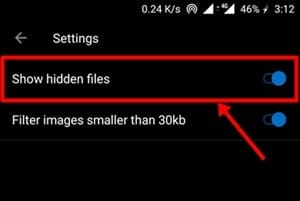 3.) Using Astro File Manager
Along with the best file manager app, it also helps in memory cleaning. You can even create the backup through this app to sd card. It is a multipurpose app to store and manage your files. The best part is this app has a cloud manager, which helps you to create a backup or save your files to the cloud. Now, let's check how to unhide the files using this.
Step 1: First, download and install the app Astro File Manager.
Step 2: Open the app, and in the top left corner, you will see three dots. Click on that and then select settings.
Step 3: Now, you need to click "Set View Default Settings" under the display settings.
Step 4: When You click on it, you will see some of the options and in-between options you found "Show Hidden Files." Just tick that option; now you are Done.
Also Read- Best Download Managers for Android
Conclusion
Here you know the best and easy way to access files and folders on any android device. If you have a related question on your mind, you can ask us in the comment section. We will look into it and make Another How-to guide on it. You can use this to remove some hidden files and folders from your Android system.