While you have an iPhone or iPad, getting directions using a compass app is very easy today. Even if you want to use it for outdoor hiking, road trips, or simply to determine your current location, compass apps are always meant to be useful.
iOS devices have an in-built compass app which is useful, but if you want more features and functionalities, other third-party apps come in handy. Therefore, we've sorted out the best compass apps for iPhone and iPad for your use.
With the rise of technology, the modern-day compass app is more than just a simple compass. Ranging from elevation to geolocation, and whatnot – so much ability, let's find out the best iPhone compass app.
Best Compass Apps for iPhone and iPad 2023
The Apple App Store has millions of apps, including GPS and compass segment has many. Finding out the best could be hectic for you. Thus, we have short-listed the best free compass apps for iOS.
1. Compass ×
Compass× is a very simple compass app, but a handy one when it comes to doing its job. It's the tool that provides GPS coordinates, magnetic and geodetic/true north, and altitude in feet or meters.
It works seamlessly with barometric pressure and DMS, DDM, and DD coordinate formats. Furthermore, you can share coordinates with others. Best of all, pretty cool app that has a beautiful design as well.
2. Compass∞
Compass∞ remains one of the feature-rich and Editor's choice iPhone compass apps that is used by millions of people. The app is as accurate as easy to use with its seamless and intuitive user interface.
The app is very ideal for outdoor hiking, camping, backpacking, treks, and road trips. However, you will get magnetic north and cardinal directions. The weather temperature feature is also included. Also, for campers, has a flashlight too.
3. Spyglass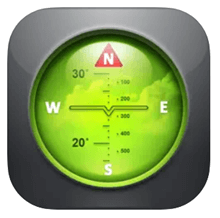 Spyglass is one of the comprehensive compass apps that offers a wide range of features. Its hi-tech compass with offline maps is the key feature of the app. Besides this, you can also get binoculars, a GPS receiver, and a waypoint tracker.
There are many advanced features to make things easier for you to get directions, such as special compass modes and calibration methods. Furthermore, it has added a speedometer feature too. Using the app you can measure height too.
4. Altimeter GPS
By using Altimeter GPS, you will get an altimeter, compass, barometer, pedometer, and speedometer. Moreover, it has included a flashlight too for hikers. Besides this, the app also provides real-time weather updates on your current location.
The SOS function is one of the major highlights of the app; using this, you can message others with your current location. Otherwise, all necessary features are significantly organized in the app.
5. The Best Compass
As its name suggests, The Best Compass is one of the best compass apps for iOS users. With the app, you can correct four cardinal directions of the world. It has GPS to let you know your current location.
Furthermore, its weather update feature lets you know 7 days' weather forecast. Another interesting thing is you will get an update about the air quality around you. All in all, a neat and clean app that helps you find direction.
6. Compass 55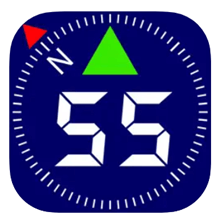 Siri-supported Commander Compass Go is the hot favorite compass app among iOS users. It's not only a mere compass app, you will get other features too, such as maps and GPS. Sunset/ sunrise details are also featured.
Moreover, its developer has integrated the app with speedometer features. Advanced features like the Waypoint editor and coordinates converter are included in the app. Other than that, all essential features are waiting for your attention.
7. Compass & Altimeter
Compass & Altimeter is yet another compass app for iPhone and iPad users. No wonder it can save you a lot of time and effort with its accurate compass technology to get the right direction. It also helps with your current coordinates.
Compass & Altimeter is mostly suitable for longitude, latitude, altitude, and weather. It has guidance assistance for your travel. Overall, a handy compass app with an intuitive user interface.
8. Commander Compass Go
As good as another compass app, Commander Compass Go has made it with a sleek and clean design. Everything is nicely organized whether you are looking for a hi-tech compass or Global Positioning System.
The user who is also looking for a speedometer and altimeter has these features too. This app could be super useful when you need to track the position of stars. Moreover, it allows you to customize the theme and colors of the app.
Bottom Lines
While finding directions, you can utilize your iPhone or iPad as a compass, thanks to the convenience of technology. Here are some of the best compass apps for iPhone that you can use. Let me know which one is most suitable for you.