One of the awesome benefits of using the Windows OS is that it gives us the chance to have multiple storage partitions. Imagine having a 1TB HDD and you split it into 5 different parts. Well, that is what partitioning a disk is all about and the Windows operating system is where you can achieve such.
When you have plenty of partitions on your Windows, especially on Windows 11. You'll need to manage it; maybe you want to clone a partition, resize, or merge it with another. That's where partition manager comes in and there are plenty of them online. Some are paid for, but you'll get free ones too.
In this article, we've made a list of the best free partition managers for Windows 11. So if you're running on the latest OS, these are essential utility tools you need to install when having multiple partitions.
Best Free Partition Manager for Windows 11
Each partitioning tool comes with a unique interface but similar features; you can check them out below.
1. MiniTool Partition Wizard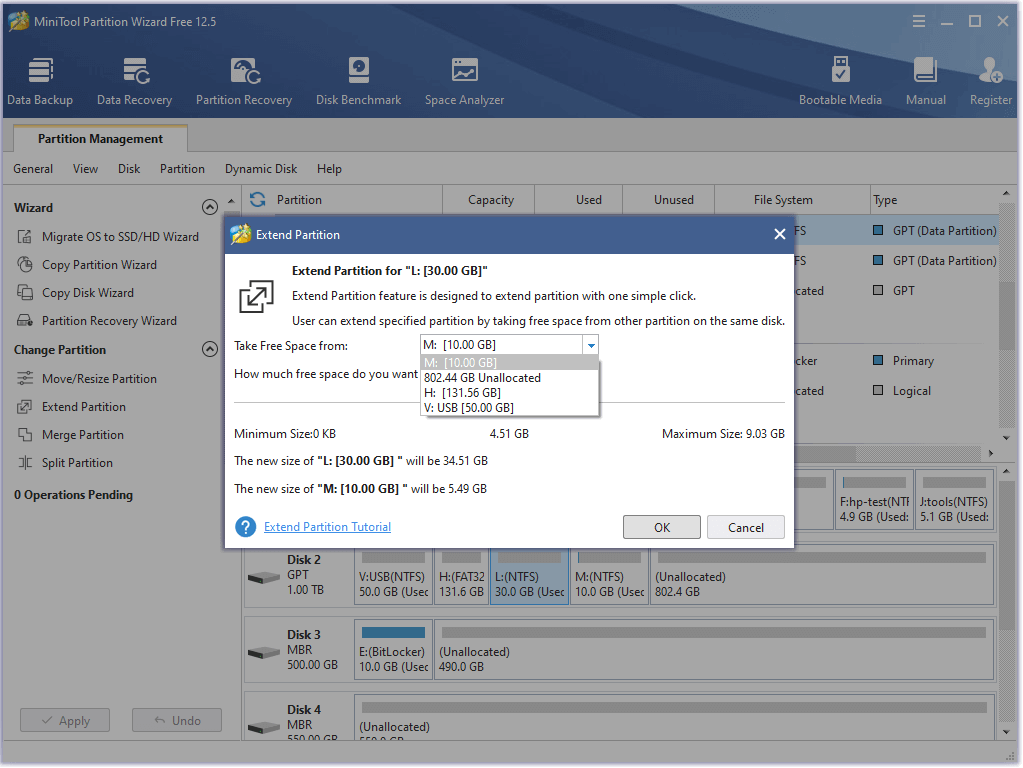 When looking for a disk management tool or a partition manager, MintiTool Partition Wizard is a top choice. One of the reasons why you'll like it is due to its simplicity and friendly interface.
With MiniTool Partition Wizard, you'll be able to manage multiple partitions on your PC. Furthermore, it allows cloning, merging and splitting partitions.
Another reason why MiniTool Partition Wizard works best is because it works with most disk formats. Whether your partitions are in MBR or GPT, this disk management tool works for all.
2. EaseUS Partition Master 
Another option on the list is EaseUS Partition Master and while it is a paid tool. There's a free version available that'll let you enjoy basic features to manage your partitions.
EaseUS Partition Master allows users to manage disk space, clone disks and resize them. You'll love it because it comes with a friendly interface which makes it easy to use.
In addition to disk management, EaseUS Partition Master works with both SSD and HDD. Also, it doesn't matter if your disk is exFAT or NTFS, it makes things easy.
3. AOMEI Partition Assistant
Next on the list is AOMEI Partition Assistant and it is one of the free partition manager for Windows 11. If you're looking for a comprehensive tool to manage your partitions, it is your go-to option.
There are quite a number of features available on AOMEI Partition Assistant. It allows the creation and conversion of partitions, disk cloning, resizing and merging.
Also, users can create bootable media files using AOMEI. All these features can be accessed on the free version of AOMEI. It works perfectly on Windows 11 and older versions as well.
4. Paragon Partition Manager
Paragon Partition Manager is a standard disk management software you can use. Similar to other alternatives on the list, you can enjoy basic functions like disk cloning and all.
Besides, it does more than just clone disks, it can help you recover deleted partitions as well. One of the reasons why you'll love it is due to its speed and efficiency.
With Paragon Partition Manager, you'll have access to an all-in-one disk management tool on your Windows 11 PC. Lastly, it allows users to convert MBR to GPT and vice versa.
5. Macrorit Partition Expert Free Edition
Well, nothing pays better than having a partition manager that works well. And with Macrorit Partition Expert, you're in safe hands. The free edition might just be what you need to manage partitions.
This tool offers a range of partitioning functions, including resizing, moving, and splitting partitions. Furthermore, it is also known for its high-speed performance and efficient data protection.
If there's a mishap in your partitions, there's a rollback feature that'll keep things clean. One of the best ways to enjoy this disk management tool is when you have SSD storage.
6. GParted
GParted is one of the free partition managers for Windows 11 PCs. If you're looking for an open-source partition manager that offers advanced features, this is your go-to option. With GParted, you can create, resize, move and manage partitions well.
Also, it comes with an interface where you'll get graphical insights into all your partitions and disks in general. GParted is very powerful and that's why it makes sense for managing partitions.
GPartted supports a wide range of file systems and offers features for advanced partition management. It aligns portions to give a better performance on Windows 11; you'll love how it works.
7. Active@ Partition Manager
One of the best free partition managers for Windows 11 is Active@ Partition Manager. This tool is recommended for users with a low-end PC. Well, that's because it is a lightweight partition manager with simplicity.
Whether you want to create, delete or format partitions without hassles. Active@ Partition Manager got you covered. The straightforward approach from the partition manager has made it one of the recommended for Windows 11 users.
In addition to its basic partition features, it also provides options for managing unallocated space and changing driver letters. If you're new to disk partitioning and you need a simple tool, this is your best bet.
8. PartitionGuru Free
As the name says, you'll surely get an insight into how efficient it can be when it comes to partition management. PartitionGuru is a comprehensive partition manager available for Windows 11 and other versions.
Aside from getting basic partitioning features, PartitionGuru is also perfect for recovering and analyzing disks. It targets both MBR and GPT; you can also install it if your PC is either using an SSD or HDD storage.
Getting the best out of PartitionGuru comes with no stress; it has a simple interface and is also very easy to use. Lastly, users can convert file systems and also perform basic disk management functions.
Conclusion
There you go with the best free partition manager for Windows 11. Well, as I've explained earlier, each one comes with a unique feature, but they offer the same functions. Whether you want to resize, clone, merge, or split partitions on your Windows 11 PC. The above-mentioned partition manager is the best you can download for free.