Punctuality is an essential element in our life. And in today's competitive world, it has become crucial to do everything on time to be perfect and stand out from others. Moreover, punctual people also impress others and help a person to keep a balance in his life. But if you are not much used to be on time, then shift worker apps are such tools that will help you in this situation.
These Shift worker apps are beneficial applications that can set up annual events like birthdays and one-time events like medical appointments, day trips, family visits, etc. By using these apps, you never miss deadlines, meetings, and events for business functions. The schedule apps features calendar in which you can assign works to get reminded of.
Many such applications are available for download on Android and iOS smartphones, but finding the best out of it may be difficult for a busy person. So for your help, we have prepared a list of the best Shift Worker Apps for Android and iOS. The most exciting thing is that all the below-mentioned apps are free to use.
Also Read- Best To-Do List Apps for Android
List of Best Shift Work Calender Apps For Android and iOS in 2022
Shift Days – Work Tracker

My Duty- Nurse Calender

Shift Work Schedule 

My Shift Work

Shift Life Organizer

Shift Work Calendar

My Shift Planner

Shift Worker

 
1. Shift Days – Work Tracker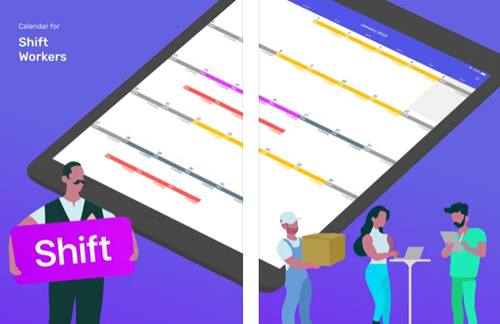 The first inclusion on the list is Shift Days, an ideal shift work application for iOS users. The app has a calendar and clock feature that will help you to visualize your schedule quickly. You can assign your work on specific days, and Shift Days will send you a reminder for your timetable.
The layout that you will get in the app is beautiful, with easily navigable options. You can also share your schedule with your friends if they are also using the same application.
Download for iOS
2. MYDUTY- Nurse Calender
This application is specially designed for medical practitioners to help them keep track of their work schedules. It makes managing the huge responsibilities in hospitals and clinics easy for doctors and other medical staff.  You will get options to plan your day or even schedule your work for a later period of time.
The interface is clean as straight forward making the app more efficient and fast to use. MYDUTY also has a feature that enables users to add other people to it. This makes it easy for a person to make a schedule for a team.
3. Shift Work Schedule
Shift Work Schedule is an application for those whose work schedule changes daily. Many features are available inside the app that will help you keep track of your ever-changing daily routine. The interface is divided into a single day, three days, shifts, etc., where users just have to fill up their work.
Additionally, you can also set up your own shifts and working hours in the Shift Work Schedule.  However, currently, the app is only available for Android users.
Download for Android
4. MyShiftWork
This is another fantastic shift work scheduler that is used by lots of people worldwide. A unique aspect of MyShiftWork is its simplicity. The application has minimum complexity involved with several valuable functionalities.
Moreover, you can assign your work on the in-built calendar in just a few steps system. It also allows you to enter short notes with your schedule displayed on the notification panel.
Download for Android
5. ShiftLife Organizer
ShiftLife Organization will be a perfect choice if you are looking for a shift work application that will guide you with your duties for the whole day. The application can add training schedules, and holidays work schedules and other essential things that you need to remember. It also has a bookkeeping option that can help you to keep records of Expenditure and income. 
Moreover, shift life organization also has a cross-platform notification feature that helps you get reminders on more than one device. In addition, there are some other options like adding featured images and voice records in the app.
Download for iOS
6. Shift Work Calendar
Our subsequent inclusion in the list is Shift Work Calendar, a helpful application for keeping up with time.  The application has an Autofill feature which is unique from any other App. The feature automatically assigns works for the whole month with reference to your pre-filled schedule.
Moreover, you can also add weekends and holidays to the preferred schedule to break the monotony.  It also has a meal reminder that will remind you of your breakfast, lunch, and dinner.
7. My Shift Planner
This is a unique app that will help you to balance your professional and personal life. My Shift Planner features attractive templates that you can use to assign your daily works with reminders. The application is easy to set up, and you can also import data from other schedule apps in it.
The app displays three upcoming shifts at a time to have an idea of future events. In addition, you will also get a list of holidays that are optimized according to different country's calendar.
8. Shift Worker
If you don't have much time to keep a close eye on your work schedule, Shift Worker will help you out. This application will show you all the crucial information regarding your work schedule to make your day easy. Users can enter the shifts of a whole month and a single day in the Shift Worker application.
It also features custom shifts where you can decide the hours of work according to you. Shift Worker also has a number of beautiful themes that will give a different look to your work schedule. 
Download for iOS