Many of you know about the Lord of the Rings movie and games. Author J.R.R. Tolkien constructed the Elvish language for Lord of the Rings, including Sindarin and Quenya.
So, many of you may want to read and write in the Elvish language, but you need to have an Elvish translator for that purpose.
You can regularly check Reddit threads if you want to learn how to speak Elvish, Sindarin, or Quenya. But in case you need to write a phrase in that language instantly, translators are the only way out.
For general information, we must inform you that currently, Google Translate doesn't have the facility to convert English to Elvish.
But many other translator tools are dedicated to translating the English language into Elvish. Some come in a website format, and some in mobile applications.
We are sharing some easy-to-use and effective translators for English to Elvish conversion. Along with Elvish, you can also translate Sindarin and Quenya in some of them. So let's not waste your time and dive into the list.
Best Elvish Translator Tools, Apps & Websites in 2023
Flamingo Elvish

Sindarin dictionary(+Phrasebook)

Elfdict

Learn Elvish (Sindarin)

Runes-Elvish Translator

Elfic-Elvish Translator

Jens Hansen

English-Elvish Translator–Angelfire

Real Elvish
LingoJam
1. Flamingo Elvish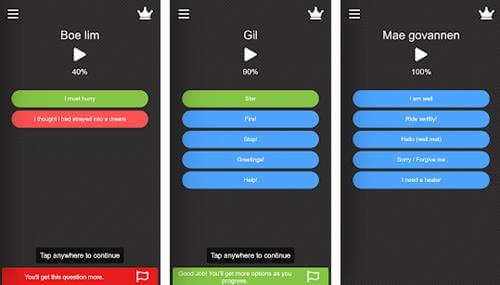 If you want an Android app for English to Elvish translation, Flamingo Elvish will be a perfect option for you.
The best part of Flamingo Elvish is that you don't need to register or sign in to use it. In addition, according to user reviews, the app is pretty fast in translating long sentences.
The user interface is also clean and straightforward without any e fancy settings. The app is free to use but features ads in the interface.
Price: Free with in-app purchases
2. Sindarin dictionary(+Phrasebook)
This is another Android application for English to Elvis translation. Sindarin dictionary offers some unique features that no other Elvis translator will offer you.
The app will not only help you to translate your language into Elvish but also help you to write in the language.
Sindarin dictionary has a phrasebook and word search option that will enable you to build a passage in Elvish.
The app has two versions, a paid and another free. The paid version contains more phrases than the free one.
Price: Free with in-app purchases
3. Elfdict
Our subsequent inclusion is Elfdict, a complete platform for learning the Elvish language. Along with normal English to Elvish translation, the app will help you in several other ways. Its helpful features include Elvis dictionary, phrasebook, pronounce assistant, etc.
Presently Elfdict has a collection of 50 + phrases, 80000 plus words, and 45000 plus active glosses in the Elvish language. Moreover, many free-translated words are commonly used in our day-to-day life.
Price: Free with in-app purchases
4. Learn Elvish (Sindarin)
It is a handy app for those who quickly learn the Elvish language or translate English phrases into Elvish.
The best part of Learn Elvish (Sindarin) is that you can use the app even without an internet connection.
It also reads aloud the words translated in Elvish so that you know the proper way to pronounce them.
Apart from English, the app also translates other languages into Elvish. However, Learn Elvish (Sindarin) contains ads but, at the same time, is free to use.
Price: Free
5. Runes-Elvish Translator
Runes-Elvish TranslatorIs is a dedicated application available for Apple users for English-to-English translation. The Elvish translator is wildly popular for its easy-to-use interface. You will get three options for translation, namely Elvish, Dwarft, and Medium.
There is also a phrasebook in the Runes-Elvish Translator that will help you to build a passage in an Elvish language all by yourself.
Price: Free with in-app purchases
6. Elfic-Elvish Translator
Another Elvis Translator app that you can use is Elfic. The app has a unique user interface with an ancient theme of Lord Of the Rings.
In addition, Elfic-Elvish Translator lets you translate any Phrase into Elvish from Lord Of the Rings. You can also use it to write any phrases in English with the unique fonts available to use.
The app also lets users store the translation in JPG images in their gallery. And finally, all these exciting features are available free of cost.
Price: Free with in-app purchases
7. Jens Hansen
Jens Hansen is one of the most popular and oldest online English to the Elvish translation tool. The site lets you translate all types of English phrases into Elvis language effectively. Additionally, the translation tool in Jens Hansen is pretty fast in English translation.
The user interface of Jens Hansen is easy to use and will be suitable for first-time users. Moreover, you will find pre-translated versions of commonly used English terms on the website.
8. English-Elvish Translator-Angelfire
If you are a new user of the Elvish language, then English to Elvish will be a good choice for you. It is a web-based translation tool that will help you to translate your native language into Elvish effectively. But, unfortunately, the translator is limited to only one web page, which makes it easy to.
You can also paste your desired text into the box given on the website without typing the phrases manually. The English-to-Elvish translator results are impressive, so we recommend it as a hot option.
9. Real Elvish
If you are on the hunt Elvish translator, Real Elvish is one of the well-known websites for Elvish translators that are used by thousands of users. On the website, you can get everything you need related to the Elvish language.
Using its extensive database, you can learn names and phrases. All of its databases are reviewed by experts. And most importantly, Real Elvish is a free website that you can use at any time.
Price: Free
10. LingoJam
When it comes to Elvish translators, who can come to close LingoJam, which can help to translate English to Elvish similarly, it also translates Elvish to English. The website is very straightforward to use.
On the single-page website, you must write down English sentences to get its Elvish version. The best thing about the website is that it produces a result within a few seconds, so it could be ideal for those who want to translate Elvish instantly.
Price: Free