Have You ever heard about Reddit? Well, probably, Yes. As Reddit is the front page of the internet, which covers all topics, and there is nothing to call it wrong, Along with world news, it included every niche information. All traffic is derived only because of a variety of content and news. Every user gets their specific content here with more options, news, and different topics.
However, Reddit failed to build a profit generation model, which we can also say, revenue model. However, because of users' massive traffic, it still enjoys and operates efficiently and profits. Most people spend their time on Reddit to get information and connect with the world. It also contains trending issues, news, and debate war, along with essential topics. Let's look into some best Reddit apps which help you out in many ways.
List of Best Reddit Apps for Android and iOS Smartphones
1) Boost for Reddit
It is the most popular app because of its night theme, attracting its users. In this, you can easily change topics, news everything according to you. There are many advanced features like filtering or sorting the content. You can quickly sort materials through images, Gifs, links, videos. Even the font size can be the best thing in this app.
Download Boost for Reddit Android
2) Reddit
Now let's come to the official app, i.e., Reddit, which is available for Android and iOS users. You will get various features like downvote, upvote, like, comment here. Even you can sort content with hot, new, top, controversial, trending.
You can create your post with content and put images, videos, links. The best thing there is a chat room to get to stay connected with peoples.
3) Joey for Reddit
This app is available only for Android users but with a unique feature that you will like for sure. The best thing is text to speech. You can search for anything just by saying through the mic.
Along with this, you have to tap to check images, links, videos, articles without opening them. Two different colors indicate usernames and comments for a better experience.
Download Joey for Reddit: Android
4) BaconReader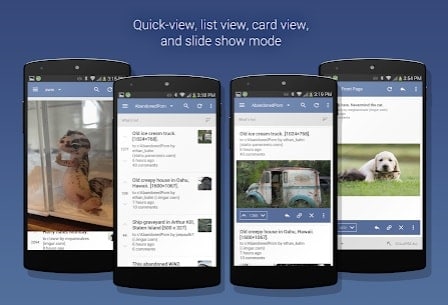 This app is created to boost your subreddit experience to the next level. It provides various features like changing the themes, set the default subreddit to the homepage. You can sort and filter content too by top, rising, new.
The best thing is you can block content through keywords, links, users. Various features like comment, like, vote all are present here. Many other unique features like colored comments, change font size, moderator tool also here. The app interface is simple and functional in many ways.
Download Bacon Reader: Android | iOS
5) Sync for Reddit
This app provides a unique and lightweight interface to make your experience more amazing. It is fast to use, with various features available for a better experience.
It provides multiple themes like night themes to surf the content in user favorable ways. Features like-colored comments, votes, comments on the post are also available. The best feature is app supports multi-account and multi-window to go through from various subreddits.
Download Sync for Reddit: Android
6) Nano for Reddit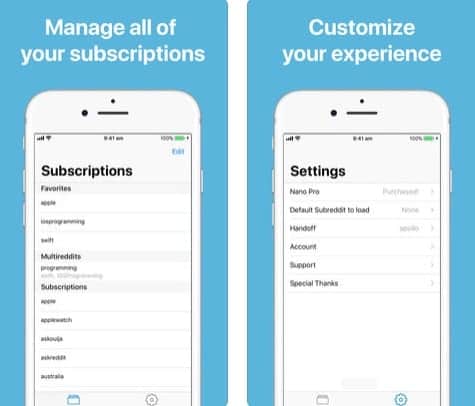 Did you have an Apple watch? If yes, then this app is best for you. It will allow you to ready subreddits, Vote on them, check various notifications on your watch. You can easily connect this app with your watch. The Pro version will provide you with additional features like multi-window, 24*7 support. It is the best way to get connected anywhere.
Download Nano for Reddit: iOS
7) Narwhal
It Is similar to joey for Reddit, but it only supports iPhones. It will allow you to save the post and read it in your free time. It will provide you interface with gestures where you can like, vote, comment on posts. The app is famous only because of its attractive design and interface. There are various ways to customize your app icon, text, content.
Download Narwhal: iOS
8) Apollo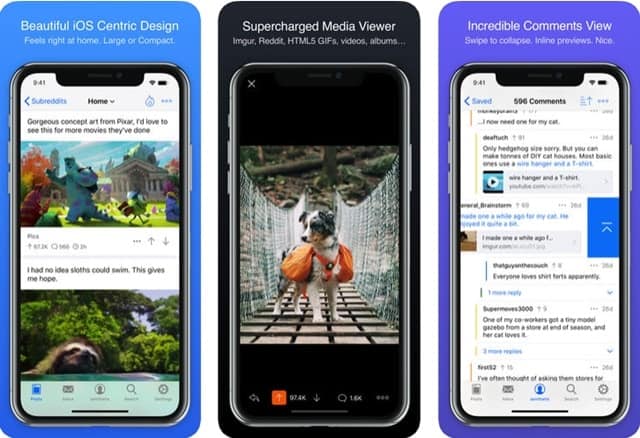 The app is only available for iPhone users. However, the app is selected as the best app in all the above apps by the Reddit community. What makes it so special is the app's user interface, which links to which apple design complements it.
The settings of Apollo will remind you to change the change filters, sort settings along with your iPhone.
Download Apollo: iOS
9) Redreader
The app is not for power users because there is some restriction on the comment, like, vote on the post. However, the app is open source. Hence you can easily read any content. The app supports multiple accounts but now the windows. You can divide the screen into two columns, which is the best feature for comparison or multiple handling.
Download RedReader: Android
10) Now, For Reddit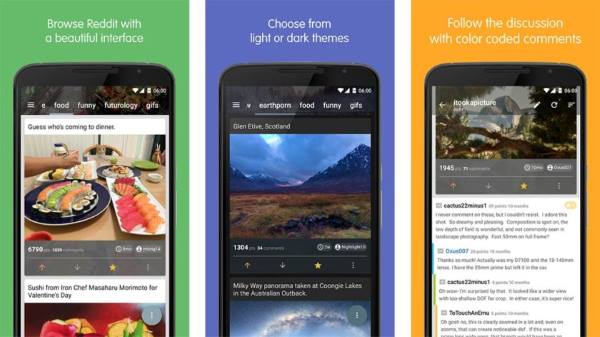 Reddit is a great application that makes the Reddit experience so easy to use and much refined. It has a fundamental set of features but is finetuned. It supports various file types, Imgur Support for Reddit Gold subscribers.
Now For Reddit also has a modern design aura to it. You can also browse popular and trending subreddits at your discretion too. It's a great option for those who only need a few useful features.
Download Now for Reddit: Android
11) Reddit is Fun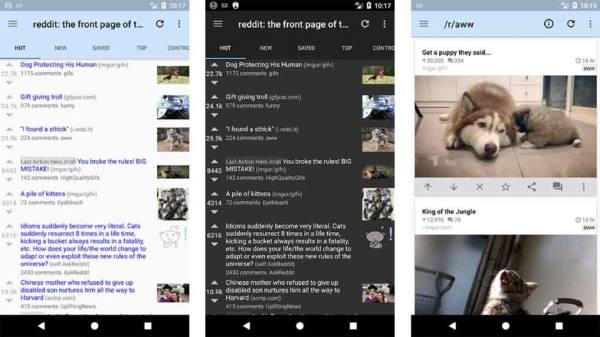 Reddit is Fun is another application that you can use to browse Reddit and your favorite subreddits. It is a fine-tuned version of the original Reddit experience. Which means you will see a lot of text.
The good part is that it supports theming, supports multiple file formats, moderator tools, widget support, and much more. I must. It is not the flashy Reddit app, but it sure gets the job done!
Download Reddit is Fun: Android