Facebook Marketplace is the most popular platform where people can buy and sell a wide range of products. However, depending on only one platform is not always recommended, so it is better to find the best alternatives to Facebook Marketplace.
On the internet, many platforms provide similar features. So, we reviewed a lot of sites and choose the best sites like Facebook Marketplace, which not only have similar features but also have their own unique offering that you will absolutely love.
All the websites mentioned below are the best platform to buy and sell products online in your locality. If you are really looking for alternatives to the Facebook marketplace, then you should check out our list. You'll defiantly find more options than in the marketplace.
Best Facebook Marketplace Alternatives
Below, we have compiled a list of the best sites like Facebook Marketplace that you should check out if you want more options than the Marketplace.
1. eBay

eBay is one of the most popular global online marketplaces where you can buy and sell any kind of product. You can access eBay from anywhere in the world, as eBay has an existence in many countries.
Its website has over 701 million monthly visitors, which is a huge number. It has more products and offers than Facebook Marketplace, so if you're looking for an alternative, go with eBay.
You'll find all kinds of products on this website, including electronics, clothing, home goods, cookware, and much, much more. If you are a seller, you can list your products with the Buy Now or Bidding option.
2. Etsy
Another alternative to Facebook Marketplace is Etsy, especially for those who love arts, crafts, and vintage items. If you are an artist or a craftsman, you can sell your arts and crafts on this platform.
Etsy also offers vintage clothing, accessories, home decor, and more items that every vintage item lover will want. The interface of the website is so user-friendly that anyone can use it to find their desired items.
With 470 million monthly visitors on the internet, you can imagine how big this site is. You can sell or buy handmade and vintage items from all over the world because Etsy deals globally.
3. AliExpress
AliExpress is a giant retail e-commerce platform that offers a wide range of product categories including fashion, electronics, home goods, toys, jewelry, bags, computers, and many more.
The prices on this site are very reasonable compared to your local retail market. People from all over the world can order any product on this site as they provide worldwide delivery.
Also, AliExpress offers discounts, coupons, and promotional campaigns, so you can save money. You can also use their mobile app, which is the easiest way to shop on AliExpress.
4. Mercari
Mercari is another website that you can consider the best alternative to Facebook Marketplace. Both buyers and sellers can use this platform to buy or sell a wide range of products.
It offers lots of products in different categories, including beauty, accessories, games, electronics, and more. As a buyer, you can communicate directly with the seller using their messaging feature.
You can also rate sellers based on product quality, which helps other buyers know about the product.  The best part is that you can order the products from anywhere in the world and they will be delivered to you.
5. Rakuten
Rakuten is another online retail company from Japan similar to Facebook Marketplace. It provides a platform where buyers and sellers from all over the world can sell and buy products.
With every order, it gives you points which you can use for discounts on future purchases.
The website has many stores and brands listed like Walmart, Staples, Petsmart, Samsung, and many more where you can click through and get special deals and discounts on products from those companies.
6. Poshmark
Poshmark is one of the best online platforms where you can buy or sell clothes, shoes, and accessories. This website is dedicated to fashion items, so if you want to sell or buy any item related to fashion, you can use this website.
If you are the buyer, you can also interact with the seller, making the platform more user-friendly.
It has a huge range of clothing from high-end to affordable brands, that you can choose from as per your budget. You can also buy used clothes at cheap prices. It has over 52 million monthly visitors worldwide.
7. Newegg
Newegg is one of the best online retail platforms for computer and electronic-related products. If you are interested in computer-related items, you can visit Newegg to get the best deals.
It has a huge collection of computer laptops, gaming consoles, software, and various hardware items across different brands and models.
The prices of the products are reasonable, and you can also compare them with your local market prices. Newegg also provides customer reviews and ratings for each product which allows users to choose the best products.
8. Letgo
Letgo is another website that provides a platform for people to buy and sell their items locally. Currently, it is available in Turkey, Spain, and Norway only.
If you have any items that you are not using, you can sell them on Letgo as second-hand items in your local area.
On Letgo, there are many items listed in categories like Vehicles, Homes, Furniture, Phones, Electronics, Jobs, Accessories, and many more.
9. Gumtree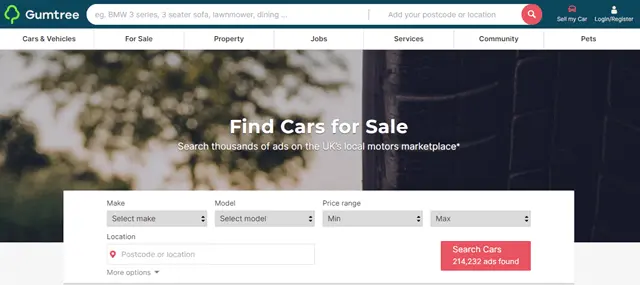 Gumtree is a website where you can advertise and sell your items online. It is basically a platform for buying and selling used items locally. This website allows you to list your items without paying any fees.
You can list items in a variety of categories including clothing, electronics, household items, services, vehicles, and many more. As a buyer, you can search for whatever you want and negotiate with sellers to get it at the best price.
10. OfferUp
Just like Gumtree, OfferUp is also a buying and selling platform in the US. You can buy or sell your stuff in your local area. The interface of this website is so simple that anyone can list their items for sale and communicate with sellers easily.
It also allows you to discuss pricing and set up a meeting place with buyers or sellers. In order to list your item on OfferUp, you must verify your account to maintain security and trust.
---
Conclusion
That's it for this list of Facebook Marketplace alternatives. I hope you have found the best site for your needs. All the websites listed in this article are the best alternatives to Facebook Marketplace.
Make sure you read all the information about each website and choose accordingly. If you want us to add any other website that we haven't mentioned, please let us know in the comments section.