Now the time is for online shopping; you can buy anything online, like electronics, phones, laptops, food, and whatnot. When it comes to online shopping, AliExpress is one the most popular shopping sites that you can consider going for. AliExpress lists cheap products and has faster delivery, making it one of the users' most preferred shopping sites. 
So are there any alternatives to AliExpress? If you have been looking for sites like AliExpress, you are at the right place. In this article, we will be listing some best websites like AliExpress. 
Best Sites Like AliExpress
There are various AliExpress alternatives that you will find online, but we hand-picked these sites that are cheap and affordable. On the other hand, these sites are easy to use and trusted ones.
We would like to start our list of AliExpress alternatives with Wish. It is a popular site that allows users to shop for anything, including footwear, electronics, and much more.
Not only this, but you can also find any weird items you could have thought of. They offer products at a really low price. Moreover, they have fast deliveries so you can expect the products to be delivered to you fast. 
This one is also a good online shopping site with a wide range of products, from jewelry to shoes. There are a lot of categories available here, including clothes, shoes, bags, jewelry, home, lights, toys, beauty, computers, phones, etc.
Their delivery time is also quite fast like AliExpress. Apart from that you can also get good deals on products at a cheap price. 
Banggood is also an e-commerce site that is based in China. Just like Ali Express and all the other sites we listed in this article, you will find various products on Bangood. Their product lineup range from clothing to electronics and much more.
The products on Banggood are available at a low price compared to the actual price. Not only this but various sales on Banggood can get you a good deal for the product you are looking for
Another great website we have on this list is Gearbest. It is a Chinese e-commerce platform that works with over 5000 Chinese brands and provides products to users. You can find products from companies like Huawei, Xiaomi, and Lenovo.
Their products are available at lower prices Not only this, but Gearbest delivers in multiple countries. Also, if you have a local warehouse nearby, then you can get fast shipping for the product. 
DHGate is also a popular online shopping site. You can get almost all the products you find on AliExpress on this site. Many drop shippers use DHGate as you can get products at a cheap price on it.
There are over 10 million products on DHGate in various categories like electronics, clothes, watches and jewelry, toys, home and beauty, outdoor and sports, smartphones and computers, and much more. Also, their delivery is fast as they use ePacket Shipping for delivering their products. 
You can also go for DX if you are looking for an online shopping site that delivers products at very cheap prices. DX, which was previously known as Deal Exchange, is one of the best sites like AliExpress.
You can get toys, gaming consoles, phones, tablets, DIY Products, smart watches, etc. Many products can get delivered within the same day, while for some products, the delivery time can exceed 15 days. DX accepts payment through PayPal and credit cards. 
YesStyle is an Asian marketplace for beauty and fashion products. You can find a wide range of products ranging from clothing to accessories. You will find brands from Korea, Japan, and Taiwan on YesStyle.
It has products from brands like TonyMoly, COSRX, Nature Republic, and others. On YesStyle, you can get great deals and offers.
Overstock is also a good online shopping site. This site is based in the US and provides products at a wholesale price. They get their stock from various retailers. If you are looking for great deals on products you want to buy then you can expect to find one here.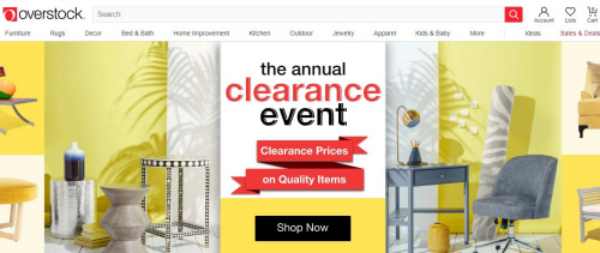 Just like every other Chinese e-commerce store we listed in this article, Overstock has a wide range of product inventory including clothing, decor, appliances, etc. 
eBay is also a popular online shop that serves around 182 million across 190 countries. The site allows you to search for products by category. Simply search for the product and you will find products similar to that.
eBay lists products in various categories, including electronics, motors, fashion, sports, health and beauty, industrial equipment, and more. Also, you can sell products on eBay if you want to. There are great deals on eBay, so you can expect to find the product you are looking for at a great price. 
Bonanza is also a popular alternative to AliExpress. You can find more than 20 million products listed on this site from more than 50,000 sellers.
The site lists almost every type of item that a person can be looking for on the internet, be it clothing, jewelry, bags, or any other. Also, if you want you can list your products on Bonanza to sell them. 
Final Words
Above were some of the best sites like AliExpress. When looking for products it is always good to have alternatives to find the best deals. If you are looking for AliExpress alternatives to search for the best products then you can go for the sites listed in this article.