Online Shopping has become a trend these days; most of us buy stuff online instead of going to stores. Wish is one of the most popular online shopping sites, which is so cheap. Anyone around the globe can sell their products on Wish. Many products available on this site are non-branded.
Have you ever wondered why Wish products have low prices? The products' material might be the cheapest, and you might not like it when the item is delivered to you. So, you start looking for similar shopping sites and apps, and here we have shared a few of the sites like Wish.
Best Sites Like Wish for Online Shopping
So why stop at the internet? We will now provide you with information about additional online retailers sites like Wish. You can go to websites, select the items you want at a reasonable price, and order them from the convenience of your home.
1. AliExpress
AliExpress is a site similar to Wish and one of China's largest online retail stores. This website's design is similar to Amazon, and scrolling through a pictures-only list is available just like Wish.
As the products on this site are from China, the shipment charges for international customers increase. There is free shipping in the US, but you will receive your items in 29 days.
2. Zulily
Zulily has many different types of products, from Kitchenware to Clothes, toys, and other gadgets. And the prices are very low here and they give great discounts. The app or a website sends you an email when they have the best deals on products.
Daily brings new sales which give you up to 70% off. If you love shopping for a particular brand's clothes, then after you create an account, select a heart next to your favorite brand. By this, you will be notified whenever that brand's new product arrives.
3. Dollar Tree
Dollar Tree is an American retail store that offers many products, each at $1. You can find items like household, pet supplies, clothes, daily essentials, and more at this cheap rate. This website is a great option to buy products from home instead of going to the shop and searching for thousands of products. And it is one of the best ways to save money.
4. Amazon
Amazon is the most popular online shopping service globally. This app/website is completely safe to use, and it gives free shipping for its Prime members.
Once you become Prime Member, you get many benefits like festival season sales; you can see offers 24 hours before it gets live, free shipping, fast delivery in two days, and more. It has a huge collection of products, and the prices are low.
5. Banggood
Banggood is a Chinese online shopping website that has the best items in the category. Good products like clothes, gadgets, Kitchenware and more give a great discount. The user interface is straightforward to use, and once your order is shipped, you can track your package, just like Amazon. It has different payment methods like PayPal or Credit Card.
You need to pay shipping fees, which have a 30-day return policy. It regularly brings new items in stock so you can easily find new products.
6. GearBest
GearBest is another best alternative to the Wish site for online shopping. It is different from other websites as it has health and beauty products, electric appliances, warehouses, clothes, and much more. From this website, not only individuals can buy products but also businessmen.
The warehouse section is best for the retailers, as they can find all the best products per their needs. Every day it has great deals on different products. You will get clothes and buy LED lights, mobile phones, PCs, and more.
7. LightInThebox
Lightinthebox is one of the best online shopping stores that provide customers with the best quality products in the price range. All the products available here are at wholesale prices, and the items are shipped directly from China, as this is a Chinese e-commerce site. You will find products like gadgets, accessories, clothing, and so much more.
It allows you to make payments through PayPal and the delivery time depends on where you live. If you stay far away, then it might take longer. For the fastest delivery within a week, you can go for expedited delivery.
8. OverStock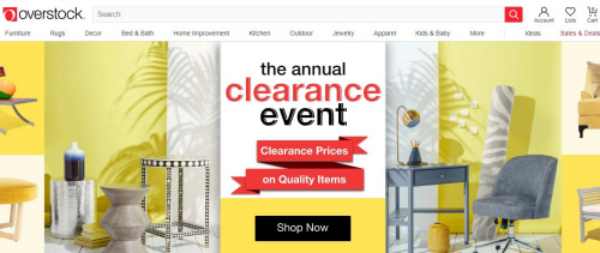 Overstock is another popular website launched in 1999 as a reseller of products. The website offers everything from home decor to Kitchen; you will get everything. Other shopping categories of this site are Jewelry, Apparel, health & beauty, and more.
Earlier, they were just a reseller of returned and surplus products. But now, with that, they also sell their own merchandise, like handmade items. Here, the seller is the only one directly selling you the products; there is no other third-party vendor. And if you become a club O member, you get more benefits like free shipping, easy returns, a 5% reward, and more.
9. Miss A
Miss A is an online retailer of $1 cosmetics. It indicates that the items are available for $1 here. YES! Regarding the cost of the products, it is among the top websites like Wish. This website offers a huge selection of cosmetics and accessories.
Customers who place orders at this online retailer receive free shipping on purchases over $35. You can trust the quality of the products because Miss A imports them straight from the makers.
10. GeekBuying
The innovative e-commerce site Fab focuses on your diet and well-being. They provide you with a carefully curated selection of health-related products, accessories, and technology based on your interests.
Typically, you can't find these products anywhere else. Here, you'll discover some genuinely useful goods for a fair price.
The company is situated in the USA and ships all of its products from there, which is the nicest thing. Therefore, you shouldn't worry about the product's authenticity.
11. Bonanza
Bonanza is one of the reliable sources for online shopping. Millions of buyers and sellers have connected with more than one and a half decades. This is the one and only website where you can find handmade and artistic products at competitive prices.
Besides that, you can buy every product from fashion (men & women), health, beauty, jewelry, home appliances, garden, books, and many others. Another interesting thing is that buyers and sellers can communicate with each other.
12. Rosegal
Rosegal is a dedicated website for women's fashion. If you are looking for an ideal Wish competitor for women's fashion, Rosegal surely fulfills all women's clothing demands. Fortunately, there is a small space for men as well.
Since it's dedicated to clothing, you can find any type of clothes a woman wear. Whether you want vintage or urban collections, Rosegal won't disappoint.
13. Wanelo
Without Wanelo, the round-up of Wish alternatives is incomplete. On the site, you will get more than 30 million products to buy. Moreover, the website is associated with 550,000 popular stores all over the world.
However, the price of each product is relatively lower than other websites. So if you want to shop for some cool things without breaking your wallet, Wanelo is perfect for you.
14.  Joom
Joom is another superb online shopping website where people can buy products at the cheapest price. This site offers various products from shoes, home & kitchen, men's fashion to cars & motorcycles, and many other products.
If you talk about the user interface and design of the website, it's pretty much like the Wish. Everything about Joom is significantly fine until the shipping delay. Most users complain about shipping delays. Otherwise, the website is perfect for cheap buying.
15. Temu

While I checking the website, I was hopeless for some time, but after browsing the site, I think Temu is one of the best alternatives to Wish. It has an extensive product list at a very low price that buyers won't complain about.
Because of its competitive price, the website has reached millions of users within a year. Along with the flat prices, Temu also runs various offers and deals. Crazy things happen here, sometime price goes down 90 percent – Give it a try.
Conclusion
These are the best stores and sites like Wish, where you may shop for everything. These can be used to order your preferred things for the lowest possible cost. Please share your knowledge of further alternatives in the comments section. Or, feel free to utilize the comment box if you have any questions or comments on anything discussed above.