World of Warcraft is a well-known game amount PC gaming community. After all, the game started the RPG gaming era for PC gamers. But in recent times, World of Warcraft seems too old to play. So players are looking for some good games like World of Warcraft to enjoy some new RPG titles in their free time.
If you're also looking for some worry RPG titles such as World of Warcraft, this list will definitely help you. We have tested some games out, and these are the best games that we know that closely resemble WOW.
NOTE: If you want to boost your gaming experience while playing the below games, we recommend you look at Gamingcy, where you can get various services such as gaming knowledge, experience, in-game achievements, titles and ratings.
Also Read- Best Free MMORPGs You Should Try
Best Games Like World of Warcraft to Play in 2022
In the below post, we mention the World of Warcraft alternative for PC, PS4, PS5, etc. You can pick any of the below games and give it a try; maybe you like these games more than WOW. We also offer the download link below each game.
1. Blade and Soul
Blade and Soul are also called the Korean version of World of Warcraft. It is a free-to-play MMORPG game identical to World of Warcraft.
The visuals are pretty familiar to World of Warcraft. However, the storyline is very different from World o Warcraft. Moreover, you can join one of the playable factions of Cerueam Order and Crimson Legion and fight against each other.
2. TERA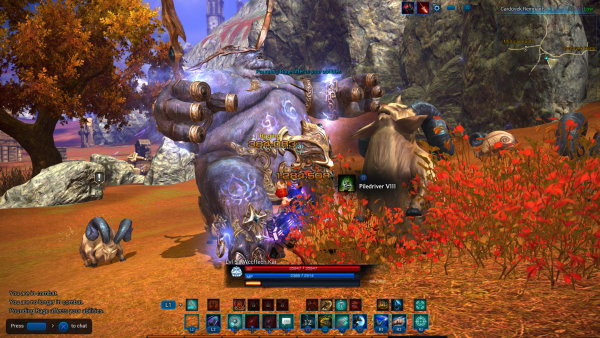 TERA is from Bluehole Studio Inc, popular for developing Battle Royale games such as PUBG. It is a free MMORPG game inspired by World of warcraft a lot. However, TERA is not a copy of WOW, it shares some basic concepts, but the gameplay and storylines are very different.
Moreover, a PvP mode is included in TERA, which is the best PvP in the MMO world. TERA's visuals are stunning, making players feel like they are in a virtual world. There are 12 playable classes to choose from, and there are seven reaches on the game.
3. WarFrame
Warframe is not an MMORPG, but it is more likely a third-person shooter game that gives an MMO experience. However, the game still falls under the MMO category due to similar features that we can all see in MMO games.
The gameplay is co-op-focused, and it is an action game where you will have to use unique abilities to earn a victory at war among the factions. There are tons of characters to choose from, and each has its unique abilities. It is the perfect replication of World of Warcraft, but it's a great game that can shift your insert from WoW to Warframe.
4. Elder Scrolls Online
Elders Scroll Online is a fantasy game that has been inspired by various worlds where you can also see a glimpse of a WoW. There are a total of three factions, and you have to choose from one of them to play the game. It is a dominating RPG game on the market due to its impressive storyline.
The game is not exactly an alternative to World of Warcraft, but there are many similarities. For example, you can play multiplayer with your friends in Elder Scroll Online. In addition, the developer keeps the bugs fixed and updates the game frequently to maintain its wealthy status.
5. Rift
Rift is the most exciting MMO that can kill World of Warcraft in a year. Due to the abundance of features that are available in the game. The developer has taken all the good aspects of MMO and mashed them into a one-game called Rift.
There are generally two main factions, and you can choose to be one of them. There is a constant war going among the factions. Like other MMORPGs, you will have to do basic tasks like level up, gathering, etc., and help your side win.
6. Path of Exile
The game world is set in a dark fantasy world of Wraeclast, and it is a game that everyone has the name of it on their list. Path of Exile not only has MMORPG features, but it also has a PvP mode and much more to play.
You will have to explore the unknown in the game; there are large areas, dungeons, and infected monster caves. The gameplay is very simple, and you will have to slay the monsters and other dark forces to get XP.