At Apple's WDDC 2019, Apple said that with mac OS Catalina, iTunes would no longer be supported. And the mac will have separate apps for music, TV, and podcast. Also, for iPhone management, the tools are within the finder app. But it did not end support for Windows users.
Windows users will have to use iTunes software for their iPhone management tasks like backup and music transfer. But in this article, we are about to provide some best alternative Softwares that you can use instead of iTunes on your Windows machine.
List of Top Best iTunes Alternatives For Windows 10:-
By alternatives, we do not mean just an alternate music player. But we expect a piece of software that can be used to manage media files and do iPhone management tasks such as backup and phone restore.
Although, it's wise to note that the list isn't in any particular order or rank. We will be providing the features that it can offer so that you can choose and make an informed decision. Let's begin with the list.
1.) WinX Media Transfer
So when talking about iTunes alternatives, this can serve its purpose. One of the main features that the users require is hassle-free media management. For that specific task, this software can completely come in handy with features like music management, automatic photo backup ringtone maker, and much more.
The music transfer is a two-way transfer. This means you can either copy from PC to phone or phone to PC.
2.) Dr.fone
Dr.fone is the correct choice if you want a management based alternative. Here we get options for backup and restore along with some more utilities. This includes transferring of photos, messages, and contacts from your phone to your PC.
Also, this software can help in repairing common software issues with iOS devices like stuck at boot logo and erasing data, etc. But this software is not pocket-friendly. But it's worth the features you are getting.
3.) DearMob iPhone Manager
This software, as mentioned, has most of the features that are available in the iTunes software. From creating backups to managing music. Also, this software helps to convert unsupported image formats to support the iPhone.
Backups can be made to happen automatically. The UI is very rich and yet simple and understandable. Hence it results in greater user experience.
4.) Pod Trans
If you have an iPhone, you would probably need the iTunes software to transfer songs and videos into your iPod from your PC. But it's not the case anymore. This software lets you transfer music files quickly and easily with some clicks.
It's completely free; hence you can give it a try. The software can also handle managing other media files such as movies or TV shows.
5.) Gihosoft iManager
This piece of software can help you with managing your files on your iOS device since this comes with features like file transfer, such as photos or music between your PC and device and backup and restore.
You can use this software to encrypt your files, just like you can with iTunes software. One of the interesting features is that you can archive your older backup to have multiple versions of your backup, and you can restore the most suitable version.
6.) CopyTrans Manager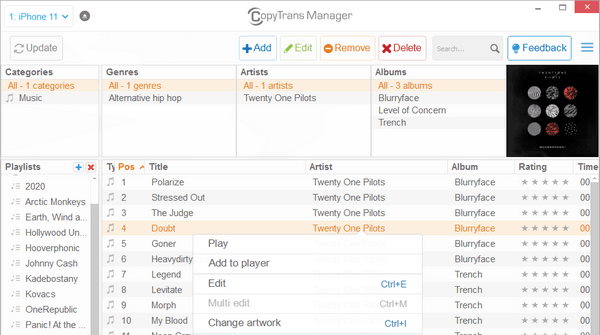 Copy trans gives you a complete solution for the hunt of iTunes alternatives for music management. It comes with a lot of features that can help you with managing your music files.
With this, you can edit metadata for the songs and even add lyrics to it. One of the interesting features is that this software can help you in removing duplicate songs that take up storage on your phone.
From Editor's Desk
Although iTunes serves as the perfect tool for such management, these iTunes alternatives can give you the ability to choose and get what you really need. We don't know if iTunes will be supported for longer on windows, and hence its good to have options to switch to.