For all anime lovers, spending their free time watching some good anime shows or movies is all they want. And there comes KissAnime, a top-rated site to watch your favorite animes in the best quality. However, over the past few years, it has been observed that KissAnime has become more unstable due to some glitches.
All you can do is look for a better Kissanime alternative in such a situation. And this article will help you find the perfect one for you. Although the list of alternatives might be endless if we go looking randomly. These alternatives are equally good, and some have additional features you will like.
Best Sites Like KissAnime for TV Shows and Movies in 2023
Many of you are looking for anime sites like Kissanime. So here we have compiled a list of the best Kissanime alternatives where you can watch anime for free.
1. Crunchyroll
Anime fans must be already familiar with the name Crunchyroll. It is among the most streaming websites on the Internet. There is no doubt that Crunchyroll gives tight competition to KissAnime, making it one of the best alternatives. With over 25,000 episodes, it contains everything from anime and manga to dorama that you can think of.
2. Anime Freak
Since we are discussing KissAnime alternatives, Anime Freak must be mentioned on the list. Anime Freak has a great collection of animes and mangas. They claim to have the largest database of vast categories of anime and manga. Moreover, the interface seems clean and simple, which feels amazing to navigate.
With Anime Freak, you can also check out upcoming anime TV shows and web series. It has a fall 2020 anime menu at the top that indicates all the upcoming anime. Now, these days, most anime sites have this feature.
Site URL: https://animefreak.video/
3. Anime Planet
With around 45,000 anime episodes, Anime-Planet is one of the best alternatives to KissAnime. Anime-Planet has been on the list since 2001 and has gradually earned a good reputation; it is among the most preferred sites.
Along with top-rated anime videos, you will also find popular mangas here. The landing page looks simple, with well-categorized sections that make your search easier. Also, the site delivers high-quality content for free.
They also feature the week's most popular anime and manga. That way, it is easy to know which anime is popular nowadays. When you browse it by season category, you will see categories like Winter 2020, Fall 2019, Summer 2019, Spring 2018, etc.
Site URL: https://www.anime-planet.com/
4. Chia-Anime
Like Kiss Anime, Chia Anime is another popular name anime lovers widely use. This anime site offers high-quality anime videos for completely free. Besides, language isn't a problem here as all the videos are available in English-subbed versions.
So, you can always read some text while watching your favorite shows. Starting from Asian dramas, shows, movies, and manga, you can find everything in this place. The site's UI is old-fashioned, but you can browse it by Genre, which will help you.
Site URL: https://chia-anime.su/
5. Gogo Anime
Gogo Anime can be a good solution for all anime lovers. The site does look great with a friendly interface; however, the ads keep popping out from both sides.
The homepage is well-organized, where you can find the contents in a serial alphabetical order. What's more interesting is that Gogo Anime lets you watch various anime movies and shows in different resolutions.
Site URL: https://ww4.gogoanime2.org/
6. Anime Lab
Anime Lab delivers the best anime shows to your personal devices. You can watch all your favorite shows with no tolerance with this site. Surprisingly, Anime Lab has a mobile app to watch anime directly on your mobile. Although this site primarily serves New Zealand and Australia. But you can make good use of it anyway through a VPN network.
Do many users ask about one of the main things these anime sites are safe to use? Because most movie sites deliver more ads than other sites. If you are looking for a safe and secure site, Anime Lab is the best option. There is no risk of any malware or virus that infects your computer. You can freely open it and use it as a general site.
7. Anime Watcher
Anime Watcher has a massive collection of all trending anime shows. The site unquestionably has an excellent ranking worldwide. It receives regular updates with the latest anime and manga series, so there's no running out of options.
The site does not require any signup or registration or anything like that. Search for your favorite anime TV shows and movies and start watching.
Site URL: https://aniwatcher.com/
8. 9Anime
9Anime is another popular name on this list, with millions of active users. Anime lovers can watch all their favorite movies and shows without any registration. However, the best thing about 9Anime is that it provides quality content in English, subbed and dubbed.
You can search for a new series from a regularly updated A-Z list. Otherwise, you can search for your preferred show's title or use the FastMenu option to find one.
Site URL: https://9animes.ph/
9. AnimeFrenzy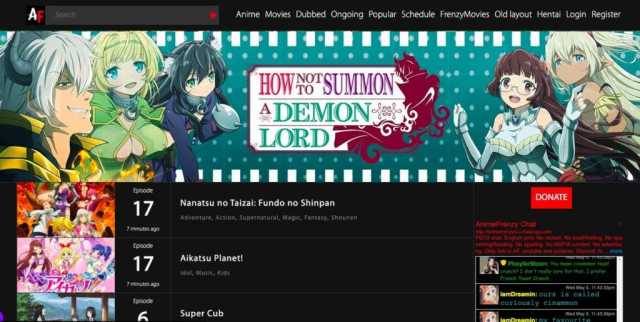 AnimeFrenzy has been available among anime lovers for a while, which makes this website one of the most capable alternatives to KissAnime. Regardless of your anime taste, the website has added each genre with so much content.
One Piece, Naruto, Baruto, and related series are also available. Also, the website updates content frequently to stay updated with demand. Otherwise, the website design is pretty neat and clean to navigate effortlessly.
10. Masteranime
Masteranime is a popular anime streaming website similar to KissAnime in every aspect. Like the other websites, it offers thousands of anime titles from different genres for free.
What I love about Masteranime is its sleek design. The website also provides good speed while watching anime. Another amazing thing is that it has high-quality video content.
From Editor's Desk
Ultimately, we are here with some of the best KissAnime alternative sites. These sites will provide you with the best quality anime content and fill the space left by KissAnime. Let us know which one you prefer the most.