Are you looking for an Nzxt CAM alternative for testing your PC's performance? Then we must inform you that you are at the right place. Nzxt CAM is a freeware that detects the performances of various internal hardware and presents information in a readable form to the users. However, for some reason, users do not like the software.
Here arises the demand for an alternative to the system profiler. Of course, there is much such software on the internet to use. Some are dedicated to the GPU, some are dedicated to the CPU, and others can monitor all the functions together. But the challenging part is to choose the best for yourself.
So for providing you assistance, we have come up with a list of the best Nzxt CAM alternatives that will monitor your PC's performance effectively. And the best thing about the software is that most of them are free to use.
List of Nzxt CAM Alternatives in 2023
CPU-Z

Speccy

Open Hardware Monitor

OCAT

GPU-Z

MSI Afterburner

FPS Monitor

iStat Menus

AgaueEye
CPU Thermometer
1. CPU-Z
This is a fantastic alternative to Nzxt CAM that will provide you with information about your computer system on a real-time basis. CPU- Z is free-to-use software that checks your CPU's processor, memory, and other crucial elements to protect them from wearing out. The software is user-friendly with easy-to-use features.
Moreover, a mobile application of CPU- Z is also available that checks the battery, network, storage, and other performances. CPU-Z is preferred by heavy gamers as well as light to moderate users. This indicates the versatility of the software. Both Intel and AMD models are supported.
2. Speccy
Famous brand CCleaner has also introduced a software name Speccy that monitors the performance of your PC. The software has mainly focused on its interface to keep it simple and usable by all users. So if you are not among the techy geeks, then Speccy will be a good option.
While talking about its features, we must say that all the features of Nzxt CAM are available in Speccy. For example, a person can view the CPU, RAM, graphics, motherboard type, etc. The software has two variants: free and paid. Though the free one is sufficient, they can go for the premium version if someone wants. 
3. Open Hardware Monitor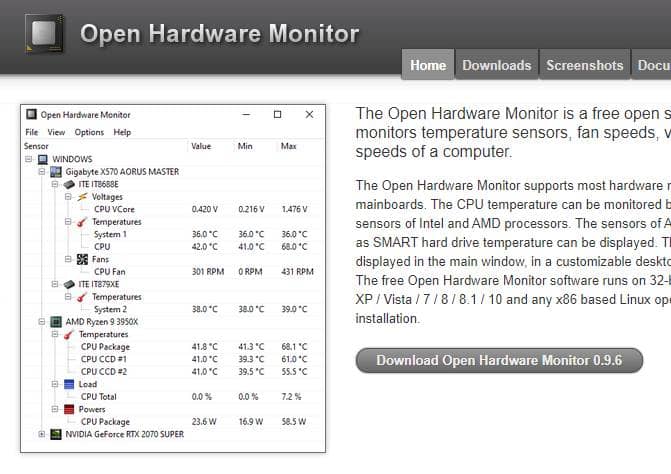 Open Hardware Monitor will be perfect if you want an open-source alternative for Nzxt CAM. The software offers all the functions that a premium PC performance monitor would provide you. Some notable features of an Open Hardware Monitor include a fan speed monitor, temperature sensors, clock speed checker, etc.
The best part of Open Hardware Monitor is that it is compatible with every chipset and offers an easier way to read the temperature of Intel and AMD processors directly. In addition, open Hardware Monitor presents a detailed report of your system that is easy to analyze and takes necessary steps if required.
4. OCAT
It is an open-source tool that can monitor various internal aspects of a computer system. The best thing about OCAT is that it supports all APIs on Windows. You can see the frame rate of your PC on a real-time basis with the help of OCAT.
Users can assign hotkeys that show various statistics in a click for ease of using the software. Moreover, as a program is open-source, one can also use its code to make a modified version of OCAT. All over, it is a suitable replacement for Nzxt CAM.
5. GPU-Z
Our subsequent inclusion is a fantastic tool to keep track of your PC's graphics unit. While living in an era of High Definition and maximum resolution, paying special attention to your computer's video card becomes necessary. GPU-Z assists you in this and provides all necessary graphics card details.
Like Nzxt CAM, GPU-Z is also free to download and use. The software will also detail the transistors, bus interface, and memory size, apart from GPU information. You can also check the sensors and their performance using GPU-Z.
6. MSI Afterburner
MSI Afterburner is an alternative to Nzxt CAM that monitors your Computers performance and enhances it. The software is dedicated to overseeing the performance of the Graphics Processing Unit of a component. So, for example, you can use it to overclock your GPU's voltage, frequency, etc.
But before overclocking your PC, you must be very careful as it may damage other internal components. For example, fan speed must be checked frequently to cool down the system. However, with MSI Afterburner, all the tasks become easy because of its excellent user interface.
7. FPS Monitor
FPS Monitor is a must-have software if you are a hard-core gamer, but face frame drops frequently. The software is used to track the frame rates while playing games. This particular feature was missing from Nzxt CAM.
An overlay window will always be there on the screen that can be dragged to adjust the position. In addition, you can get details about RAM, HDD, CPU, and GPU by clicking on the overlay icon. This helps you determine where the game exerts exercise load on your computer.
8. iStat Menus
It is another worthy competitor of Nzxt CAM that you can use to get detailed statistics of computer performance. Information that you will get from iStat Menus includes CPU, GPU, RAM, HDD, and other performances. You can also use the software for overclocking GPU.
The software interface is easily navigable and highly customizable, as the font size, style, and color of the statistics can be changed easily. However, the software requires downloading additional files for some systems to make it work.
9. AgaueEye
Just like NZXT Cam, AgaueEye is well-known hardware monitor software for Windows. Arguably, it has more capabilities than the NZXT Cam. Furthermore, it supports multiple graphics engines such as Vulkan, OpenGL, and DirectX versions 8, 9, 10, 11, and 12.
GPU overclocking is a matter of moment for AgaueEye. Moreover, it supports fan speed and 3000 games. However, it's excellent software that inspects your system performance with an analysis report.
10. CPU Thermometer
Next on the list, the CPU Thermometer, aka CPU Temperature Monitor, is yet another free hardware checking software that you can use for free of cost. You can use this software on Intel and AMD processors for a smooth process.
The core fundamental of the program is to look after the heat of your CPU. So that you can monitor what is the current temperature of your system. Also, it shows any sudden change in temperature in real-time.