Many users want to enjoy high-quality sound on PC, so they connect extra speakers to their PC or laptop. Even you might have done this earlier, but now as the technology has come so far, we don't need anything external, as many software, apps, and tools, have come that can be installed directly on the device to have a great experience.
So, if you want to enjoy music or watch a movie, then install the sound or volume boosters for Windows 10. Watch your favorite show and make the sound clearer, just the way you want them. With these programs, you can adjust the boost of sound to get the perfect audio. Here we have gathered the best free Sound Booster Software for Windows 10.
Also Read- Best Audio Equalizers for Windows 10
List of Free Sound Booster Software for Windows 10
Check out the best sound booster software that controls the enhancement of audio and video sound.
1. VLC Media Player
VLC Media Player is one of the most used media player software. It is a free and open-source sound booster tool for Windows 10. It is a media player and a sound booster, as it provides different settings that affect sound performance.
One of the plus points of this player is, it almost supports all the audio formats, so the user can easily listen and boost the audio of any format.
2. Equalizer APO
Equalizer APO can be used to boost audio on your PC and can modify different audio parameters, like bass, audio boost, pitch, treble, and more. It works will all media players and is a free audio booster software.
There are many options available for setting to modify audio.  It has many amazing features like an unlimited number of filters, modular graphical user interface, low CPU usage, and more. You might need some extra time to set up this sound booster.
3. DFX Audio Enhancer
It is another open-source, free sound booster software that helps you boost sound levels. DFX Audio Enhancer takes over the default audio drivers and boosts the sound on the PC. There are different settings to boost sounds like Dynamic Boost, Hyper Bass, Ambience Fidelity, 3D surround, and more.
All these sound settings have a slider to change sound levels from 1 to 10. The free version has some limitations. If you want to overcome those limits, then get the paid ones.
Price: $19.99 per year.
4. GOM Media Player
GOM Media Player is mostly used for Windows as a free media player. It has the ability to boost sound, play audio and videos of different formats and boost their audio. There are a few of the Advanced Settings, like filters, 3D effects, audio effects, output device settings, and more.
Use the Advanced settings by pressing the F5 key or press the Settings icon at the top left corner of the screen. It provides many great features like a 360-degree player, 360 degrees VR mode, snapshot option, etc.
5. Boom 3D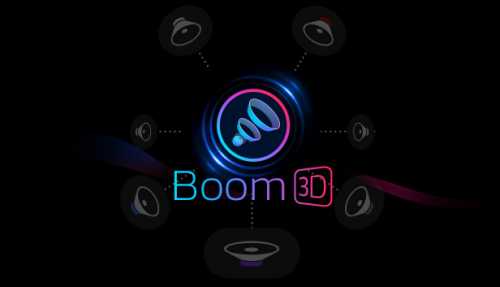 Boom 3D is a PC volume booster software that provides better sound quality. It supports virtual 3D surround sound technology. Use this software and improve your multimedia experience with Boom 3D. There is a 31-band equalizer, so you can easily adjust the sound as per your choice.
This software comes with different audio effects, its own music player, and can control all the open apps' sound volume. It is a great sound volume booster with many great features.
Price: 30-day Free Trial
6.

Viper4Windows
Another popular sound booster software is Viper4Windows. This software helps you to increase volume on your laptop. IT has released two versions, one for Android and the other one for Windows. If you have installed it on Android, you will see many ROMs have Viper4Android as a default audio software.
It has great features like natural Bass Boost, Sound Compressor, Equalizer, Echo, Sound compressor, different Surround Sound Modes, and more.
7. Fidelizer Audio Enhancer
Fidelizer audio enhancer is an app that optimizes your system to improve the sound to an optimal level. This tool is compatible with YouTube, VLC, Spotify, and other streaming services like Tidal and more. However, if you restart the PC, you have to rerun the app and optimize your computer again.
It is available in three versions Fidelizer Plus, Fidelizer Pro, and the free version with limits. It improves the audio performance by giving the audio tasks more priority, improve low latency stability, and more.
8. Breakaway Audio Enhancer
It is a free sound booster for Windows with a simple and easy-to-use interface. It gives a great musical experience by correcting the volumes and controlling the performance. It improves the quality of your PC audio and enjoys the better consistency and depth of your music.
For all PC users, it improves the audio experience with the same technology. It provides complete audio control over games, web browsers, music, videos, and more.