Audio Equilizer is a must-have feature or tool in any operating system. Whether your Windows PC or smartphone, audio equalizing can enhance your music listening experience or audio quality.
Something the music experience on your hardware might not be good. But this can be easily fixed with good audio equalizer software.
This equalizer software can come in handy if you frequently listen to music or have to do a lot of audio editing work. All equalizer has different taste in music. For example, folk music beats are different from pop and so on.
A sound audio equalizer can adjust the speaker output of low-quality hardware. Let's discuss some of the best free audio equalizer software for Windows 10 or Windows 11 users.
Best Audio/Sound Equalizers for Windows 10/11 PC [Free/Paid]
There are many equalizer apps available for Windows 11 or Windows 10. But some of them aren't as good as they seem like. We have handpicked some of the best Audio Equalizer, enhancing your music listening experience.
1. Windows 10 Equalizer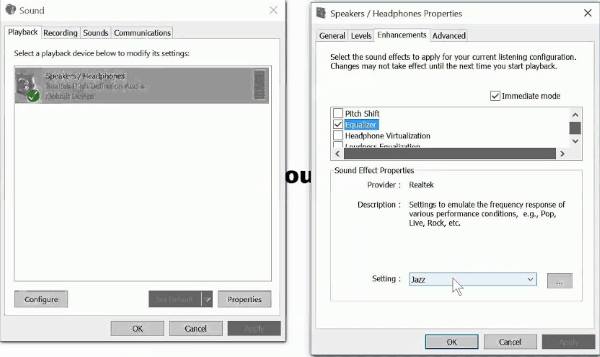 Did you know that Windows 10 has a built-in audio equalizer utility that can improve the sound system on your PC? All you have to do is open the Run > mmsys.cpl app to enable this service.
Here you will find multiple options to change the audio according to your liking. It is certainly not the best version. However, if you don't want to download any third-party utility, this is a great option.
Pros:
Officially from windows
Preinstalled in Windows 10 PC
Minimal setup and easy-to-use
No need to rely on third-party software
2. Equalizer APO
Equalizer APO is a fantastic audio-enhancing tool that works on a parametric and graphic equalizer.
The significant part of Equalizer APO is that it is open-source. So the development team works hard to bring more new features and updates regularly.
Indeed the user interface of Equalizer APO is not modern, but it is highly functional and helpful. And it is entirely free to use.
Pros:
Almost lag-free.
Supports bass boosting
Modular graphical user interface.
Works on multiple channels
3. Viper4Windows
You probably have heard about Viper from its Android community. Viper4Windows is commonly known for making the audio output more cinematic and theatre-like. It's best used to make movies' audio sound like you're sitting in a theatre.
Also, Viper4Windows is completely free to use and made by audio enthusiasts. So it comes with plenty of features to play with. It is best used with movies and can turn your laptop into a mini home theatre system.
Pros:
Made by enthusiasts for enthusiasts
Loaded with tonnes of features
Supports bass boost and distortion control
4. FXSound
FXSound is also known as DFX audio enhancement. It is a well-known audio equalizer tool in the Windows community. FXSound lets you tune the PC sound with a simple tuning table.
It is not very difficult to understand. The user interface is self-explanatory and has adjustable nodes for bass, gain, mid, highs, etc.
The only downside of this equalizer is that it comes with a price tag of $39.99 for a lifetime license. However, apart from pricing, the software is worth a try and is best for audio enthusiasts who like tweaking their music.
Pros:
Easy to use
It comes with advanced features for audio tweaking
A personalized listening experience.
5. Realtek HD Audio Manager
It is one of the most used audio-enhancing engines in the Windows system. You might already have it installed in your system and don't know about it. You might use it with an OEM rebranding, but the features remain the same. Realtek HD Audio Manager can fix or enhance your audio experience.
It even guides you through setting up your speaker system for optimum sound quality results. The app is fundamental but gets the job done. Also, it is widely supported by most speaker hardware systems.
Pros:
Mainstream and easy-to-use
Widely supported by most sound cards
Guides for the physical setup of speakers
Supports home theatre systems
Download Realtek Audio Manager
6. Equalizer Pro
If you're looking for an application that can precisely fine-tune audio apps for your PC. Then Equalizer Pro is an excellent choice for you. It can enhance media players and other installed software for audio output.
It is easy to use and has a clean Metra theme UI. There are 20 presets preinstalled, which will cover most of the needs of daily users. And you can make your own presets according to your liking.
Pros:
Clean user interface
20+ equalizer presets
Preamp volume control
7. Boom 3D
Boom 3D is mainly for people who love listening to audio through headphones. This audio equalizer is available for both Windows and macOS.
It exaggerates the most advanced equalizers and can convert audio outputs into 3D surround sound. As a result, it provides users with an impressive listening experience despite whatever genre they play.
Pros:
Mainstream and easy-to-use
Widely supported by most sound cards
8. Graphic Equalizer Studio
Graphic Equalizer Studio Is an elegant equalizer you might love having on your device. This equalizer uses its limiter and compressor to ensure your audio is not too low or loud.
Enabling the AutoCorrect feature scans the frequencies from waves and determines the minimum and maximum amplitudes. Once you upload any wave or mp3 file, you can notice the vast changes and corrections in the audio quality.
Pros:
Old 90s user interface
Loaded with tonnes of features
9. RealTime Equalizer
RealTime Equalizer is a fast and efficient equalizer tool. It allows you to completely change the sound effects of your voice files in seconds.
The robust equalizer is available for Windows 10 in two different versions. You can either download the Winamp Plugin or go for the regular installer.
It lets you change the real-time frequency of your audio or certain voice notes. With around 300+ channels and 31 specific band equalizers, you can afford to add the best effects for your audio file.
Pros:
Lightweight and user-friendly
Enhances stereo music and adjusts channels
Download RealTime Equalizer
10. VoiceMeeter Banana
It is a very powerful equalizer with a complete pack of features. In addition, VoiceMeeter is perfectly compatible with Windows 10 and offers some of the most advanced tools.
One of its most highlighted features is that it lets you take complete control over the audio files. Furthermore, VoiceMeeter Banana covers all the microphone loopholes and improves voice quality.
Pros:
Adjust voice to different notes
Multi-Channel EQ System
Free of cost
Download VoiceMeeter Banana
11. Adobe Audition
When it comes to audio and sound equalizer software for Windows, Adobe Audition remains one of the most advanced and flexible software. It can be used for creating, editing, and mixing audio within a few clicks.
It's more like editing software rather than a mere audio equalizer, but it has everything you need. Also, you can create a podcast on it. Adjusting any remix to any song is a child's play on Adobe Audition.
Pros:
Create, edit, and mix music.
Arrange remix.
12. DeskFX
DeskFX is yet another terrific audio enhancer software that you can use on Windows without any hassle. It has featured more than 20 band audio equalizers with three different methods; you can use it graphically, visually, and parametrically.
The best thing I love about DeskFX is that it allows you to create unlimited layers of sound to create wonder. Moreover, it also provides many sound effects to use on any sound. Best of all, DeskFX is user-friendly and humble audio equalizer software.
Pros:
Easy to use.
20 bands equalizers.
Sound effects.
From Editor's Desk
This brings up the trend of this list. We will update this list with more audio-equalizing software soon. However, the ones listed here are some of the best in the market. So do check them out. Tell us in the comment box about which you like the most.