Google Picasa was one of the best and favorite photo editing tools. The app allows you to edit the photos and organize and manage all the images. In 2016, Picasa used to be one of the best apps, but Google discontinued the photo editing tool and replaced the app with Google Photos. One of Google Picasa's best features was organizing images according to the folders, tags, and more.
Google Photos also offers a similar feature. So, if you want to use Google Picasa, other apps are identical. You can do a Picasa replacement with other apps. However, many new and old services provide the same features. So, here we have brought a list of Google Picasa Alternatives, which you can use.
Best Google Picasa Alternatives or Replacements in 2023
Here is the list of the best alternatives to Picasa to make things easier. With the help of these tools, you can manage and organize photo editing. So, check out the best Google Picasa Alternatives.
1. Google Photos
Google Photos is the first and best choice over Google Picasa. It offers similar features to Google Picasa. The great thing about this app is it integrates with other Google services like Google Drive. To use the app, you don't need to open an account.
It is free to use, and it also has basic editing. The user interface is very easy to use. However, there are a few disadvantages, like the editing tools being limited. In addition, photos uploaded from mobile are scaled-down automatically, and the storage space is limited.
2. Photoscape
Use Photoscape for editing, improving, or creating anything. Photoscape offers many features, including editing, making collages, fixing, screen capture, making GIFs, splitting photos, and much more.
However, the only disadvantage is that cloud storage is not the same as in Picasa. Overall, it is the best and most free photo editing app. For editing photos, this app is the best one.
3. Flickr
Flickr is the best image-sharing and managing app and is very easy to use. It is a free app and is available for both Android and iOS. In this, you can use one account on all devices. However, the limit for free users has been limited to 1000 photos instead of 1TB of space.
If you want to save more than 1000 photos, you must pay some amount. One can create personal collections and albums that later be shared with anyone. The paid version is $5.99/ month.
4. Windows Photo Gallery
Windows Photo Gallery is the best and easy-to-use photo editing app. This app does not have a storage option like Picasa but it works well. You can easily manage all the photos on your desktop. All the photo editing features are very easy to use. All the edited photos and videos can be easily uploaded to OneDrive, Facebook, YouTube, Flickr, and Vimeo.
While editing, one can add captions to photos and make collages, panoramas, photo fuses, movies, and slideshows. One of the best features is that you can save the names of the tagged people directly to the file's metadata.
5. Phototheca
Phototheca is a free management software for Windows. The app has both paid and free plans. The free plan has limited features, while the paid plan offers more features. For example, it allows users to import and organize images by folders, tags, smart searches, etc.
One can also create shared folders. All the photos are imported to the shared folder to see those pictures, no matter who uploads them. For the paid version, you need to pay $39.95.
Phototheca also supports the search feature, with which one can search for images. Search for the photos by name, tag, description, and location. It is combined with other services like Flickr, Twitter, and Google Photos, allowing users to share photos with their followers easily. It is the best alternative to Google Picasa.
6. FastStone Image Viewer
FastStone image viewer not only does photo viewing but also does many other things. For example, one can edit photos, organize, add tags, move pictures to folders, or add folders to favorites. In addition, edit the picture by cropping, adjusting the light, colors, curves, adding effects, and much more. If you are unsatisfied with this, then FastStone allows you to use the external editing program.
7. XnView MP
XnView MP can edit photos, but it is best for organizing images. However, the user interface is not that good, but it provides much information about the pictures, like size, date, lens details, and more. With XnView MP, you can tag your photos and easily keep track of groups. XnView MP is available for Windows, Mac, and Linux. The app is free to use.
8. Adobe Lightroom CC
Adobe Lightroom CC is probably one of the best Picasa alternatives and has many reasons for it. It does everything better than Picasa. The tool comes with image management and editing options.
With a premium subscription, you can get many features with Adobe Lightroom CC. The software comes with cloud integration, so your images will always be safe on the cloud, no matter what happens with your device. 
If that wasn't enough, Adobe Lightroom CC is also one of the best image editing apps. Popular creators and the image industry use Adobe Lightroom to edit photos. The learning curve is relatively easy and this software is excellent for everyone.
9. ACDSee
The journey of ACDSee is quite a remarkable one. It started as a simple image viewer, but over time it has gained a lot of popularity and as a result, many new features have been added to this tool. Now it is a complete photo management software and you can easily collect and classify your photos using this tool. 
Users can organize their photos based on location, type of image, ratings, and many other criteria. The tool also has Face Detection, just like Google Photos, which works great. On top of that, the tool also provides integration with OneDrive and Dropbox. So make sure to check it out.
10. Photo Organizer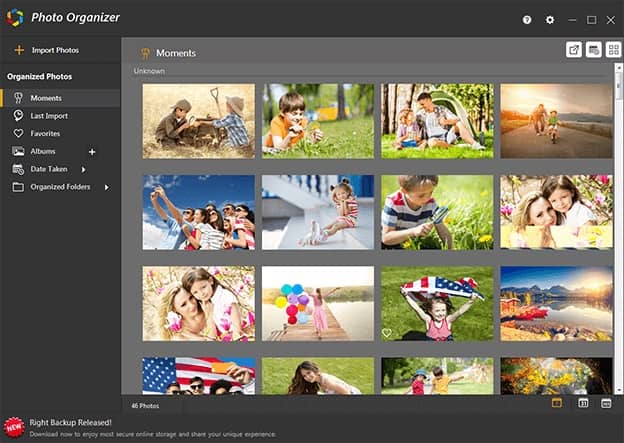 If you are a lousy person who hardly puts any effort into organizing the photos on the PC, this is the perfect tool. Photo Organizer is a software that can smartly optimize your photo collection on Windows. 
Here is how this tool works: it scans your entire PC and then finds all the images spread in different places on your PC. Then it uses the metadata of images to organize the photos smartly.
Moreover, users can also create subfolders according to month, date, camera, etc. The great thing is that this app deletes any duplicate photos and can save a lot of space on your hard drive.
11. DigiKam
Another tremendous digital photo management tool is DigiKam which is free and open-source. The tool works for Windows, macOS, and Linux, making it popular. Although professionals mainly use this tool, anyone who wants to organize their photos can use it. 
Apart from the popular image formats like JPEG and PNG, DigiKam can also handle RAW files, making editing and processing of the image smooth. Then some great features like facial recognition, smart categorization, geo-tagging, and slideshow creator come for free. So make sure to give this one a try.
12. Photobucket
One of the reasons people miss Picasa is the ability to upload and share photos from any device. Now, if you are also one of those people who miss these features, then Photobucket will be an ideal contender for you. 
The software is paid, but users can still store 250 images for free and there are many great things about this software. First of all, there are no ads. Then it doesn't reduce the image quality. Moreover, the security is just second to none as it comes with 256 Bit RSA Encryption to keep your account safe.
13. IrfanView
IrfanView will be an excellent choice if you have an old rig that can't handle new powerful tools and are looking for a lightweight photo management app. It is just 3MB in size, so it won't take up any space on your computer and in terms of resources also, it is pretty lightweight. 
However, do not take its light size for any less, as it brings all the important features you would expect from a digital photo management tool. The tool allows you to watch an entire library in thumbnail form and then easily convert and optimize images for sharing.
14. Amazon Photos
While it may shock some users to see Amazon Photos on the list, it is one of the best alternatives to Picasa, mainly because of how identical it is to Picasa in terms of storage. In addition, like Picasa uses your Google Account, Amazon Photos uses your Amazon Prime Account. 
When you take the Prime membership, you can store your photos on the Amazon Cloud Drive and an additional 5GB of cloud storage to store your videos and other stuff. The great thing is that Amazon Photos works on every device, so you do not have to worry about compatibility.
15. ImageGlass
Next on the list, we have ImageGlass. It is a simple picture viewer tool that any normal image viewer could do. However, this tool has many small features you will not find on other image viewers. 
First of all, it is quite lightweight so you can run it on older PCs; then, it has a lot of themes to select from, which makes it look appealing. On top of that, there are options for UI customizations which are also great.