Windows 10 users must be aware that they can modify the operating system's privacy settings manually.
For example, disabling specific options during installation or upgrade or exploring the Privacy section of the new Settings application.
But you can also use Privacy Tools that make your work easy.
The main concern of Windows users is privacy as they become curious about what data is being gathered about them as they browse the web.
This suspicion is essential as the web browsers actually collect your data to provide a personified experience.
So if you don't want to share your preferences with an unknown entity, then privacy tools will do your work.
These tools keep away all kinds of internal and external trackers from spying on you. Here are some helpful Windows 10 Privacy Tools that you can use.
Best Windows 10 Privacy Tools in 2023
WPD (Windows Privacy Dashboard)

Blackbird

Destroy Windows 10 Spying

Privacy Repairer

O&O ShutUp10

Windows Privacy Tweaker 2.1

DoNotSpy10

W10 Privacy

Ashampoo AntiSpy for Windows 11/10
Gilisoft Privacy Protector
1. WPD (Windows Privacy Dashboard)
It is a simple privacy tool for Windows 10 that allows users to customize the privacy control panel with the help of different add-ons.
Its functions and duties include hiding history, setting macros, blocking websites, and Virus detection. You can also remotely control your computer using the WPD's advanced feature.
The tool needs to be set up only once, and after that, each time you boot your computer, the tool will scan for the additional data chosen.
Thus, it makes your boot time fast, as all the unwanted programs are discarded during startup.
2. Blackbird
This privacy tool will be your perfect companion if you spend most of your time browsing and surfing the internet. 
Blackbird helps keep track of your web surfing activities with different options like deleting unwanted cookies and others.
The tool is suitable for all versions of Windows starting from Windows XP to Windows 10.
Moreover, Blackbird can be used to remove hidden files, adware, spyware, etc., from your computer.
The using procedure of the tool is simple and doesn't even require a restart after installation.
3. Destroy Windows 10 Spying
If you are too conscious about your privacy and suspect any spyware being hidden in your system, then Destroy Windows 10 Spying will help you out.
It is an advanced anti-spyware program that allows you to configure security settings. In addition, the tool generates a detailed report of spyware to help you.
Destroy Windows 10 Spying uses Windows update scanners to find all the latest versions of programs. In addition, it also includes a boost feature to speed up your PC.
4. Privacy Repairer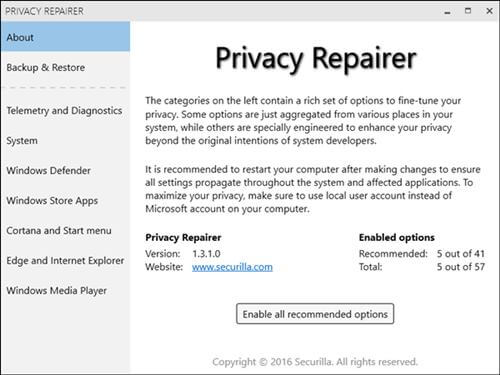 Privacy Repairer is a Windows 10 privacy tool that will help you get best-in-class protection on your PC.
It carries a deep scan to identify any maliciousware, including adware, spyware, etc. 
Privacy Repairer automatically removes any harmful programs from your computer once it gets identified. 
The privacy repair tool is a perfect alternative for antivirus software that you can use. 
You can feel the change in the performance of your computer from the very next day of its installation.
5. O&O ShutUp10
This is one of the most popular and trusted privacy tools for Windows 10.
The developers have designed O&O ShutUp10 in such a way that it can identify even the most minor program that is causing harm to your computer system.
It also removes cookies and residual files left behind from uninstalling any software or visiting any website.
Moreover, the tool also reserves a large number of registry errors in your computer. Finally, according to User experience, the tool creates a massive difference in the performance of their PC as it makes it work smoother.
6. Windows Privacy Tweaker 2.1
It is another privacy tool for Windows 10 that works silently when you are surfing online. In addition, it has an advanced scanning engine that eradicates all threats as soon as they are detected.
Windows Privacy Tweaker 2.1 also has a network security system that filters all the viruses and worms that may steal your information.
The privacy tool searches for all the digital signatures on the internet while browsing and instantly alerts you if anything seems suspicious. 
If you allow Windows Privacy Tweaker 2.1 to remove them, it will automatically perform the task.
7. DoNotSpy10
DoNotSpy10 can resolve some of the most common privacy problems that you may face within your system. 
The tool is claimed to be designed for Windows 10 but works well with older versions as well. Additionally, this tool is used to remove various trackers that your computer may have in it.
It also optimizes the operating system to make it run much faster than before. You can also identify and remove any corrupt or damaged registry settings using DoNotSpy10.
8. W10 Privacy
It is a remote privacy tool that can be used to enable and disable privacy settings on your computer frequently.
W10 Privacy has the potential to identify thousands of malicious tackers that can manipulate your system.
The user interface and privacy options are easy to use, and they are featured in different tabs.
The W10Privacy also shows the threat percentage and adds a short description with all the identified trackers. All over, it is a must-have option in the list of Windows 10 privacy tools. 
9. Ashampoo AntiSpy for Windows 11/10
If you are using Windows tools and utilities, you must know about the Ashampoo brand. They have many Windows tools, one of them is AntiSpy for Windows 10.
We already know that Microsoft collects out data to improve their services, so sometimes they collect more than expected. Using this tool, we can disable location services and prevent Windows from collecting diagnostics and usage data.
10. Gilisoft Privacy Protector
It is an all-in-one privacy suite to manage and protect your sensitive data. Gilisoft Privacy Protector allows users to clean Windows history, browsing history, third-party software traces, hide media, file shredding and more.
It can be compatible with Windows 2000/2003/XP/Vista/7/8/10/11 (32 bits & 64 bits). You can try the free version; if you love it, you can buy it for $39.95.