Windows 10 is the most widely used operating system throughout the world. It is well known for its wide range of customization options and ease of use. However, when it comes to looks, it might get boring to have the very same old one over and over again.
Fortunately, on Windows 10, we can install and apply various themes and skins. This allows us to give a different look to our desktop screen whenever we want some change.
On the internet, there are many customization tools for Windows 10 and have different types of skin packs such as Rainmeter skins, Mac OS, Aero Glass, etc. So, here we compile some of the best Windows themes you might want to check out.
Best Windows 10 Themes and Skins in 2023
1. Mac OS X El Capitan
If you admire the MacOSX look, you must try this theme on your Windows 10 PC. The OS X El Capitan theme comes with an exquisite desktop screen.
It has many features, and the app drawer will surely remind you of the MacOSX. Although this theme is priced, you can download the lite version for free.
2. Ubuntu Theme For Windows 10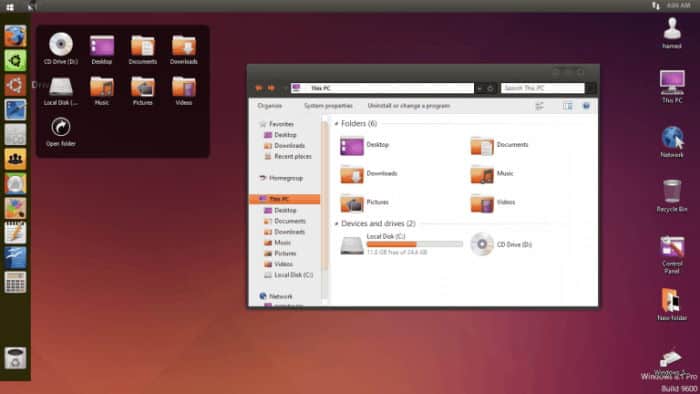 It is a highly customizable theme and probably best for your Windows 10 desktop. This transforms your PC with a Ubuntu-type interface that looks clean and refreshing on the screen. It also contains features such as keyboard shortcuts, colorful themes, etc.
3. Aero Glass
If you want something that can provide you with a huge number of customizing options, this theme is for you. Aero Glass gives your machine a completely transparent look. The glassy appearance looks more comforting to the eyes with the right wallpaper.
4. Flattastic
The Flattastic theme could be the right pick for you if you want a clean yet attractive interface for your desktop. It comes with the least design but can capture your attention. Flattastic is available in 8 light and 8 dark versions.
5. Windows 10 Dark Theme
The Dark Theme is possibly the best theme for your Windows 10 system. It gives a completely dark look to your desktop, along with various black shades.
However, the theme is highly color-contrasting, so a few programs might look different. Other than this, the installation process is pretty simple, and the theme itself looks perfect on the screen.
6. Simplify 10
It is one of the underrated theme packs for Windows 10 on DeviantArt. Simplify 10 gives your Windows 10 a new fantastic touch. These theme packs are 100% trusted and offered by a core member.
One more thing about Simplify 10 is that there are different types of skin packs in subcategories, such as Colorful pack, light pack, dark pack, and maverick pack. On the other hand, you can also choose your favorite colors in these packs.
You need to follow the instructions to install these theme packs on your Windows system and enjoy it. You can further customize it as per your needs.
7. Stardock Start 10
With the Stardock Start 10, you can customize your desktop. You can modify every part the way you want. Moreover, the theme is very lightweight and comes with a sparse design. The start menu is again a simple and eye-catching element to talk about.
8. Anime Theme
The anime industry has gained huge popularity in a short time. And a theme like this might be the one every anime fan needs. You can check out an amazing collection of anime themes from the link below.
Apart from this, you can also change the color of some elements accordingly to give a more suitable look to your desktop screen.
9. XP Themes Final
If you miss the classic old look of Windows XP, guys, here we have a skin pack that can give you the feel of Windows XP.
It supported five different types of custom looks of Windows XP that can be supported on all types of Windows 10 OS.
People who once used Windows XP in their old times want to get this theme pack and feel it again.
The incredible thing about this theme pack is that it is lightweight and does not consume much space in Windows 10. You can easily customize and roll back changes in your computer system.
10. Nvidia Theme for Windows 10
As you know, Nvidia is one of the leading companies in the field of developing graphic cards. People fond of gaming and use high graphics cards sometimes love to apply Nvidia themes to their Windows system to give a beast look.
It is the best fit for those already using Nvidia graphical unit and after applying this theme to their computer. It will give you a hard-core look at the system. In addition, you can change and customize the Nvidia control panel and other elements of Windows in it.
11. Aurora Borealis
This theme's wallpapers depict breathtaking scenes of the Aurora Borealis dancing through the skies of Iceland and Norway.
There are a total of 8 backgrounds featuring the Aurora Borealis over icy landscapes, oceans, and mountain peaks. Since nighttime is the only time to observe the Aurora Borealis, the wallpapers in this theme are on the darker side.
12. Ades Skin
Ades Skin comes up with a unique green interface to transform gray shades into beauty. The theme will perfectly fit with simple and fussy users. No doubt, the whole package of theme give your system a fresh look.
Although the theme is compatible with Windows 10, it requires an UltraUXThemePatcher system patch. Otherwise, Ades Skin is one of the lightweight Windows 10 themes.
13. Pembura 10
Pembura 10 is jam-packed with numerous amazing customization features that will leave you amazed. With it, you can change the actual visual style of Windows 10; tweaking the computer's background will be child's play.
Furthermore, you can play with the interface, mouse cursor, and many other elements. Above, Pembura 10 is one of the complete Windows 10 skins.
14. Grey Eve Skin
No doubt, the dark theme is widely used across all devices nowadays. It not only offers an elegant dark look but also reduces eyestrain.
Even though the theme provides a consistent look, there are some programs that might look different because of high contrast. However, it could be the perfect choice for those who looking for a dark theme.
15. Arc X
Arc X is yet another amazing theme that has gained popularity. One of the best things I love about the theme is the color scheme, it lets you feel like a Linux system.
Although the theme doesn't make drastic changes, it just provides an amazing look to the existing theme. Most impressively, the black-and-white color combination falls you love with this theme.
From Editor's Desk
So, you must try out these themes in 2023 to get a new look for your PC. Some of them are highly customizable and let you create a design of your wish. Besides, they feature a minimalistic design and are extremely easy to install and use.
Have you applied any theme to your Windows 10 PC? If yes, let us know which theme you use, or else you can also choose one from our list.