Windows 10 is the most widely used operating system throughout the world. It is well known for its wide range of customization options and ease of use. However, when it comes to looks, it might get boring to have the very same old one over and over again.
Fortunately, on Windows 10, we get the freedom to install and apply various themes and skins. This allows us to give a different look to our desktop screen every time we want some change. Here are some of the best themes you might want to check out.
List of Best Windows 10 Themes and Skins You Can Use in 2020:-
1. Mac OS X El Capitan
If you are an admirer of the MacOSX look, you must try this theme on your Windows 10 PC. The OS X El Capitan theme comes with a very elegant desktop screen.
It has a good amount of features, and the app drawer will surely remind you of the MacOSX. Although this theme comes for a price, you can download the lite version for free.
2. Ubuntu Theme For Windows 10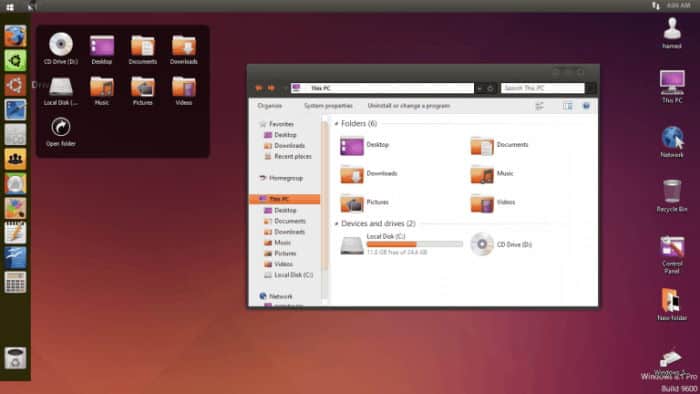 It is a highly customizable theme and probably one of the best for your Windows 10 desktop. This transforms your PC with a Ubuntu type interface that looks clean and refreshing on the screen. Besides, it also contains features such as keyboard shortcuts, colorful themes, etc.
3. Aero Glass
If you are looking for something that can provide you with a huge number of customizing options, this theme is for you. Aero Glass gives your machine a completely transparent look. The glassy appearance looks more comforting to the eyes with the right wallpaper.
4. Flattastic
The Flattastic theme could be the right pick you in case, you want a clean yet attractive interface for your desktop. It comes with the least design but is still capable of capturing your attention. Flattastic is available in 8 light and 8 dark versions.
5. Windows 10 Dark Theme
The Dark Theme is possibly the best theme for your Windows 10 system. It gives a complete dark look to your desktop along with various black shades. However, the theme is highly color contrasting, so a few programs might even look different.
Other than this, the installing process is pretty simple, and the theme itself looks perfect on the screen.
6. Stardock Start 10
With the Stardock Start 10, you get a whole lot of options to customize your desktop. You can modify each and every part, the way you want. Moreover, the theme is very lightweight and comes with a sparse design. The start menu is again a simple and eye-catching element to talk about.
7. Silk
The Silk theme gives a very beautiful and elegant design to your system. It will make your desktop look like a Notebook with some sophisticated design. You can also change its colors and set any of your favorite ones.
8. Anime Theme
Well, the anime industry has gained huge popularity in a very short time. And a theme like this might just be the one every anime fan needs. You can check out an amazing collection of anime themes from the link below.
Apart from this, you can also change the color of some elements accordingly to give a more suitable look to your desktop screen.
From Editor's Desk
So, you must try out these themes in 2020 to get a new look for your PC. Some of them are highly customizable and lets you create a design of your own wish. Besides, all of them feature a minimalistic design and are extremely easy to install and use.
Have you applied any theme to your Windows 10 PC? If yes, let us know which theme you use, or else you can also choose one from our list as well.
Related Articles