In the 21st century, everyone wants to increase their brain's size with some book knowledge – but no one has the time or energy to sit down or read. Most people don't prefer audiobooks.
Rather, they love physical copies or hardcovers because the reading experience differs from the audiobooks. But keeping in mind the needs of the next generation and their busy schedule, people don't get time to complete the whole book.
Audiobooks help you read your favorite books online and keep you more organized. Audiobooks bring together the best of both worlds.
The joys of a good story and the convenience of easy listing. They also serve as a great way to pass the time, whether cooking up your favorite dish or going for a long drive.
Let's jump into the best audiobookbay alternatives where you can find free books and audiobooks to download and enjoy on your device.
Best AudiobookBay Alternatives to Download Audio Books
Audiobooks are nothing but a person reading books out loud to you. For example, you don't need a book in front of you to read it, you need your headphones or a speaker connected to your phone, and the person will read the book to you.
If you don't have much time to sit and read a book, then audiobooks are a perfect option. Here we mention the list of audiobookbay alternatives that will be helpful for you.
1. Lit2Go
It offers one of the finer-looking free websites for audiobooks and a great audiobookbay alternative. The throwback site run by Florida's educational technology clearinghouse contains a comprehensive collection of downloadable short stories and poems. You can browse by author title, genre collection, and reading level.
Most audiobooks can be downloaded as a single mp3 or short segment passages of specific chapters. The home page search options are also a nice touch, like the black and white artwork accompanying each title and book collection.
2. Libby
This app allows you to listen to free audiobooks and read free digital books. When you first launch the app, you need to add your library card and then pick a library on the map to see what audiobooks are located at different locations.
Once you find the book, you are looking for your tap and borrow, and you can start listening immediately. You get fourteen days to listen to it before it gets expires. It's free and saves you around $15 per book unless you're paying monthly.
3. Open Culture
One of the Best websites for Educational and Cultural media. The site compiles content from around the web and has an admirable collection of audiobooks. Primarily classics that you can stream over the web or download on various audio formats for later consumption.
All the audiobooks are organized by genre and alphabetically listed by the author's last name. The layout of this website is very organized with a bulk of Interesting Books.
4. Thought Audio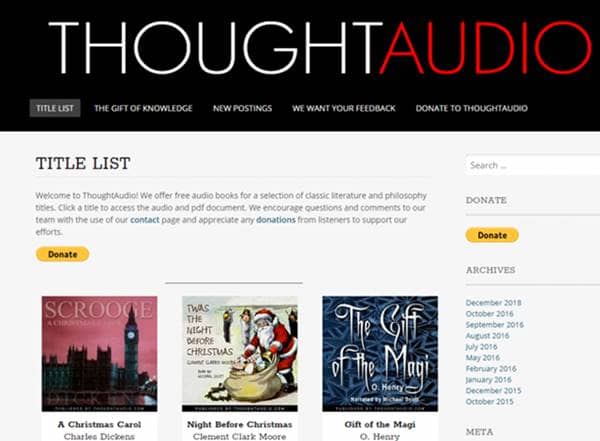 Supplying online audiobooks since 2004. Thought audio offers free audiobooks on some specified genres. It offers great books like Quotations of Mahatama Gandhi, The Mark on the Wall by Virginia Wolf, and Alice in Wonderland by Lewis Carroll.
These books are free of charge for those who can access the internet. Their main motto is to make classic literature available to anyone willing to listen. You can also make donations to them through Paypal.
5. Loyal Books
Over 7000 Free downloadable audiobooks and ebooks. It has a great collection of books categorized into various topics and ebooks for download in various formats from kindle Mobile to pdf to audiobook.
The website has a collection of books like StarTrek: Lost Frontier, H Rider haggard's book King Solomon's Mines, Charles Dicken's popular Oliver Twist, Treasure Island by Robert Louis Stevenson, Sir Arthur Conan Doyle's, Return of Sherlock Holmes, and many others. Thus the options are plenty, and no excuse for us NOT to read.
6. Extratorrent
Largest torrent site for audiobooks. There's good news for you. If you don't like to pay for books but are addicted to reading books, then this is for you. You don't have to pay for these books & also don't have to borrow them from the library.
Download any free ebook and audiobook and listen to it on your PC, phone, and tablet. Get free access to millions of audiobooks from all over the world. It has a clean interface, making it easy to find your favorite audiobook.
7. Storynory
Get Fantastic audiobooks for kids with no ads. These stories also help you improve your listening skills and acquire new vocab. It has gentle stories that relax you and help you fall asleep.
Specially designed for kids and offers different things like Fairy Tales, Myths and World Stories, Small Stories, Classic Authors, and even educational stories to enjoy free of cost.
8. Librivox
Librivox readers access popular books narrated by contributors. The website is community-driven, with 1439 non-English volumes in 36 languages. The platform has over 8,000 registered readers and 10,978 audiobooks in total.
It is a group of over a thousand enthusiastic people worldwide who work through the internet to record books, poems, and documents in the public domain. They add 20 audiobooks every week so you can choose from plenty of options.
9. Digitalbook.io
With more than 100,00 ebooks. It has a rich database of classic titles like Snow White and the Seven Dwarfs. The database has free and paid book titles, so you can find your preferred audiobooks using filters.
It is a place to find free public audiobooks and ebooks. They aim to help people who like to read and provide them with different books in a single place. The layout is straightforward to understand, with an accurate filter to find your favorite audiobook.
10. Audible
A great alternative to the Audio Book Bay website is Audible. The website has some extremely intriguing features that assist users in finding their desired eBooks.
It has a sizable database that enables it to store several files. Users might have instant access to them. This website is among the best suggestions for audiobookbay alternatives for these reasons.
The service offers a free 30-day trial during which you can download two audiobooks at no cost. It is an Amazon-powered project. The books are yours permanently once you get them. They are accessible whenever you wish.