We all dreamt of becoming a famous singer or musician one day, at least once when listening to our favorite songs. Though that desire was dropped by many, your enthusiasm could be trailed on editing some good old songs to new ones. If you still feel you got some music sense, it's time to show up with these best audio recording softwares.
The software we listed below is based on capabilities, UI simplicity, and price factors. Though we grouped them up, it requires a fine learning curve before trying your hands on them. If you're skilled enough to master them, go through our suggestions that help you surface your musical talents.
Also Read- Best Open Source Audio Editor
List of Best Audio Recording Softwares to Record High-Quality Sound
We've listed some of the best audio recording softwares that even a normie could use easily. Most of the below softwares has a free version to try with, which we feel enough for basic needs. But if you want to more, consider trying them all.
1. Audacity
An open-source platform that has everything an audio engineer needs. Audacity does simple tasks effectively, like sound mixing, noise filtering, boosting vocals, equalizations, etc. This software is appreciated by podcasters, sound mixing beginners, etc., due to its simple interface and easy-to-use tools. It's completely free and available for Windows, Mac OS X, GNU/Linux, and other OS.
Get it Here: Audacity
2. VirtualDJ
This one for those who're interested in pursuing a DJ career. VirtualDJ resembles its platform and UI to that pro-DJ s in clubs. Essentials found on DJ console-like sliders, dials, spins, etc., are available in this software. Asides, overlaying and scratching several songs with adjustable color settings are notables.
VirtualDJ suggests users try the Home version for simple uses as mixing and editing. If not, premium plans for professionals start from $19/month to $299 for a lifetime. It's available for macOS and Windows.
Get it Here: VirtualDJ
3. WavePad
Aside from simple tasks such as cut/copy/paste, WavePad performs speech synthesis, voice changing and restoration, noise reduction, etc. This supports the batch processing of converting thousands of files into a single function, and you can bookmark and recall files you've worked on. It's good to remove vocals from songs and make quick ringtones for your phone. It's pricy but has a free version for most uses.
Get it Here: WavePad
4. Acoustica
A basic MP3 audio mixer is free, but there's nothing more you can do with it. So upgrading to a premium plan would entitle you to the tools for audio analysis and restoration, batch processing, sound designing, spectral editing, and surround audio up to 7.1 channels. Aside from these, normal features as labeling, looping, etc., can be done to produce 32-bit resolution audios at a 192 kHz sample rate.
Get it Here: Acoustica
5. RecordPad
This was made by NCH, the same maker of WavePad. RecordPad is more like the stripped version of WavePad, as it's all the required features to do all types of audio works besides mixing and trimming.
Its not-so-interactive UI may feel cheap, but it's got professional tools and good for low-end specification computer as Windows XP. This gives users the option to customize the UI according to their needs. It does equalize noise reduction, pulling silence off from lengthy audios, etc.
Get it Here: RecordPad
6. PreSonus Studio One
PreSonus, which makes audio electronics and Studio One, is a fine pick for professionals and beginners. The free version supports numerous audio files and tools for simple editing.
It has no caps for several tracks and is equipped with Chord audio, virtual instrumental audios, various sample rates to produce the best output, which can be shared with SoundCloud directly. This DAW supports macOS and Windows, with a free version having all the amazing tools.
Get it Here: PreSonus Studio One
7. Traverso
This platform has for those average persons between noobs and professionals. Traverso has adequate tools that need a fine learning curve from anyone to use them effectively. This Digital Audio Workstation has a simple menu with attractive keyboard and mouse shortcuts.
Aside from making the tasks simpler, users can create a table of contents and burn discs without exiting the platform. Other notables as real-time audio processing and provision for using plug-ins to improve editing. It's free and available for Windows, Linux, and macOS.
Get it Here: Traverso
8. Zynewave
Like every other platform, Zynewave's free version has enough features to be spoken about. Basic audio and MIDI multitracking, automatic delay compensation, and bouncing tracks beat slicing, bundled plug-ins, etc., are available in the freemium. But the premium plan has a 64-bit mixer engine, surround sound playback, plug-ins multiprocessing, etc. This extensive platform is available only for Windows for now.
Get it Here: Zynewave
9. Ardour
Ardour gives you enough tools to try something new. If you've got some old songs, this is the place you can mix them up without hassle. You can record audio via external gadgets or live music and tune, mix, edit into a new form for exporting.
Ardour places no limits on the number of tracks, sample rate, channels, plug-ins you use. And with low latency and best reverbs on busses, Ardour is a must-try for audio enthusiasts. It's specialized for Linux primarily but supports windows and macOS too.
Get it Here: Ardour
10. Easy Hi-Q Recorder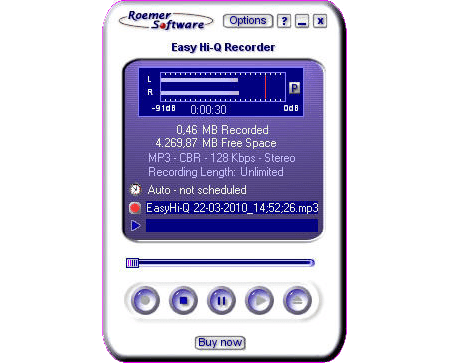 Though it got a free version, premium plans are the most economical. Easy Hi-Q Recorder is one of the finest audio recording platforms and editing on Windows. This platform only supports Windows 7, 8, and XP. Yet, it can be trailed on version 10.
It supports around 20 audio formats and can record trim audio. Further, there are voice-activated recording features and several audio-in features. All these sum up to make it considerable in this list.
Get it Here: Easy Hi-Q Recorder
11. Mixcraft 9
Mixcraft is designed by the musicians and for the musicians. It is one of the most popular and efficient audio recording software available for PC. And now, with Mixcraft 9, you get further advanced features to record and modify your music.
It is an all-in-one recording studio that provides you with many sound effects and over 7,500 professional audio loops. Additionally, it also allows you to save your project in MP3, WAV, and numerous other formats.
Get it here: Mixcraft 9
12. Avid Pro Tools
Avid Pro Tools is another amazing audio recording tool for Windows 10. The software is available in three different versions: Pro Tools First, Pro Tools, and the Pro Tools Ultimate.
Moreover, it offers tons of professional audio recording and editing tools like loop tracks, pre-sets, MIDI editor, etc. Luckily, there is a trial version for all the versions. Hence, you can first go for the trial and see if it is really worth it or not.
Get it here: Avid Pro Tools
From Editor's Desk
You may get a few amazing tools in premium packages, but these platforms' free versions have everything a basic editor needs. Aside from these ten, If you're really a pro editor, I suggest you try Adobe Audition, a part of Adobe's Creative Cloud Suite. This premium editor has everything modern music needs.
Other items supporting these software are the sound cards, plug-in jacks, microphones, etc. Ensure all these are good or at least compatible to feed some good audio into the software. And as said before, you gotta master important tools of these softwares to produce the best and unique audio output. With all that being said, happy editing.