Are you looking for the Best Open Source Audio Editors? Are you looking for the Free Audio Editing Programs? Then, My dear friend – You are at the right place. Because today I've decided to share my personal list of Best Open source Audio editors with all of you. This free audio editing program will definitely help you out in editing your custom songs or any other audio streams. And, I am sure that – It'll definitely help you out. Let's have a look at the list items one after the other.
List of Best Open Source Audio Editors in 2020:-
Although, there are many free open source audio editors available online. But I have selected some of the best and most popular free best open-source audio editing software. The list is made as per the user rating and my experience with these editing programs. So, I hope you will like it. without wasting any time let's jump into the list
Audacity is one of the open-source free audio editors that I have come across in recent years. What is the best feature of audacity is it's the clear and simple user interface, which helps you in mixing various audios or removing the noise from audio recordings easily. Because all the options that you need to edit the audio clips are available in front of you. I often use audacity for my daily youtube video tutorials to make them more professional. You must give this one a try!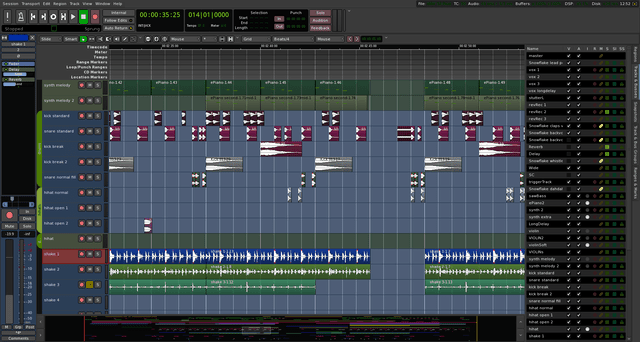 Ardour is another Alternative for the Free Audio Editing programs. after audacity, This program is very powerful Workstation for editing audio clips, and the best thing is that it is available for all the operating systems including Windows / Mac and almost all the distributions of Linux. So, any operating system you are using – you can install this program in that and work in your favourite environment.
Traverso DAW is another best free audio editing tool that helps you in recording and editing the recorded clips easily. You can change the course of recorded audio, and make them in any format. The user interface is quite simple and user-friendly. Most of the professional audio editors uses this program for their daily tasks.
Qtractor is a perfect solution for those people who are looking for an easy to use and understand free audio editing platform. This program is designed to Be fulfilling the requirement of professional audio editors. But at a low level, it is also fulfilling the requirements of newbie professionals. The program provides unlimited features of cutting, sinking, normalizing and noise removal tricks to enhance the audio editing experience. You must give this one a try.
Last but not least, mixxx is another great professional audio editing program that is available for free and it is open source. This program is mainly designed for PSTET action in music and controlling the master sync, looping through various beats and other decibels or BPM detection features of the audio editing.
Ocenaudio is a simple to use audio editor with a minimalistic & colorful user interface. It is available on cross-platform including Windows, Mac & Linux. Ocenaudio is bundled with loads of effects including compression, reverb, EQ etc which you can apply and pllay with in real time. Most audio editors bands the effect with source file thus destructing the source file. However that isn't the case with Ocenaudio as it uses preview files to embed effect on your main audio track. There are lots of useful tools (such as a spectogram) for the more advanced user.
Hya-Wave is an online audio editor that is helpful in carrying out many audio-related tasks. The best part is that it is cross-platform and can run on any device which can run internet. It is a chrome-based audio editor and works in the internet browser. Hya-Wave was released in January 2015 and id gaining popularity rapidly. There are thousands of tutorial videos for you to start up your audio editing game.
WavePad is a multi-device audio editing solution which can work on both PC & Laptop. The best part is that it is completely free to use and rich in features. There are lots of bundled effects including noise removal, compression, and reverb. There are also some great analysis tools for more advanced users. However, it doesn't support multi-tracking so you can only edit stereo or mono audio files.
TwistedWave is an online web application that can help you with sound editing. Since it is a web app, the option is limited. However, it can normalize the audio and can apply many filters and features. TwistedWave is designed for people who want to do basic audio editing. In TwistedWave you can do this easily by highlighting the section of audio that you want to mute and hitting 's' on your keyboard!
Wavosaur is a tiny audio editor that comes in a tiny 1.3 MB package. The app isnt very UI friendly but it sure gets the job done. The latest version was released in 2013. It's a good piece of classic Windows music production software. No frilly bits, no messing about. Straight to the point. It does support VSTs and you can apply effects on your tracks easily.
Logic Pro X is a DAW from Apple which comes with some exclusive features thus making it one of the best audio editing software. However, it is not available for macOS which seems quite disappointing. Logic Pro includes both basic as well as advanced features like Flex Time, Smart Tempo, etc. Additionally, it also has an Arpeggiator which helps convert chords into arpeggios automatically. Its library contains a massive collection of pre-recorded sounds, effects, and patches that are free to use.
Talking about creative software and not mentioning Adobe isn't happening. As expected the Adobe's Audition brings a bunch of features for you. The software seems pretty easy and definitely one of the best. Adobe Audition features "Auto Ducking" which detects the breakpoints where you might want to lower the background track's volume. It supports multi-track editing and mixing for a better efficient experience. Moreover, it supports most of the audio formats starting from  MP3, MP4, FLV to HE-AAC and more.
From the Editor's Desk
This is the list of best open source audio editors, and I Hope that it will help you in selecting the best for your purpose. If you have any doubt or any suggestion for me to add or remove from this article, please let me know about it in the commands field below.
I will try to make changes in the article to help all the other users with the information that you have provided to us. thanks for your time and faith. I will see you in the next article with more technologically advanced information of the new era.