Are you looking for the best free, open-source PDF editor? Are you looking for a solution to edit your PDF documents for free? And if you are looking for answers to such questions. Then, my dear friend, you are in the right place because today, in this article, I will talk about some best free, open-source PDF editors for both Windows and Mac.
You can use this editor to edit your PDF documents flawlessly without any extra effort. So, without any delay, let's look at the list of the best free PDF editors.
There is much open-source software that works very well rather than paid once — so Editing any PDF file is not a big deal that can lead you to buy any paid software. So get any of these open-source PDF editors and use any of your operating systems. You can go with any of these that is compatible with your need.
Also Read- How to Convert Document to PDF with Google Chrome
Best Free Open Source PDF Editors for Windows & Mac
Although many PDF editor programs are available online, you can download them anytime. I have researched and listed some free, open-source PDF editors. The list is created based on user ratings and reviews from various sources. So, I hope that you will like this article.
I know that everyone wants to edit pdf without wasting their time downloading software and editing pdf. So Sejda PDF Editor is the best fit for you because it runs entirely on web browsers. So you can edit any pdf file in web browsers whether you are on Windows or Mac.
Sejda PDF Editor is one of the best pdf editors for us as it can offer more editing options. You can add your signatures to it, and you can upload pdf files from a direct URL using their web integration feature. It can also provide some cool features for free like you can edit pdf without any watermark.
2. Formulate Pro – Best PDF Editor for Mac
Formulate Pro is second on the list, but it is the best PDF editing program available for Mac Operating System. And the best thing is it works perfectly fine with Mac's elegant looks.
The software provides a fantastic user interface that helps new users easily edit PDF documents despite using the program for the first time. You must give this one a try.
3. Inkscape – Open Source PDF Editor
Inkscape is another good PDF editing program, which is open source and free to use. You need to install it in your operating system, and you are ready to edit any PDF document that you can find on the web.
The main feature of this software is its user interface. And you will find excellent options in this program; this option will help you edit and decorate the PDF output however you want.
LibreOffice Draw is one of my favorite and fantastic PDF reading and editing program, which helps the normal user to understand a complex PDF document and breaks this document into simpler, smaller parts.
The best thing about LibreOffice Draw is its open-source code. That means you can go to its source code page and help maintain and upgrade the software. So, anyone can edit and decorate the document as they want.
Last but not least, PDFescape is another big fish in the market for PDF editing software. You can go to the website and start editing any PDF document. I have used this one personally, and I can say that the platform needs to update its user interface. Otherwise, it is perfect in their services.
One of the fastest-growing websites where you can split, merge, compress and convert PDF files easily. This site is owned by 123Apps, which owns various web tools. Using PDF.io, you can convert any PDF to Word and vice versa with just one click. There is no need to buy memberships and all.
Some of the special services of this website include converting PDF to Word, JPEG, HTML, Protected File, PNG, etc. On their homepage, you need to select services and choose the PDF file you want to convert, and it's all done.
PDFSam is another open-source PDF editor that also offers a full office suite. It even has a commercial-based PDF editing system designed for enterprises. You can easily see all the PDF documents in the form of pages.
You can edit, move, rotate, cut, highlight, and delete pages. It is effortless to use and ideal for quick annotations or quick edits. Its ability to merge two PDFs is outstanding.
Apache Open office draw is slowly gaining popularity due to its graphics-based open source PDF editor. You can use this editor to draw diagrams, shapes, graphs, and other PDF file images.
It comes in handy when trying to make pie charts or complete a hectic school assignment. Also, it works on cross-platform computers and has automatic spell-checking.
PDF Architect is an open-source PDF editor designed by PDF Forge. It's an advanced PDF editing software. This is the best option if you're looking for a fully functional PDF editor for your document needs. You can edit any text, image, or diagram on a PDF file. It's a great open-source PDF editor to have on your list.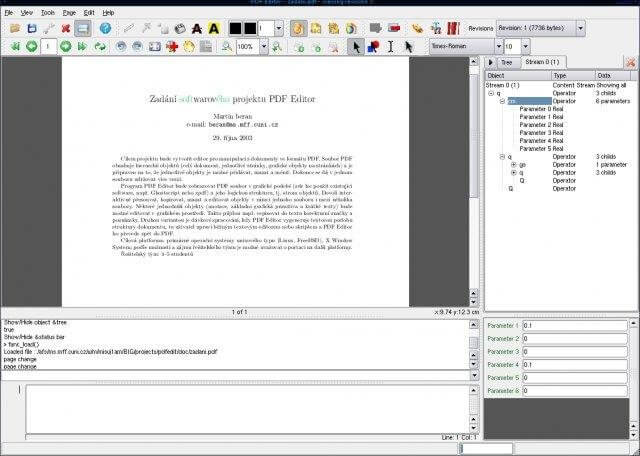 PDFedit is a widely used tool when it comes to PDF editing. It's completely free and open-source, so many renowned developers back it. The best part of PDFedit is that it can be used as a minimalistic PDF viewer. Users can select which part or sections to edit and can edit accordingly. It also supports deleting specific text, images, or charts from PDFs.
Okular is a simple and open-source PDF editor available for cross-platform devices. If you often switch between a home PC and a work PC, this is a great choice. It supports Windows, macOS, and Linux.
Okular has many modern features that you will only see in enterprise PDF editors. One of them is creating custom markers that make it easy to navigate large PDF documents. In addition, it is beneficial for students trying to make notes in PDF-based e-books.
If you're looking for a simple-to-use PDF editor with professional tools, then Gonitro is the best code. It comes with a bull in PDF editor to edit your files. Along with this, you also get a dedicated signature feature where you can sign documents digitally.
This is especially useful if you want to merge different PDF files into one or edit or annotate them—a perfect tool for business.
With forms distribution and built-in OCR capabilities, the PDF element is the best. In addition, it comes with a sim[le to use interface and user design.
It can convert multiple PDF files and also support batch processing. So if you want to convert 100 PDF files into Word, you can easily do so.
With a neat and clean user interface, LightPDF has solidified itself in the market with many useful features for free. Whether you want to edit or convert, merge, compress, or split a PDF file, you just need to click a few buttons, and everything becomes seamless.
The wholesome free PDF tool has the ability to manage all of your PDFs in one place. However, LightPDF is a reliable editor and even provides good security to all users. All in all, a handy free open-source PDF editor.
Undeniably, PDFSimpli is one simplest PDF editors that you should use to streamline the workflow. Using PDFSimpli, you can convert a PDF into different file formats easily. Also, you can merge, edit, and spilt a PDF file.
Besides this, it has free signature features. When it comes to speed and fast conversion, PDFSimpli has strengthened its feet. However, it's compatible with Windows and MAC, and even you can use it on the web.
From Editor's Desk
So, the article ends here, hoping that it has helped you select the best PDF editing program for your purpose. All the PDF editors are open source and free to use – and each one has its own specialty.
If you have any doubts or suggestions to add or remove from this article, please feel free to leave a comment below. I will try to make this article better by using your suggestion. Thanks for your faith and time. I will see you in the next article.