Nowadays, everyone wants to be fit enough to carry out all their task actively. There are different fitness goals. Some want to lose weight, and some want to gain weight. As per different motives, some joined the gym and started working at home to achieve their fitness goal. But just working out in the gym or at home will not help you achieve your goal.
Many factors like diet plans, different exercises, and proper intake plans are needed to achieve fitness goals. Unfortunately, not a trainer will be available with you always to help you with all these exercises, adequate meal plans, and check out everything.
Here we researched and found some of the best bodybuilding apps from Reddit, Quora, and some other sites, which will act as a trainer and help you in fitness with the proper plan of everything.
Also Read- Best Weight Tracker Apps For Android & iOS.
List of Best Free Bodybuilding Apps You Should Use in 2022
1. JEFIT
The app provides various features that will help you train and monitor your fitness. For example, you get many workout videos here to train your body. Along with it, the app will help you to correct your body posture during a workout.
You can create your workout plan in the app as it provides an inbuilt notebook. To achieve your fitness goal, you will get the various workout programs here like Bodybuilding, Weight loss, etc.
Download Jefit
2. Nike Training Club
Nike owns the app, as we all know; Nike is the favorite brand of athletes because it offers all sports products. Here the app is doing well to same like Nike by providing various training programs to users.
The best part is you can select an intermediate level like a beginner or intermediate. Then, after selecting your intermediate level, you can work out according to that.
Download Nike Training club
3. Freeletics Bodyweight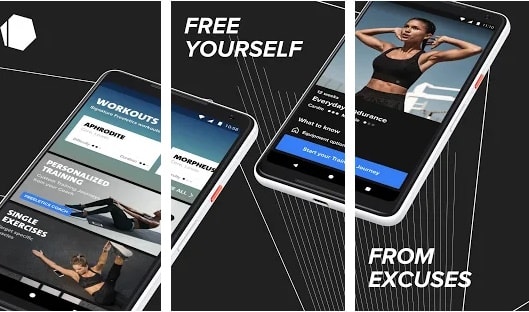 Now, this app provides all the workout plans you do at your home. This app is for those people who can't afford a gym or doesn't have time for the gym. You will get various workout plans and exercises here, which you can do at your home.
There is no need for any machine to do the workouts. There are different workout plans for various Bodybuilding, ABS, and back programs.
Download Freeletics
4. BodySpace
Now, this is a multipurpose app for fitness lovers. Even it is considered the best app by the fitness community forum. It is different from all others as, along with workout plans, it provides necessary supplements and proteins.
You can buy here proteins and supplements according to your workout plan. Along with this, you can prepare your daily schedule here to follow.
Download BodySpace
5. You are Your Own Gym
As the game suggests, this app also concentrates on the home workout instead of going to the gym. You will get various videos on exercise on a particular workout to select. E.g., if you want to train ABS, you will get multiple exercises, and you can choose any according to your suitability. The best thing is all videos are free. You will get the timer here to perform the specific exercise at a particular time.
Download You are your gym
6. FitNotes
The user interface of this app is straightforward for better user interaction. This app will take your stats, i.e., height, weight, and work out according to that, which is the best part. You can select different exercises and can save them to your schedule. You can even customize your workout plan here and can follow that.
Download Fitnotes
7. Pro Gym Workout
As the name suggests pro, the app contains all exercises to take you from beginner to expert. You will get everybody part workout here like leg, shoulders, back, chest. You can save all videos in offline mode and watch them anytime without any internet connection. The best feature is getting monthly plans, like a 3-month workout plan.
Download Pro Gym Workout
8. Strong: Exercise Gym Log
In this app, you can customize a workout plan if three sets of bench presses with ten reps are given. You can change it to 4 sets according to your ability. You will get the warmup calculator here, which will tell you the rest time after exercise. You can even customize that.
Download Strong
9. StrongLifts 5*5
As the name suggests, Stronglift, the app is purely based on increasing your strength. Therefore, it provides those exercises whose primary focus is to increase strength. In addition, it will get various features like a timer calendar to track your progress day by day.
Download StrongLifts
10. PowerLifter: Wendler Log
The app is designed for bodybuilders for their intense workout. You will get only a weight lifting program here, concentrating on Bodybuilding. The unique feature of this app is a graph, which will represent your progress weekly.
You can also customize your workouts for your suitability. Along with this, you will get a calculator here, which will tell you all the time, like a workout, rest time.
Download Wendler Log
11. AtletIQ: Personal Trainer & Gym Workout Routines
AtlertIQ has a unique approach to creating custom training programs to help you achieve your goal faster and more efficiently. Anyone can easily create a free account then enter their necessary data.
After that, you can select a training program with your preference and start training hard. The programs are divided into three parts, beginners, advanced, and professional. So it has got everything you need to meet your fitness criteria.
Download AtletIQ
12. Fitness Trainer FitProSport
If you're serious about Bodybuilding, this is a great app. The app doesn't ask for any personal data, and it offers more than 150 exercises. So you will never run out of activities or exercises.
It even shows each exercise's description and animation, so you don't go wrong and hurt yourself. You can add or customize your workout plan as you wish. It even has a calendar of workouts to keep you up with your routine. You can save a completed exercise or a different exercise in the log. All the data can also sync with the cloud.
Download Fitness Trainer FitProSport
13. Fitness Point
Fitness is also an excellent bodybuilding app for android users. You can easily set up a personal training program for the gym or your home. There are a plethora of exercises to choose from. In addition, there are many pre-made programs that you can use.
Fitness Point has many plans for training. You can also enter your target sets and reps. Professional trainers also create workout plans, but you need to buy that via in-app purchase.
Download Fitness Point
14. Fitness & Bodybuilding
A group of professionals develops fitness & Bodybuilding to offer a complete bodybuilding guide. This app lists all the exercises that effectively hit every muscle in your body. Hence, their ultimate goal is to help you achieve great results within a brief period of time.
Moreover, it even contains the perfect images illustrating each exercise deeply, along with a text description. You can also create customized workout plans, use the built-in timer, and keep track with the built-in Calendar.
Download Fitness & Bodybuilding
15. 10 Fitness
10 Fitness will surely amaze you with their exhilarating service at a modest price. The app demands a charge of just $10 per month and offers everything you might need. 10 Fitness takes care of your everyday routine and helps you meet your personal goals. Above all, it lets you take multiple global challenges and encourages you throughout your journey.
This app stands beside you just like any professional coach helping you with every single step. Plus, you can sync third-party apps and fitness devices with the app to further effective workouts.
Download 10 Fitness