Want to have some fun with your friends over phone calls and looking for the best funny apps? Look no further; we have some of the best free voice changer apps for you. Now change your voice over the phone to confuse the person on the other side. That sounds fun. Isn't it?
If you love to play pranks on your friends and families and came up with the idea of using a voice changer app, that's an awesome plan. This trick often works on most people. But to do this trick, you need some working voice changer apps during your smartphone call.
Also Read- Best Voice Changer Apps For Discord
Best Free Voice Changer Apps During Call For Android and iOS
Although there are various voice-changing apps on the internet, finding the perfect one is still a hectic task. So, put some filters on your search and check out these free Voice Changing Apps during the call for both Android and iOS.
1. Call Voice Changer
The Call Voice Changer is another fun app for iOS users. This app allows users to change their voices while making calls. You can also play sounds like mimic cartoons, birthday songs, and many more styles. However, it places calls over the internet using VOIP. So users must have a good and reliable internet connection to make calls.
Pros:
Change the Pitch of your voice
Provides real-time effects
Cons:
2. Voice Changer with Effect
This is one of the best free voice-changing app available for Android. More than 40 different voice effects include Helium, robot, giant, monster, zombie, etc. This app not only modulates the voice but also allows recording it. Users can record their voice, apply effects, and share WhatsApp and email.
Pros:
40+ voice effects
Allows saving recordings
Import pre-recorded sound
Set as ringtone and notification sound
Cons:
Contains ads
Lacks natural voices
3. FunCall – Voice Changer & Rec
This is the best Voice Changing App in the Appstore. This app contains good quality voices and sound effects to choose from. All calls are made over the internet using VOIP. Furthermore, it provides international calling at the lowest price.
Make a demo call; hear your voice. Then, if you don't like it, you can try changing the effect. Note that demo calls won't cost you a single penny.
Pros:
Make international calls
Recording calls
Provides natural voices
Cons:
Users need to pay for minutes and call recordings
4. Best Voice Changer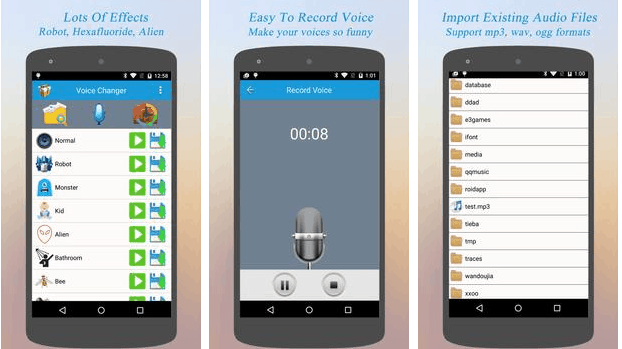 As the name suggests is really one of the best voice changer apps available on the play store for free. The app has various effects to choose from, like the Smurfs, chorus, Alien, Bee, etc. Moreover, it lets you record your voice else. You can also upload a pre-recorded audio. Moreover, you can share them on Whatsapp, Twitter, Facebook, and LINE.
Pros:
Available for free
Variety of effects
Record voice
Cons:
Lacks the natural voice of Man/Woman
5. Voice Changer Calling
Voice Changer Calling is a fun app available for Android. Weird Voice is based on CSipSimple and authorized under GNU GPL v3. However, users need to stay connected to Wi-Fi to make calls. Note that this app doesn't hide your Caller ID, so use it responsibly and carefully. Overall, it is a great app to prank on your friends and family.
Pros:
Available for free
Very cheap calling charges
Cons:
Does not hide Caller ID
Cannot make calls using the cellular network
6. Fun Phone Call – IntCall
Another voice-changing app for iOS, Fun Phone Call, is an unlimited app for prank calls. Make your voice funny by adding different voice effects like a siren, gong, dog bark, and many more. Like the others, it also places calls over the internet using VOIP. Therefore, a good internet connection is a must-have thing.
Pros:
Make funny phone calls by changing your voice pitch
Play various funny sound effects
Allows recording calls
Cons:
7. Helium Voice Changer
Have you ever inhaled helium from a balloon and tried talking? It completely turns your voice into both funny and hilarious. The same happens with the Helium Voice Changer App. Moreover, it allows you to record your voice and record funny videos as well. You can either select from audio or video and record your sayings in a funny voice.
Pros:
Video recording is available
Video changer modifies existing videos too
Save and share voice notes
Cons:
Limited Voice effects
Constantly runs in the background
8. Voice Changer by KidsAppBox
The voice changer app by KidsAppBox uses the FMOD engine. Thus, it works very fine. This app is specifically designed for kids, so it has unique vices that you will not see in other voice-changed apps. Some of these include monster sounds, lazy sounds, and much more. The app user interface is also very simple to use and ideal for kids.
Pros:
Available for free
Variety of effects
Cons:
No advance options as it is made for kids
Final Thoughts
These are some of the best Voice Changer Apps for Android and iOS. Download any of them based on your OS from the links given under each description. Also, let us know which is your favorite one!