Are you looking for a way to visualize the signal strength of your wifi signal? And if you are looking for the best wifi analyzer for Windows. Then, you are in the right place. Today I am going to talk about the list of best wifi analyzer software for Windows 11/10/8/7.
You can use this Wi-Fi analyzer to check out your Wi-Fi signal strength in various areas in your house or office. So, without wasting time, let's look at our compilation of top Wi-Fi analyzer tools for Windows 11/10.
Best WiFi Analyzer for Windows 11/10
Although there are many wi-fi analyzers for Windows available online. But some programs are at the top of the list.
I have researched them and concluded the following list as a result of my research.
If you have any doubts or suggestions regarding that, please let me know in the comments below.
1. WiFi Analyzer
Wi-Fi Analyzer is one of the best Wi-Fi analyzing tools that are available on the Microsoft store. This is an immaculate and simple application built for Windows 11/10.
The clean and easy-to-understand user interface makes it more user-friendly to analyze the signal strength of your Wi-Fi in various areas of your home. The best thing about this application is that it is available for free.
2. Netcut
Netcut is an ancient-looking DOS interface Wi-Fi analyzing tool. AIt scans & analyses all the IP addresses available in your local area network, allowing you to control the network via the Gateway IP better.
Available for both Windows and iOS. The important thing is that you can interface the data of this application with your Android device.
3. SpeedTest Master
SpeedTest Master is another Wi-Fi analyzing tool that is very advanced in its features and tools. This tool also lets you know about Wi-Fi speed enhancement in a particular area. That easy-to-use user interface also allows for understanding the given information very well.
4. inSSIDer
inSSIDer is a great Wi-Fi analyzing tool, mainly built for the Geeks of all professionals. So, the user interface may look a little Geeky to you at first glance. But, believe me, using this simple tool is very easy.
This tool analyzes the given Wi-Fi signal and provides a graph with color coding to help us know the signal strength and quality of the signal in a particular area.
5. WiFi Analyzer Tool
Wi-Fi analyzer tool is another creation of Microsoft that you can get from the Microsoft store. It is an awesome Wi-Fi analyzing tool that you can use under Windows 7 and Windows 8 too.
The main attraction of this Wi-Fi analyzer tool is the user interface that shows all the data graphically on the graph sheet screen.
The only problem with this tool is that it is not free to use. You have to pay to use the Wi-Fi analyzer tool from Microsoft. I think the price is about 5 USD.
6. Vistumber
Vistumber is an amazing Wi-Fi analyzer for Windows, which features not only local area networking. But, it also includes live Google Earth maps and GPS to and as the user interface to a new level.
The application collects some data, so we see that it can use your network, signal strength, location and encryption of the network.
7. WiFiInfoView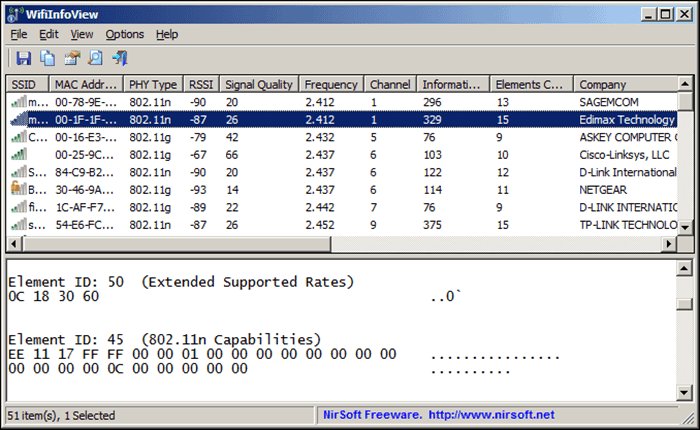 WifiinfoView is another rival in the best Wi-Fi analyzer software, making it very simple for even the newbie user to know and understand the data.
The tool also reveals the secret Mac address of your wifi address. And most of the time, it is essential to know this Mac address.
8. WiFi Commander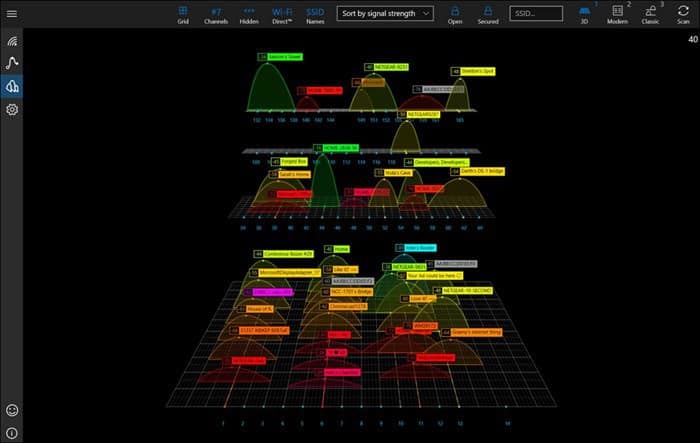 Wi-Fi Commander is a great application for users who want to analyze the Wi-Fi signal strength. The main strength of this application is that, unlike other Wi-fi analyzing tools – it doesn't gather data.
In contrast, it displays all the information on the screen in almost real-time. And the user interface makes it very awesome to analyze it.
9. GlassWire
GlassWire is, last but not least, on the list of Best Wifi Analyzer tools. And, I think – the Colourful graphical user interface makes it more attractive than the features.
It is free to use for trial purposes. But, in a nutshell – this is a beautiful application that makes things better.
10. Paessler PRTG
Paessler PRTG can discover all your network devices, including the wifi router. The great part is that it creates a network map after monitoring the network devices. This shows what other devices are connected to your network and so on.
Paessler PRTG uses three different methods to monitor wifi routers. It also has a built-in packet sniffer that reports traffic volumes by application, port number, and protocol. So the information you get is quite reliable and accurate.
11. NetSpot
NetSpot is one of the best programs on Windows and mac devices because it shows you a detailed heatmap of all routers, So you can connect the application to your Wi-Fi router and run a survey with accurate data.
So once the survey is complete, you will get a detailed heatmap on what areas the wifi connection is weak and strong.
It's a great application for companies who wish to create a full Wi-Fi area or campus. It's also useful for those who wish to find the best area in their house to consume the net and download movies.
12. Acrylic WiFi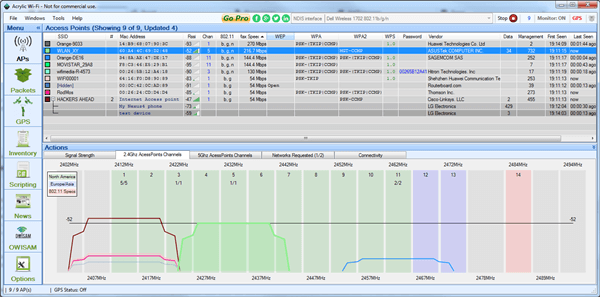 When it comes to a comprehensive WiFi analyzer for Windows, Acrylic WiFi remains one of the functional ones. With it, you can analyze and monitor everything on your WiFi network, such as coverage, security, and metrics.
It not only analyzes the network but also helps increase the signal strength in the best possible ways. Although Acrylic WiFi is free available, some bucks may benefit you with premium features.
From the Editor's Desk
So, we are at the end of the list. I hope it has helped you understand and make a better selection for your Best Wifi Analyzer tool selection.
If you have any doubts or want to suggest anything, please let me know in the comments below. I'll try to help you out as soon as possible.