Sometimes taking a break while working on your computer becomes necessary for concentrating on the work and giving your body a bit of rest. Nobody shall deny that online games are the best source of such relaxation while working. So today, we have made a list of free games websites to beat your boredom.
Whether you want to play some quick puzzle games or trivia or want to engage yourself in long multiplayer games, the games on these websites will back you up. There are multiple categories of games available in them, and you can browse a suitable one from them.
Some of the websites in our list also allow you to upload your own created games on them. Each website consists of at least 1,000 games that can be accessed through a computer or a smartphone. So let's dive deep into them.
Also Read- Best Hidden Object Games
List of Best Games Websites For Free Online Gaming
Addicting Games

Miniclip

Retro Games Online

MMO Games

Poki

Kongregate

Pogo

Agame.com
1. Addicting Games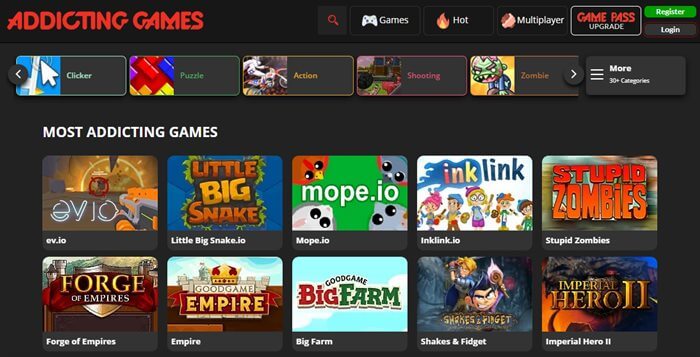 This is an amazing website that has more than 5000 games in different categories. Some of the categories in Addicting Games include action games, easy games, brainteasers, etc. The user experience and gameplay of the platform is awesome, and you will not have any complaint against it.
Apart from free games, you can also upgrade to paid games by buying a game pass. The game pass has an ad-free interface and early access to new games. Addicting Games is also available for smartphones.
2. Miniclip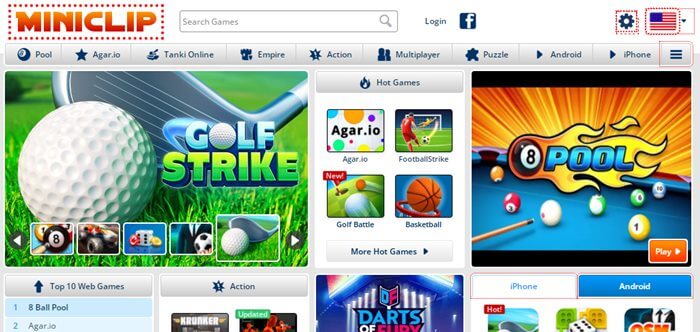 It is a site for multiplayer games that can be played for free. Users don't even need to sign up in Miniclip to play using a guest ID will be enough to do the work. You can also invite your friends to the game by sharing the invitation code.
Miniclip has several genres of games, including action, puzzles, Arcade, etc. Among them, some popular games are 8 Ball Pool, Agar.io and Empire. Although the players are not bound to create an account in Miniclip, if you don't want to lose your progress, creating an account will help. 
3. Retro Games Online
Our next inclusion is a unique website for playing free games. Unlike other sites, Retro Games Online doesn't erase your in-game progress, and you can start from where you had left. However, it will need you to sign up for a free account.
Once signed up you can get your hands on thousands of games belonging to various categories like casinos, object games, adventure, puzzles, strategy games, board games, etc. The website features plenty of ADS that may be a bit annoying. Otherwise, it is an excellent option to choose.
4. MMO Games
MMO Games is another game website that you can refer to for playing online games. MMO Games itself means Massively Multiplayer Online game, so you can guess from its name that many multiplayer and 1versus1 games will be available on it. Besides that single player and arcade games are also available.
The user interface of the website is pretty impressive, with all the games sorted under different tabs. You will also be amazed by some popular games like Blackjack, checkers, etc., on MMO Games. Unfortunately, the site will ask you to sign up for a free account that is not obligatory.
5. Poki
This old website offers single-player and multiplayer games in various categories like puzzles, trivia, arcade, and action. Poki has a simple user interface that you can directly jump into your favorite games without signing up.
However, some games are free to play, and some require a subscription to get full access. The interface has some pop-up ads, but you will not encounter any video ads on Poki. Unfortunately, the mobile website of Poki is a bit laggy.
6. Kongregate
It is a game website that has a massive number of online games to play. You will find almost every category of games in Kongregate, starting from action, multiplayer to strategy and puzzles. The site request you to sign up for a free account to access its content.
Another feature of Kongregate is the chatting option that allows you to interact with your friends while playing multiplayer games. Besides playing games, independent developers can also upload their games on the website.
7. Pogo
You may have heard about EA( Electronic Arts), the popular game developer. Pogo is an initiative by them to play free online games. For accessing the site, you must create a free account or sign in with your existing EA account. There are various games in Pogo like board games, card games, poker games, etc.
Some of the games on the website are also available on mobile devices and tablets. However, a few games are only available for the trial version. Still, many games are completely free to access. Here you must know that you can not use any adblockers with Pogo. 
8. Agame.com
If you are too fussy about online games, then Agame.com will be the perfect option for you. The site curates some of the finest games on the internet. Starting from puzzles and trivia to action and adventure, one will get each and everything here.
The user interface is also well-managed with straightforward navigation options. While playing games, you may get some advertisements, but those can also be removed by using an ad blocker. However, smartphone users may not find the site much useful.