Currently, there are almost 1.3 billion Instagram users and that number is growing exponentially. It is one of the largest photo-sharing platforms with hundreds of photos uploaded on it every minute. Finding people on Instagram is not that difficult if you know their name or the username.
Searching by an image was an option a few years back, however, with a new API update in 2018, Instagram technically encrypted all the photos meaning you will face immense difficulty should you choose to find someone's profile on Instagram using a photo and the reverse image search tools. 
Note that finding someone on Instagram with just a photo isn't impossible but way difficult after an API update. Similarly, you can use the Instagram reverse image search feature to find if someone is using your images/photos or not which can be used for plagiarism or for any fraudulent activities.
Related- Facebook Reverse Image Search
List of Best Ways to Reverse Image Search On Instagram
Here are different reverse image search tools available on the internet that can help find profiles or source images from the stake of billions of people uploaded on it.
1.) TinEye
Although the Google Image Search tool is among the best, I found out TinEye is pretty efficient too. You can upload an image on TinEye such as someone's face to find if they have Instagram or profiles on other platforms or not.
TinEye also gives you mentions of said photo on the internet so you have many sources to act accordingly and try to decipher profile of the person you are searching for. 
As said, Instagram has made it difficult to search for someone with an image, TinEye follows the same protocol. You will have a better chance of finding someone's profile if the profile is public and there are a bunch of photos posted on it as the tool will cross-reference it to find results.
Still, it is not foolproof when it comes to finding profiles but you can use TinEye to check if someone is using your photos or not.
2.) Google Image Search
You can't just forget to list Google Image Search here. Google has a humongous database of information and photos so why not use it to your advantage. Once you visit its Google Image Search website, you can click enter the URL of the image you want to search for or upload it from your device.
This won't take much longer. Google will cross-reference the image you search for with the database and return results accordingly. As said, the chances of finding Instagram profiles using Google Image Search are slim but not nil. 
You can use Google Image Search to check if someone is using a copyrighted image. This includes original work, photos that you captured and don't want others to upload with their byline on it. Google will retrieve all links it finds containing images that you search for which include the same image as well as similar images where the latter are not likely yours.
3.) Bing Image Search
After Google, it's time for Bing which is Microsoft's search engine and it has a rather pleasing UI. You have options to take a photo, paste an URL, upload a photo to find images that look like the one you searched for.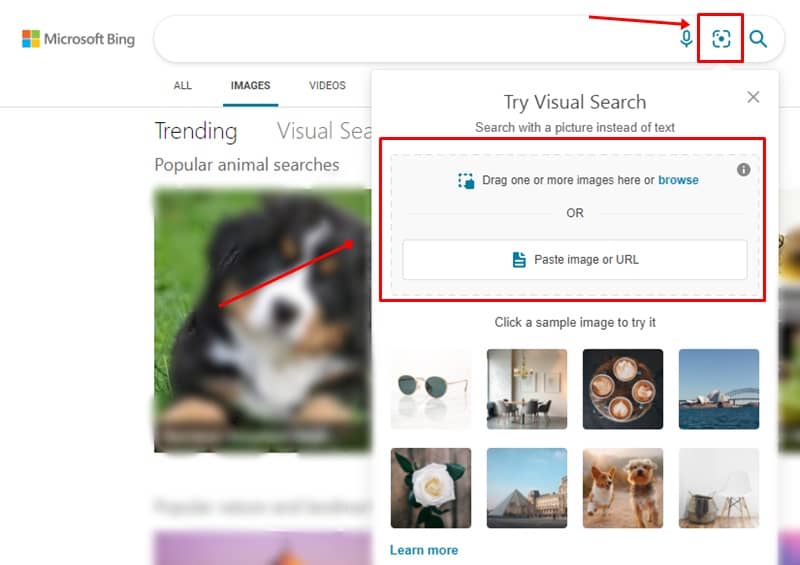 Similar to any other reverse image search tool you will find mentioned here or anywhere else, although finding images that look exactly like what you search is easy, finding someone's Instagram profile is difficult. You can try and with luck, it is likely that you will find the person you were looking for with a few attempts here and there.
4.) Social Catfish
Chances of finding someone's profile picture are higher on Social Catfish. It takes some time to deep search every government, educational, and social networking site cross-referencing image you searched to find a match.
Turns out it has a higher success rate in finding the person in the image that you were searching for. In fact, it can be used to find if someone is impersonating you using your images or if someone is using your original work for his/her benefit.
The only catch is, Social Catfish is paid and you will have to pay to get the results. You can check out the various subscription tiers though to find the right price for obtaining your search results. Social Catfish is surprisingly more accurate in finding profiles on popular social networking sites including Instagram compared to many of its alternatives such as the one listed above.
Final Words
Although Instagram has 1.3B users each with a tonne of photos uploaded, the API update in 2018 makes it difficult to pull out details about one's profile just by reverse searching their images. Of course, you will still end up with good results for some searches but not all searches are the same. 
You can use these reverse image search tools to find if your original artwork, photos, or any other photo containing XYZ that you uploaded on Instagram or other websites, is being used without permission. Adding a watermark can be a great way to keep unknown people from re-uploading your photos as their own.