LucidChart is definitely the best platform to work on for drawing diagrams and flowcharts. Since it has many customizable tools and templates and a rapidly growing library, most users now like it. However, there are many other LucidChart Alternatives that you might try as well.
LucidChart is an easy-to-use visual workspace used to create diagrams, wireframes, data visualization, etc. Moreover, you can also import Visio files. But it has some downsides too. It is limited to only four diagrams with its free plan. So most people search for alternatives to LucidChart to overcome this issue.
 Best LucidChart Alternatives You Can Use in 2022
LucidChart mainly works on the web and is not ideal for everyone. Therefore, here we have listed the top LucidChart alternatives you might love to use.
1. Creately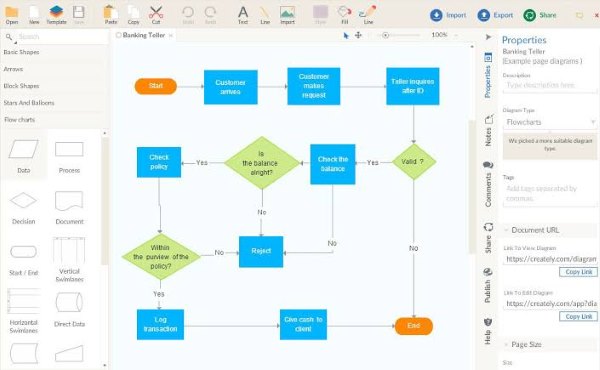 Creately helps you keep things neat and tidy. It is an excellent alternative to LucidChart as it gives you a wide variety of professionally designed templates and presets. The basic plan is available for free, which also supports collaboration. However, the pro version comes for $5 per month. You can export your project in PNG, JPEG, and SVG formats.
Features
Professionally designed themes
Easy drawing tools
Presets and themes
View Creately
2. Coggle
Suppose you are looking for a simple and affordable alternative to LucidChart. Then, you must give Coggle a try. However, it is not that excellent in terms of features. But you can have a smooth experience. On the upside, it provides you with a good collection of templates. Above all, the premium plan comes at just $5 per month, and it also provides a free version.
Features
Highly affordable
Works fine with Google Drive
1600+ icons
Visit Coggle
3. Draw.io
Draw.io can be an excellent alternative to LucidChart; it rapidly gains popularity. This open-source software provides you with a pretty massive list of tools for creating flowcharts, org charts, ER models, UML diagrams, and many more.
Draw.io has a clean UI and is easy to use. Moreover, the software easily works with Google Drive, OneDrive, Dropbox, etc., and thus helps keep your data secured.
Features
A large number of tools
Offline feature
Works with ease
Visit Draw.io
4. XMind
Another powerful LucidChart Alternative that provides you with most of the features is XMind. If you are looking for mind-mapping software, well, this software must come first. Also, you get ample templates where you can draw. Apart from this, it also helps you create decent flowcharts and diagrams. However, the pro version comes a little costly, charging around $60 to $129
Features
Cross-Platform
Supports various formats
Download XMind
5. Microsoft Visio
Microsoft Visio is another popular visual workspace software that can be a great alternative to LucidCharts. Unlike LucidChart, Visio provides a huge collection of templates. It also supports Skype integration and allows you to keep in touch with your teammates. The basic plan is available for $5/month.
Features
Great collaboration
Huge collection of templates
AutoCAD support
Visit Microsoft Visio
Also Read- Best Alternatives to AutoCAD For Windows & Mac
6. PortoPie
Well, if you are in search of an alternative to LucidChart, which gives you a wide variety of customizing options, PortoPie can be a good pickup. Most importantly, it allows you to import several design tools from different software like Adobe XD, Sketch, and Figma. As a result, you can create high-quality models. This software is also available for Android and iOS.
Features
Easy User Interface
A robust set of tools
Integrations with software like Figma, Adobe XD
Download PortoPie
7. MindMeister
The MindMeister tool can be a good choice for drawing informative mind maps. It comes with an intuitive UI and gives several options for customization. You can also add images from your gallery. The worst thing about this software is that you can't export your projects but publish them. However, you can remove this limitation by upgrading to the pro version.
Features
Very cheap
Many customizations option
Download MindMeister
8. Moqups
Moqups is the last pickup of this list. However, it helps you quickly make better prototypes, diagrams, etc. It supports good collaboration. Hence, you can team up with your mates and complete your project correctly.
It contains a great collection of fonts. Moqups is also integrated with Google Drive, Dropbox, and Slack. In conclusion, it's another good alternative.
Features
A good collection of fonts
Enhanced tools
Visit Moqups