Looking for an AutoCAD alternative? Even tho there is no doubt AutoCAD is one the best and industry-leading software for making architects, automobiles, textures, graphics, and game design. However, there are other good options out there that you can give a try if you're not willing to work with AutoCAD.
As you might know, AutoCAD is a graphic designing and modeling software that is used by many engineering and non-engineering markets. These include game designing, product modeling, testing, simulation, machinery, etc. Due to the versatility and easiness of the software, AutoCAD is the most loved software in its niche.
However, that doesn't mean other Softwares are bad. So here are some of the best AutoCAD alternatives you can try. The best part is that most of these will be free and cross-platform supported. So lean back and enjoy!
List of Best Alternatives to AutoCAD For Windows & Mac
Although there are thousands of alternatives to AutoCAD. However, here we will only list the best in usability and stability. Some will be free, while others come with a teeny-tiny price tag.
1. FreeCAD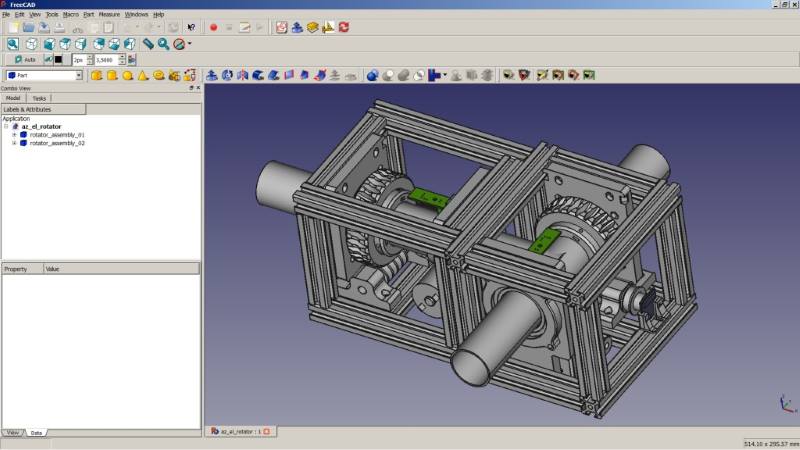 FreeCAD, as the name suggests, is free CAD software. It is a general-purpose parametric 3D CAD modeler application for windows, Mac, and Linux operating systems. It is specially designed for mechanical engineering purposes, such as modeling for bridges, screws, etc. FreeCAD is a great software if you're looking for a free alternative to AutoCAD.
Pros:
Completely free to use
Easy to learn and adapt to UI
Cons:
2. NanoCAD
Another free alternative for AutoCAD. Are you enjoying this? Well, NanoCAD is a free-to-use 2D CAD system. It is an insanely fast, lightweight package. NanoCAD is capable of making small projects and large complex designs as well. It is available for free on Windows.
Pros:
Supports Native DWG support
Easy convert DWG to PDF functionality
Minimal UI and a dark theme
Cons:
Limited functionality as compared to AutoCAD
Not available for Mac or Linux OS
3. LibreCAD
Ever heard of Libre Office? Well, Libre makes free open-source software, and LibreCAD is one among them! LibreCAD is an open-source 2D CAD application for Windows, Mac OS, and Linux. It is based on Qt, a leading cross-platform application and UI development framework. LibreCAD can read DWG files (and others) as of the latest Nightly build.
Pros:
Supports DWG, DXF imports
Export options for SVG, JPG, PNG, PDF, DWG, DXF, etc
Cons:
No support for native DLG files
No block editor or creating dynamic blocks.
4. DraftSight
DraftSight is professional-grade software for professional or industrial use. It is an extensively used program among teachers, students, and industry specialists. DraftSight comes with a small footprint and should not take less than a few minutes to download.
Pros:
Good compatibility and excellent 2D drafting tools
Almost the same as Autocad for 2D drawings
Cons:
Only available for Windows OS
5. Solid Edge
Solid Edge is another AutoCAD alternative that you must try for once. It is a great modeling program that uses parametric functions. You will easily get a hold of the user interface and it help you create better models before there manufactured.
Pros:
Professional solid modeling software
Includes advanced features like flow simulation, generative design, and convergent modeling
Cons:
No longer compatible with 32-bit machines
Supports Windows Only
6. BricsCAD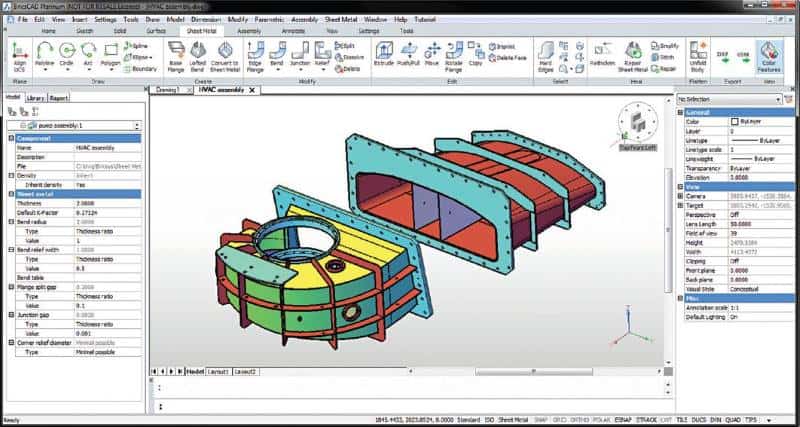 BricsCAD is the first all-in-one CAD design solution, whether you want 2D modeling or 3D modeling. It is ideal for mechanical drawings, 3D designs, and much more. BricsCAD is available on Windows, Mac OS, and Linux computers. BricsCAD runs most native AutoCAD programming interfaces, lisp, diesel, PGP, brx (modified Arx).
Pros:
Supports LISP, DIESEL, PGP, and BRX programming interfaces
Multi-Platform support for Windows, Mac & Linux
Cons:
Not a complete replacement of AutoCAD
7. TurboCAD
As an AutoCAD alternative, TurboCAD is a far better option to stick with. However, this program is not suitable for beginners due to its complexity. It offers enhanced features only a professional could handle better. Although the software is a little premium, it is worth it as you get a lot more features than even AutoCAD provides.
Pros:
More features than AutoCAD
Excellent 2D and 3D drafting tools
Cons:
Too complex for beginners and inexperienced
Comes very expensive
8. VectorWorks
VectorWorks has competed with AutoCAD and is undoubtedly very reliable as an AutoCAD alternative. It is an industry-based CAD program used to create 2D and 3D designs. Furthermore, it offers BIM software solutions that help construct the aesthetics and mechanism of your design. Besides, it is a prevalent one for Mac users and comes a little expensive.
Pros:
Drafting and annotation tools
Provides BIM solutions
Similar features as AutoCAD
Cons:
From Editor's Desk
So that's the end of the article. Although there are many more great alternatives for AutoCAD, these were the best. So feel free to try them and see what fits your needs better. Let us know in the comments which one you like the most.