MangaStream was a well-known site to read Manga comics. The site was free to use, which was the main reason it became so popular. MangaStream site was available for almost a decade, but now the official site is shut down. However, other domains are working.
Mangastream did not clear the main reason for shutting the site. But it is said that Manga comics owners asked them to take down their website. And even the site MangaStream was illegal as it provided the scans of Manga comics. However, scanning the comics with the real owner's permission is legal, but Mangastream did not have permission.
Also Read- Best Anime Streaming Sites
List of Best MangaStream Alternatives You Can Use in 2022
As the original MangaStream is not working anymore, we have provided a list of similar sites. Check out the list of MangaStream alternatives to watch your favorite Manga comics online.
1. TenManga
TenManga has a lot of good manga to read and discover. With the user-friendly interface, it is very easy to use the site. It provides a search tab to look for your favorite manga comic.
The site has a special feature called "Surprise," which you can use when you don't know what to read or want something new. One of the best things is you will not see any advertisement to interrupt.
2. Kissmanga
Kissmanga is one of the best alternatives to MangaStream, which has more than 100,000 manga collections. It is updated every day from all the genres, and you may also get the recently released manga.
The user interface is simple and friendly so that anyone can browse it easily. While you read, you will not be interrupted by any ads and the best thing is, you can use it on any platform.
3. MangaTown
MangaTown has a great collection of manga comics that are well-organized under different genres like action, romance, adventure, vampire, and more. This site has some helpful features including, notifies you of the latest release, a tab where you will see all the comics that you have already read.
If you want regular updates, you can follow this site on Facebook and Twitter. It allows you to share comics with your friends. It is a free site that can be accessed on any platform.
Also Read- Best Manga Reader Apps For Android and iOS
4. MangaEden
MangaEden provides the best quality of manga for free from the leading publishers. You can read manga chapters online from different genres, popular fiction, non-fiction, summaries, manga art books, and more. However, to use this site, you need to register and access all the features.
One of the best features is MangaEden, it lets you follow your favorite manga and keep track of where you left reading, and it also notifies you if any new chapter is there to read.
5. MangaOwl
MangaOwl has a decent easy-to-use interface with almost all the popular manga. The site has more than 52 genres, from which you can select your favorite manga to read. Every Manga series has ratings, so it will be easy for the reader to select good manga series.
If you have left reading halfway, then you can continue reading from there. The site gets frequently updated, so you can also get the latest releases.
6. MangaHere
MagaHere has a great collection of Manga, and the site is well organized, so it's very easy to use the website. You can see all the genres like action, drama, comedy, romance, and more on the homepage.
You can also select Manga from the latest release, rankings or search for your favorite one. It has more than 10,000 Manga comics. There is a "Manga spoilers & News" section that provides updates and info about the Manga world.
7. MangaPark
MangaPark is a well-known manga site available on the internet. The site has a great collection of comics. It comes with some amazing features like has dark mode theme, the option to turn off adult content, bookmark your favorite manga, lets you load ten images per page, and more. The best thing is, there are no pop-up ads, and you can use them on any device.
8. MangaReborn
MagaReborn is a pretty good website to read Manga. Most of them use this site, as it has so many mangas in its library. The user interface of the site is simple and easy to understand.
With manga comics, this site also keeps you updated with the Maga world's latest news with the news section. However, it might ask you to register and create an account. The site is free to use without getting ads.
9. MangaDex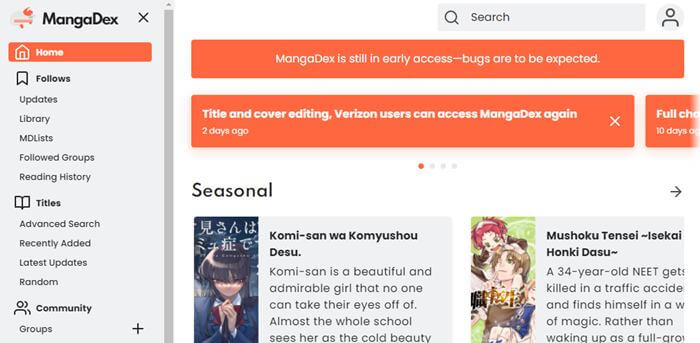 With monthly 30 million-plus traffic on this site, MangaDex becomes a really massive spot for users who want to read the manga. It does not allow you to download any file, but you can read it online as it's free for all. Donations from their happy users operate it.
It also has a community where people discuss manga and solve each other issues. MangaDex site is blazing fast. You can open any manga in just one click and load the whole chapter of it in a second.
10. MangaKakalot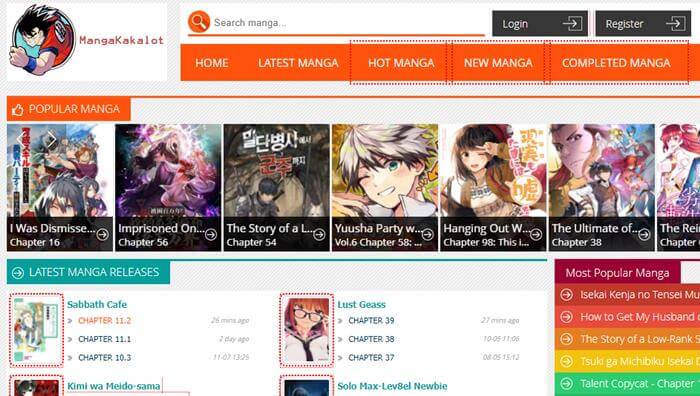 One of the best alternative to mangastream is MangaKakalot, which offers all types of manga comics to its users. The site is really responsive and has a simple user interface with no annoying ads. It has 100+ million monthly traffic on its site.
You can browse manga by popular, latest release and with genres. They summarize each manga in the description. Like other popular manga sites, it offers you to read manga online for free as downloading manga comics is illegal.
Hopefully, you guys get all the popular mangastream alternatives. I know there are more. If you know some sites where you love to read manga online, let us know in comments so we can list them in future and help more users.