If you are looking for good movie organizer software, then you are at the right place. We have listed down some of the best movie catalog software that will help you manage your movie collection easily. the best part of this software is that all of them are free to use.
These tools serve various valuable purposes, including adding movies to the database, getting movies from another uploader, organizing them correctly, etc. Moreover, you will get various information about the movies collected from IMDB and other sites. Not only this, many movie catalogs automatically collect your movies from specified folders and upload them to their database.
Best Free Movie Catalog Software For Windows in 2023
moVee8

Filmotech

EMDB

GrieeX

The Movie Database

Ant Movie Catalog

Movies Anywhere

Personal Video Database
1. moVee8
This is an easy-to-use movie catalog software for Windows. moVee8 organizes your movies under different tabs based on their genres. You will also get tabs for new releases, top-rated ones, and others in the catalog.
The movie catalog has a vast user base and comprises over 14 million movies. The list is updated every hour to expect to find almost every film you want to watch. Moreover, the platform is free to use.
Price: Free
2. Filmotech

Our following inclusion is a portable movie catalog that can be downloaded on your computer or burned onto a CD with the help of CD-burning software. You can make your personalized category of movies using this catalog software. It also has features to make subtitles, create captions, sort movies by date, etc.
Filmotech also allows you to upload your movie files from your computer and share them with others. The software doesn't need you to fill in all the details of the movies as it does it by itself. Furthermore, the movie catalog is free to use.
Price: Free
3. EMDB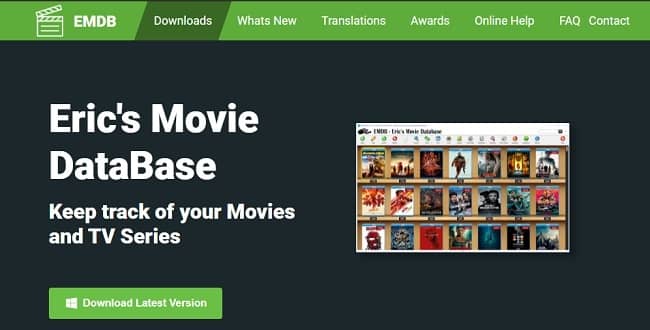 This software lets you create several database entries on your hard disc for future reference. EMDB automatically imports details of movies from IMDb, The TVDB, Rotten Tomatoes, and other such platforms to synchronize them with the movie catalog. You can manually enter titles or scan disks and folders to add movies in EMDB.
Many control features are used so that you can personalize your user experience on EMDB. For example, you can group movies or TV series episodes according to yourself. You can also export movie files by creating an HTML website.
Price: Free
4. GrieeX
If you want a movie catalog with a neat and clean user interface, GrieeX will be a practical choice. The program stores the movie files on your hard drive instead of your disk. This ensures the quick loading of your favorite movies.
Moreover, the catalog also lets you skip any specific movie easily. The software is free to use, and you will get thousands of movie titles in their library. All over, this freeware is worth giving a try.
Price: Free
5. The Movie Database
It is a fantastic movie catalog software that lets you organize and monitor Motion Pictures effectively. The movie database naturally imposed data for synchronizing from IMDB pages. Additionally, The Movie DataBase has many other unique features that make it one of the best in its segment.
The software automatically scans for new movies in your computer system and adds them to the catalog. Moreover, you can manually add your movies to the database. You only have to add the title of the movie. Then the else will be collected by it automatically.
Price: Free
6. Ant Movie Catalog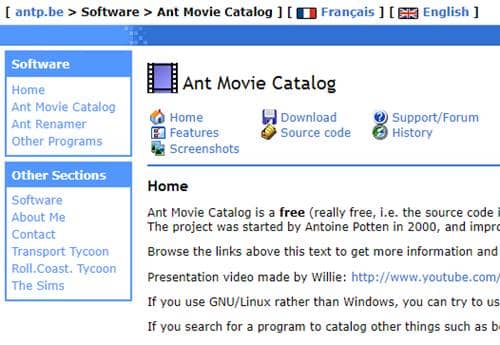 This is another fantastic piece of freeware that you can use as a movie catalog on your PC. Ant Movie Catalog lets you organize your movie and TV shows on hard disks, DVDs, and tapes. The best aspect of this software is that it extracts movie information from multiple sources like Rotten Tomatoes and IMDb.
You will also get multiple language support, including English, Bulgarian, Dutch, etc. Ant Movie CatalogStores movie catalog in XML and binary format. So if you are looking for a lightweight catalog, Ant Movie Catalog will be a good choice.
Price: Free
7. Movies Anywhere
Movies Anywhere are a well-synchronized movie catalog for Windows. It directly fetches information from IMDb pages whenever a movie is searched on it. So you will get all the relevant information, like cast, plot, director, etc., on the Movies Anywhere website.
The software also supports plugins to extend its functionality. It also features an interactive user interface for ease of use. For example, the sorting, grouping, and filtering option lets you find your required movie files quickly.
Price: Free
8. Personal Video Database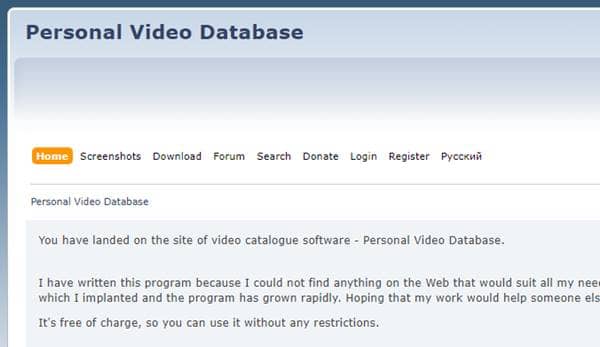 Another movie catalog software lets you search movies based on genre, actor, and other information. Personal Video Database words on robust Technology named relational database. The database is capable of storing over 2 billion video titles.
Personal Video Database offers various filters that let users narrow down many movie files into subcategories and tabs. It makes it easy for the users to find the required movie from it. 
Price: Free