Procreate is undoubtedly one of the best sketching canvas for the artist, but sadly it's only available for iPad, and that's for a $9.99 one-time fee. Well, there are some great Procreate alternatives you can try for windows laptops or tablet PCs. So if you're an artist looking for excellent sketching software, this is the right rabbit hole. Let's check out some great Procreate alternatives together!
Procreate and iPads go side by side. Procreate is one of the best sketching software for digital sketchers and artists. Its seamless integration with a fluid, perfect screen and accurate Apple pencil makes sketching a butterfly experience for the artist. However, most artists use Windows tablets and laptops for sketching and digital painting.
Sadly, Procreate is not available for Windows, but many other apps work just fine, and some are even free of cost! So let's check out some of the best alternatives for Windows PC. We also have a list of procreate alternatives for Android. So if you are interested, take a look.
Best Procreate Alternatives for Windows 10/11 PC in 2023
These are some of the best procreate alternatives you can use if you're an artist by profession or just looking for great software to facilitate your sketching passively. Some of them are free, while others are paid as well.
1. Autodesk SketchBook
Of course, we had to add Autodesk Sketchbook to the list. It is eventually the best application for designers, sketchers, and artists. Autodesk Sketchbook has plenty of advanced features that every artist will love.
It supports a pen interface, so if you're using windows Tablets, those will work fantastic. Autodesk saves all your work periodically, so you don't have to worry about accidental data loss.
Pros:
Available cross-platform: Windows, Mac, iOS, and Android
The full version is completely free to use!
Professional workspace and tools
Cons:
A little bit hard to learn
Less a quantity of brushes to choose from
Download Autodesk Sketchbook Here
2. Krita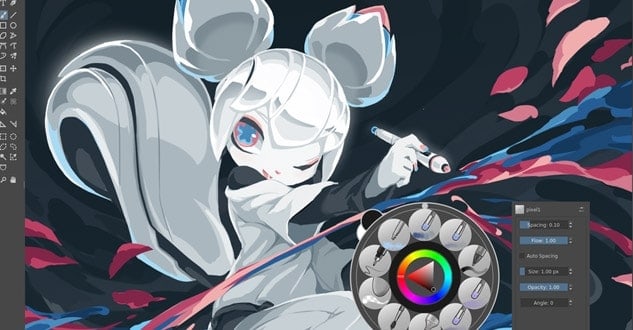 Krita is my personal favorite app when it comes to digital sketching. It is an open-source sketching software made by a group of developers who happens to be sketchers as well! So the application is finetuned for sketching and comic making.
It's an excellent tool for comic and manga makers. Apart, Krita also allows users to customize the brushes if necessary, which is a great option to embrace your creativity.
Pros:
Tailor-made software for the artist.
Supports Photoshop's PSD files
Opensource / Free to use
Cons:
Slow to load
Performance issues from time to time
3. ArtRage
ArtRage is another great alternative to Procreate applications. It is excellent for old-fashioned arts where color mixing is key. If you prefer the old fashion drawing style, you would like ArtRage. The best feature of Artrage is that you can mix colors to create textures, shades, and so on. It's like drawing on a natural canvas.
Pros:
It brings back traditional  painting styles to digital grounds
Easy-to-use interface
Cons:
Lack of advanced tools
Expensive – $79 One time purchase
4. Concepts
Concepts are more like a vector drawing app rather than sketching. However, it performs great when it comes to sketching needs. It can easily illustrate vector-like sketches or freehand sketches.
Ultimately a great tool to digitizing blueprints and other sketching stuff. Just like any other sketching application, there are multiple brushes and strokes. And you have multiple layers support too!
Pros:
More suited for the precision measurement drawing
Infinite canvas to work with
The free version has multiple brushes and strokes options
Cons:
5. Corel Painter
If you're yet not satisfied, then here is one more for you! Corel Painter is a fantastic all-in-one package for sketchers and digital artists. It is recognized worldwide for its realistic RealBristle paint system and its range of practical digital art tools that reproduce the look and feel of traditional canvas painting. As a result, it's one of the best professional digital art applications on the market.
Pros:
Hundreds of brushes and dozens of paper textures
Supports multilayer editing
Supports Importing and editing PSD files
Cons:
Steep learning curve
Expensive – $300 one-time purchase
Check out Corel Painter on Their Website
6. Clip Studio Paint
The Clip Studio Paint program allows you to create creative drawings, sketches, and Clip-Arts. In addition to that, it stands out as a reliable Procreate alternative. Furthermore, this program makes working with your digital photos easier as it offers a well-organized interface.
You get all the basic and advanced features to create your images and some breathtaking effects of applying sophisticated looks.
Pros:
Navigate and manage multiple images seamlessly
Create Professional images from scratch
Cons:
Advanced tools are a bit tough to handle
Download Clip Studio Paint Now
7. MediBang Paint
MediBang Paint is a popular software used by many artists and crafters. The best thing about this software is that you can save your incomplete project and start from where you left off with just one click.
Moreover, it is a free and lightweight program to create unique paintings using the most efficient tools. It is undoubtedly the best alternative to Procreate, with over 800 backgrounds, 50 brushes, and 20 fonts.
Pros:
Every single element you use gets saved in perfect order
 Easy to download and use
Cons:
Displays ads dialogue boxes at the start
8. Adobe Photoshop Sketch (Fresco)
Photoshop Sketch was explicitly developed for sketching articles in mind. It is a full-fledged software that can help you make fantastic art styles and illustrations. If you are a pro, then we recommend you use Adobe Sketch.
Pros:
UI and UX are well-designed
14+ different brushes to choose from
Cons:
Lack of image editing tools
9. Tayasui Sketches
If you majorly use a tablet or a touchscreen device to draw, Tayasui Sketches will help you. It has a small but valuable set of tools that facilitates mobile sketching. It does come with layer support but only for the pro version.
Pros:
Functional and clutter-free
Cons:
Layers feature only on the Pro version
10. Adobe Illustrator
Many of you have heard about Adobe Illustrator, which is among famous graphics designers and digital painters. Illustrator has come a long way and offers multiple features in every update. It is a trusted premium used to create vector graphics, drawings, paintings, etc.
This is assumed to be the top Procreate Alternatives For Windows. It offers many features to the users, such as Adobe Stock Assets, Color Synchronization, Pixel-Perfect Designs, Free Transform Option, and Built-In Design Templates and Presets.
Pros:
Huge library of adobe stock assets
Beautiful Typography
Wide range of templates and presets
Cons:
Expensive
Complex for New Users
Download Adobe Illustrator Now
From Editor's Desk
So that's the end of the article. Although there are many more great alternatives for Procreate, we pick the best ones that have similar features to procreate. So feel free to try them and see what fits your needs better if you have any doubts or suggestions for us. Leave us a comment below.