I found some absolutely amazing hacks using which you can unblur course hero. So, if you ever encountered blurred text while studying in Course Hero? Then, this comprehensive guide is for you because here, I'll show you how to remove the blurred layer from the text permanently so that if ever you revisit the site, you will see all the text in complete clarity.
What is Course Hero?
This is an American online tutor agency or website that runs an online learning platform for college students and schooling students. The best part of Course Hero is that it helps students do their homework, essays and even get the highest marks on tests.
But, if you are familiar with this service, you probably noticed that most of the premium content is blurred. So, in that case, you are not able to read that content. Therefore, what are the ways to unblur them? Let's see.
Also Read- How to Download Paid Documents From Scribd Free
List of Best Ways to Unblur Course Hero Documents for Free
So, if you are getting frustrated with the blurred content in Course Hero, then these methods will surely help you to unblur it. Therefore, make sure to follow them carefully:
Method 1: Get Premium Subscription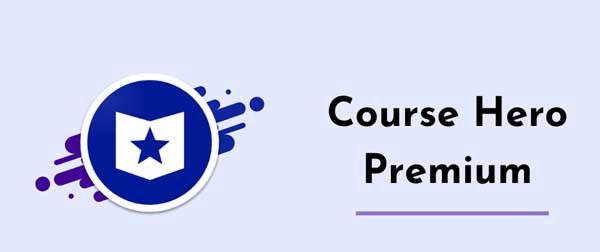 This is the official way to get a Course Hero, but not everyone wants to spend money on this. So, if you are also in that category, then you can skip to the next method.
If you want 30 unlocks every month or textbook solutions and explanations, you have to take the premier subscription of Course hero. In the premier version, you can also get your doubts clear because it offers you 40 ability to ask tutor questions.
Now, if we talk about the money you need to spend to get the subscription, then if you want only a one-month subscription, you need to spend $39.99. While for 3-month subscription will cost you $19.95/month, you need to pay $59.85.
There is also an annual payment option available. So, for an annual payment, you need to pay $9.95/month for a yearly subscription with a total of $119.40.
Method 2: Upload Documents 
This is the easiest way to get the course hero content for free. However, as the name sounds, you first need to upload your original content or any other author's content with their permission. 
So, first, create a free account and upload your content. After that, you need to wait until it gets approved. It may take up to 3 hours. However, when you upload about ten documents, you'll get five unlock, using which you can unblur 1 document per unlock. But, to get free unlocks, you need to upload at least ten documents. 
Method 3: Use Inspect Element
This is another method that will indeed help you to unblur the documents in Course Hero. But, for this, you need to open your browser and visit the Course Hero official website.
After that, search and open the document that you want to see. Then, follow the steps given below to inspect the element tool. 
Firstly, you can highlight the

texts

 that you wish to unblur. Then, 

right-click

 on the 

Inspect 

tool.

After that, a new window will appear on the right side of the screen containing the code of that particular page. So, you need to find out the

 div

 tag from that code along with an anon-hide obscured parameter.

Alternatively, you can also do this by just pressing the 

Ctrl+F 

and search 

div

.

Then, select the 

div 

tag and 

right-click 

on it. After that, click on the 

Edit Attribute.

Finally, type 

none 

for the new class elements, and hit the enter key.
That's it. Now, you will get your document unblurred. But, it is not confirmed that this method will indeed work for you. I'm saying this because it is just a technical glitch, and as soon as the Course Hero developer notices this, they will certainly fix the issue. 
Method 4: Get Free Unlocks by Referring a Friend
Yes, as the sound says, the story of itself. So you can share this platform with your close friend and ask them if they want to join Course Hero. So that you can earn free unlocks.
You must share this with your five friends and ask them to join it using your referral link to get more benefits. You'll immediately get access to 8 tutors for free once your friend successfully registers in Course Hero. 
Method 5:

 

Review Other Peoples Work
If you don't want to share or refer to others' work, you can review someone's work. By doing this, you'll get some free unlocks that you can further use to make the document unblur. So, to do this, you can log in with your account.
Then, open a document that is already on it, which the other tutors upload, and give it a rating. That's it. Now, once you give a rating to someone, you'll immediately get your free unlocks.