These days there are so many smartphones that have the best Camera. You can take pictures and videos of the best quality. Many smartphones offer high-resolution video recording, but do you know it takes up a lot of your device space?
As your smartphone will be filled up, you have to delete the pictures or videos, or else you have to make a copy of it on your PC. And also, the size of the video is so big that you can't share it with your friends on social media. But if you reduce the file size, then you can do it.
At this time, you can use the Video Compressor apps. If you compress your videos, you can share them with your friends and free up space on your device. So, are you looking for the best Video Compressor apps for Android and iOS? Don't worry; here, we have provided some of the best apps to compress your videos on your smartphones.
Also Read- Best Safe APK Download Sites
List of Best Video Compressing Apps for Android and iOS
There are so many Android and iOS; we have prepared a list of the best video compressing apps. So, let us check out and use any app for making a space on the device or for sharing the video with friends.
1. Video Transcoder
One of the best app for Android users to compress videos. Video Transcoder also lets you convert your videos into other video formats. Apart from compressing, this app lets you trim videos, extract audio, and much more.
With this app, you can convert videos to other video formats like Avi, Mp3, Mp4, Matroska, Gif, Ogg, WebM, Opus, MPEG-1, MPEG-2, MPEG-4, VP8, VP9, and more. Once you compress the file, it will be saved to the internal storage of your device. This app is free to download and use without getting disturbed by Ads.
Download Video Transcoder for Android
2. VidCompact
VidCompact is another video size reducer app for Android. This video compressing app is free to use, and you don't need to worry about the quality when you compress a video.
It allows you to compress a video, and you can also trim, edit, rotate, crop, and rename the video. You can compress a video of any format like WMV, MKV, MP4, MOV, and more. However, this app is free, but you will see advertisements in between.
Download VidCompact for Android
3. Resize Video
Resize a Video app that allows you to compress and trim the videos. CodeEdifice has developed this app, and it has 3.4 ratings on Play Store. The best thing is, if you want to add music to the video, you can also add it. And if you want to create a mute video, then you can easily remove the audio.
Once everything is done, you can share the video on Facebook, Gmail, and other social media apps. As the app is free to use, it definitely contains ads in between, which can ruin your mood.
Download Resize Video for Android
4. Video Compress
Video Compress app offers so many great features like compressing videos without losing the quality of the video. The user interface of this app is amicable and easy to use.
This app makes a copy of the compressed video, and the original one is maintained, and the copy is saved in the gallery.  One of the best things is you can share mute videos on social media sites by removing the audio.
Download Video Compress for Android
5. Video Compress- Shrink Videos
This app shrunk and compresses the video and will save space on your phone. With the Video Compress app, you can compress one or multiple files at a time, or you can compress the full album if you want.
You can check out the file before compressing, as it has a preview feature. More features are like deleting the original videos, a simple interface, and more.
Download Video Compress-Shrink Video for iPhone
6. Video Compressor & Editor
Video Compressor and editor have a simple user interface with amazing features. This app is the best video compressor app for iPhone as you can crop, trim, split, cut, and merge the videos. More features of this app are a preview future option, multiple bit rate options, and more.
Download Video Compressor & Editor for iPhone
7. Compress Videos and Resize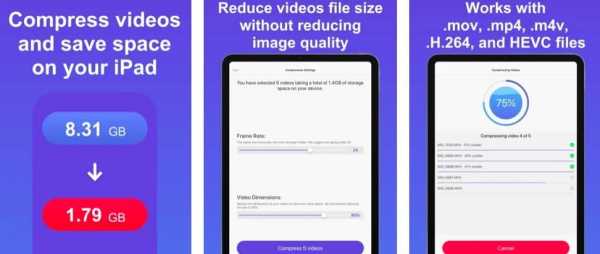 It is a free video compress app with few in-app purchases. With this app, you can also resize the video, and the video quality is the same as the original one. If you use this app, you can free up space on your iPhone and get more videos.
The app is straightforward to use; you need to open the app, select a particular category, and then pick up a video and click on the Next button.
Download Compress Videos and Resize for iPhone.
8. Video Compress – Reduce Movie Size – Shrink Video
If you want a simple and free video compress app, then you can use this app. Video Compress app can be used on iPhone and iPad. The user interface of the app is very simple and easy to use. Even for the newbies, this app will not be too hard to use.
Download Video Compress for iPhone