If you are trying to break the same monotonous look of your Chrome browser, then themes are the best options to do so. The Chrome themes are special extensions that boost your overall browsing experience and give your Chrome interface an attractive new look.
You will get different themes that can be used according to your choice. For example, dark themes will be the most favorable choice if you don't like bright lights. If you are an Anime freak, you can get specially designed Chrome themes featuring different Anime series.
However, finding the perfect choice for yourself may be a tiring job. So, we have listed down all the different Chrome themes that you can use to give your browser an insane transformation. All of them are free to download from Chrome Webstore.
Also Read- Best Video Downloader Chrome Extensions
List of Best Chrome Themes to Beautify Your Browser
Color Fusion

Tardis

Sahara

Beautiful Landscape

Rain Drops

Colors

Beauty

Polar Chub

Space Planet

One Piece Monkey D. Luffy
1. Color Fusion
Color Fusion is a simple but elegant Chrome theme that you will get on Chrome Webstore. The theme will add gradient colors to your browser's interface to give it a bright and proper look. However, the most exciting aspect of this theme is getting different gradients for different elements.
What example, the active tab column's color is different from that of the address bar. You can use it if you love colors a lot and want a glowing screen on your PC.
2. Tardis
Who remembers the time machine named Tardis in the sci-fi series Doctor Who? Our next Chrome theme is based on that same time machine. You will get dark wallpaper on your Chrome screen with this theme.
Additionally, the theme is lightweight, so it can also be considered storage-friendly and minimalistic. Finally, although the theme is primarily dark in texture, you will also get white tabs on top for convenient navigation.
3. Sahara
This is another widely used and most loved Chrome theme that you can use. As the name suggests, the Chrome theme features the Sahara Desert. So the wallpaper that you will get on it is of the desert and the beautiful Milky Way galaxies shining on the night sky.
Moreover, the tabs are also well-designed to give you authentic realization. The theme is so fantastically designed that you can also find caravans and camels on its detailed background.
4. Beautiful Landscape
If you love landscapes and sceneries, then the beautiful landscape will be a favorable option for you on the list. It features a golden-brown color for the screen and a greenish tint for the tabs that give you a taste of the deep forest.
Moreover, the background images you will get on it are mountains and wild vegetation views. So overall, the name Beautiful Landscape is a perfect fit for this Chrome theme.
5. Rain Drops
For those who get romanticized with the rainy climate, the Rain Drops theme will be a perfect option to choose them. The theme features a wet wallpaper where a car's windshield is drenched with the downpour. Moreover, the bar that contains tabs also gets transparent after applying this theme.
Most nature lovers Chrome uses prefer this theme over others for its realistic looks. However, it has a drawback of consuming extra RAM on your computer.
6. Colors
As the name suggests, Colors is a colorful Chrome theme that will add numerous multi-colored paint splashes to your Chrome interface. There is no doubt that it is one of the most vibrant themes to download and use from the Chrome Webstore. In addition, it also gives the top bar a vibrant look.
The colors theme also comes in a minimal size so that it doesn't bother you much with storage.
7. Beauty
This is another Chrome theme for nature-loving people. The visually soothing theme will make your mind fresh whenever you use your browser. In addition, the Beauty theme has several wallpapers to offer to its users.
Moreover, the color scheme of the top bar is also fantastic to look at. So, overall it is a fantastic choice if you want to get lost in the scenic beauty of nature through your browser.
8. Polar Chub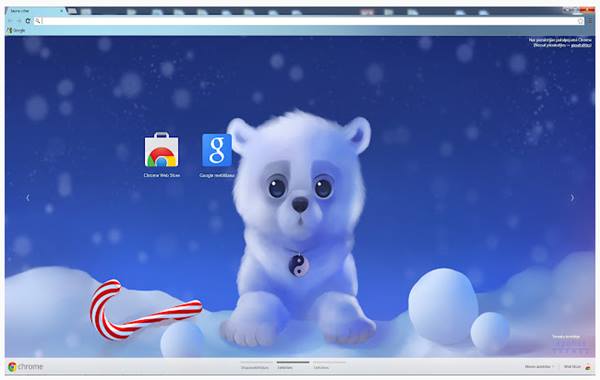 It is a cute theme for the Chrome browser that can also be your choice in the list. The bluish color of it is soothing to watch and will relieve your eyes. You will also find wallpaper in the theme composed of cute animals.
Apofiss develops the Polar Chub theme, and the developer's other creations are also critically acclaimed. So, if you want other themes related to animals, then check his profile out.
9. Space Planet
Almost every single person loves to have a space-related theme or wallpaper on their devices. The outer space images mesmerize all of us with their unmatching beauty and wonders. Space Planet is such a theme that can be used to give your Chrome a different look.
It comes in a beautiful bluish color with pictures of celestial bodies in it. You can see them while opening any new tabs.
10. One Piece Monkey D. Luffy
Our last inclusion is dedicated to One Piece fans. The dark Chrome theme features legendary Anime character Luffy in its background. You will also find a skeleton symbol on the bookmark and address bar that is also a part of the One Piece series.
The resolution of the background theme is wholly balanced to give you the best experience. In addition, the theme is also optimized for 1920x1080p for higher definition visualization.