Apple App Store remained the best source to download apps and games. Its strict policy for security and quality services maintained the leading position. But most of the apps aren't free to download.
You've to pay bucks to use premium apps on iPhones and iPads. Thus, IPA websites come into the picture to download apps for iPhones and iPads for free. And here, we've compiled the best IPA download websites for iPhones and iPads that you can use for free.
These IPA download websites provide premium apps without any buck. Neither is it required to create an account, nor does it need a credit card. In addition, you don't need to jailbreak on provided apps on a few platforms.
Best IPA Downloads Websites for iPhones and iPads
Previously, many IPA download websites were available. However, after legal notice from Apple, they had to shut down. Right now, a handful of websites are live and are working well now.
1. iPhone Cake
Let's start with a neat and clean IPA download website known as very popular among iOS users to download apps and games. iPhone Cake has been in the market since 2008, so you can assume its extensive app list.
Moreover, using its app on your iOS device you don't need to jailbreak the app. Other than that, apps and games are separated. You can switch popular, newly arrived, and tweak apps. iPhone Cake also provides apps for Apple TV.
2. App Addicts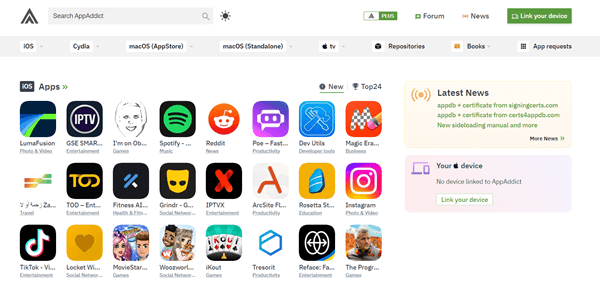 App Addicts is an excellent IPA website for iPhone app sideloading. From here, you can download apps for iPhone and iPad. Also, you can download apps for macOS and Apple TV without hassle.
Thousands of apps are freely available there to download. Moreover, you can download books as well. If you can link your Apple account, you will get auto updates. However, the website is very simple and pretty user interactive.
3. AppDB
Very similar to the previous one, AppDB also could be an ideal IPA download website. The best thing about the website that its extensive list of apps and games, where you can find popular, trending, and semi-popular apps.
From business to shopping, music to photography, all types of apps are available in huge numbers. Along with games and apps, AppDB has featured many books to read. Moreover, you can download apps for macOS and Apple TV as well.
4. Panda Helper
Out of many IPA download websites, Panda Helper is one of the best. With it, you can download Tweaked Apps, Mods, Hacked Games, and other unofficial apps for iOS from its massive app lists.
Although, Panda Helper has three versions where you can choose apps accordingly. However, to get its app services you don't need to sign in with an Apple account, just select the app, tap on the download button, and you're good to go.
5. iEmulators
Since 2013 iEmulators has been the main website that provides sideload apps for iOS devices. Although the website isn't rich in many apps, it is known for its quality services.
You must sign up on the website to download apps and games. However, if you're looking for emulators, no one comes close iEmulators. Other than that, the website has got a superb design.
6. Mob
If you're searching for games-oriented IPA download websites for iPhones and iPads, look no further than Mob. It has an extensive list of games for iOS devices that you download without paying a single buck.
All you have to do is create an account over there, and you're good to go with its games. So whether you want to play role-playing, racing, action, shooting, or strategy, you'll get everything on Mob. You can also download apps from here.
vShare is one of the best IPA download websites used by many iOS users now and then. Although its list of apps isn't huge, all popular apps and games are available.
The website is known for allowing direct IPA installation. However, downloading speed is relatively slow on the website. It has a standalone app; you can use it in place of the website for better service.
8. iOS Ninja
iOS Ninja is yet another excellent source to download IPA files for iOS devices. On the website, you can get jailbreaks and tweaks apps for easy use on iPhone.
Besides this, iOS Ninja is a prominent source for iOS emulators. Moreover, you can download iOS firmware from here. Also, it provides all app updates through its platform so you won't miss any latest features.
Bottom Line
That's it – wrapping up, this is everything you need to know about the best IPA download websites for iPhones and iPads. Although sideloading is strictly prohibited, other trusted sources always benefit when we've to pay for every app. However, if you've any doubts or questions, let us know in the comment section.