I look forward to making some new buddies but don't know where to start. We have some of the best random video chat apps for social media. Meeting and interacting with new people lets you explore different cultures, civilizations, etc. Moreover, you can spend quality time knowing strangers in your free time.
There are many video calling and chatting applications out there. But to use them, you must have friends or relatives already online. But these random video chat apps connect you with random strangers worldwide. So you don't need to worry about finding a friend first. And you can make new friends and new connections out there!
Best Random Video Chat App for Android and iOS in 2023
We have collected the best random video chat apps for Android and iOS platforms. So have a quick look and choose according to your preference. We include apps for straight, gay, and lesbians too.
1. Chatouts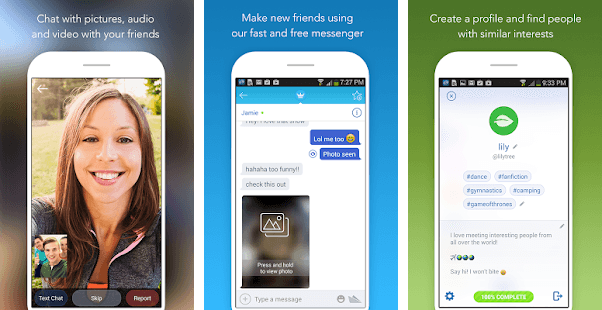 Chatouts is among the most popular video chat app around the world. Users can use #tags to find and chat with new people having similar interests. Most importantly, it allows changing the display name and other privacy-related information at any time to maintain your anonymity.
2. Badoo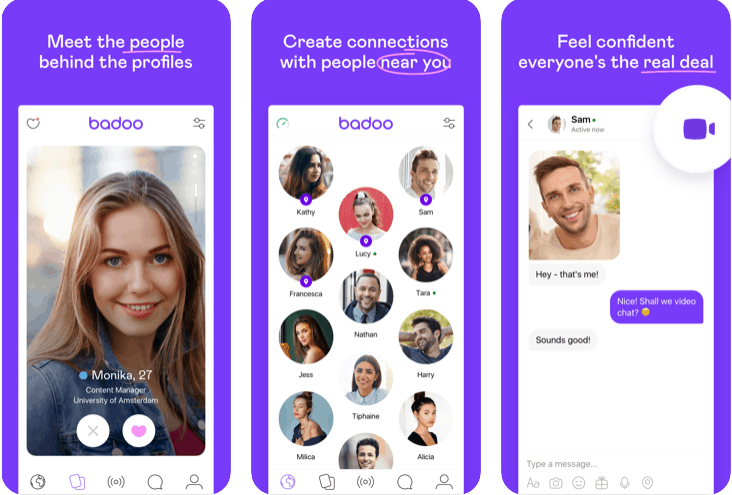 Another popular random video chat app Badoo with around 4 million users, is leading the market today. Badoo randomly selects people based on their likes and interests.
If both partners agree to know each other, they can start a conversation. You can also discover people nearby and make matches with strangers on Badoo. It is available for both Android and iOS.
3. BIGO LIVE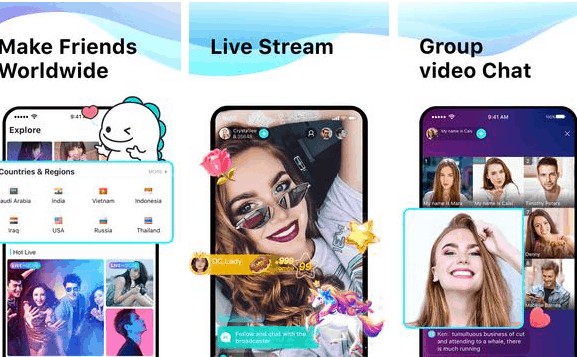 BIGO LIVE is a top live video chatting app for Android and iOS. It is available in about 150 countries with over 200 million users.
Users can go Live and connect to strangers from all over the world. Moreover, it supports a multi-guest room where users can establish group video chats and calls with 9 members.
4. Holla
Holla is undoubtedly another best app for video calling on Android and iOS. This app offers different effects and filters, which can be while chatting. Users can meet new people on live video chat and also fix dates.
Furthermore, it enables free international live video calls and allows them to talk to the community. There is no need to pay for coins in this app.
Download for Android
5. Flirtymania
Flirtymania is a free video chat platform with millions of users. The users can make a video call or can create group chat rooms. You can make friends by doing a random video call, or you can also find love.
The interface of both the web and app versions is quite similar. Everything is well maintained and is in a category to choose from Live Only, Photos Only, Videos Only, Recent and more.
A few exciting things about Flirtymania are that you can meet different people globally, as the app is available worldwide in other languages. And the app's main thing is that It is entirely safe to use; no one can access your data. The Video Chat feature is available on all platforms, and you can download the app from the App Store or Play Store.
Download for Android | iOS  | Website
6. Chatrandom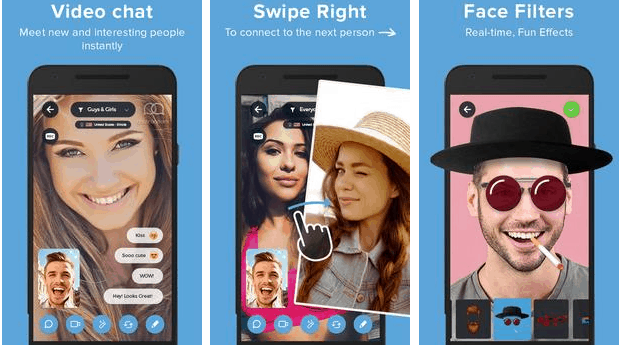 Chatrandom is an awesome app for a random video chat app without coins to meet strangers. It has a great fan following, even though it is only available for Android. Like a good video calling app, Chatrandom provides all kinds of features. Moreover, it also allows you to report any user if you find anyone is not fit for using such platforms.
7. Live Chat – Tumile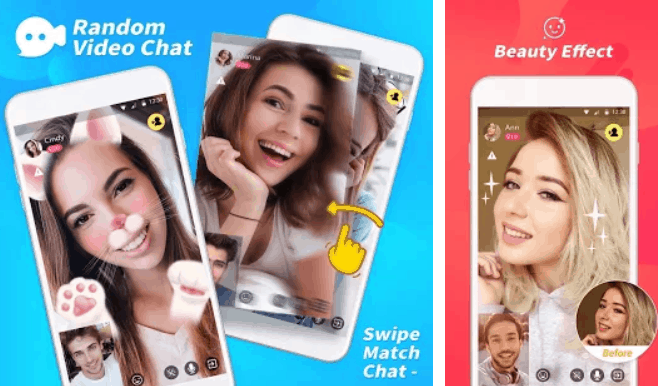 Live Chat Studio presents another impressive random video chat app Tumile. It allows you to connect with new people worldwide in a single swipe instantly. This app offers filters, effects, and stickers, making video chat even more fun. Most chat apps support the coin systems but don't worry; Tumile is free of cost.
8. Fruzo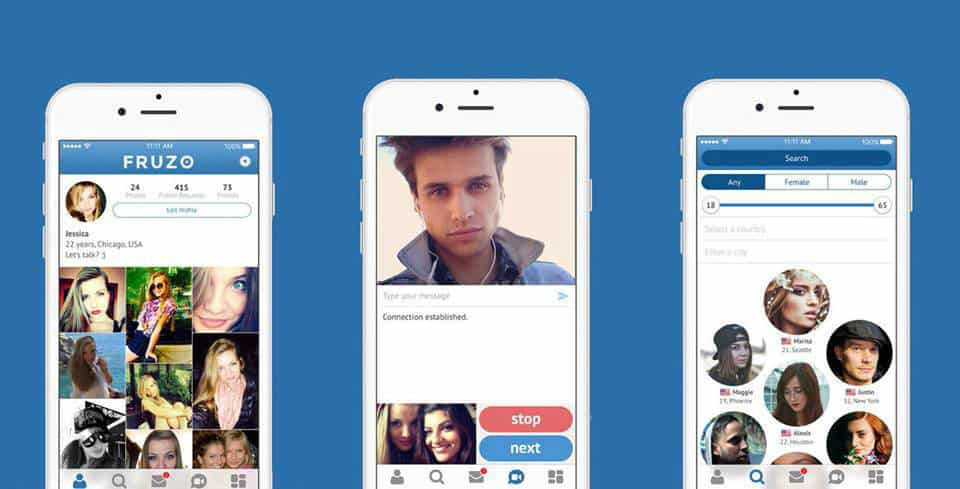 If you are looking for a potential partner, Fruzo is the perfect platform. Fruzo is not just a video calling app but also one of the best dating apps. It helps people find a perfect partner and motivate others to find one for them. However, users must be aware of fake profiles.
9. Mamba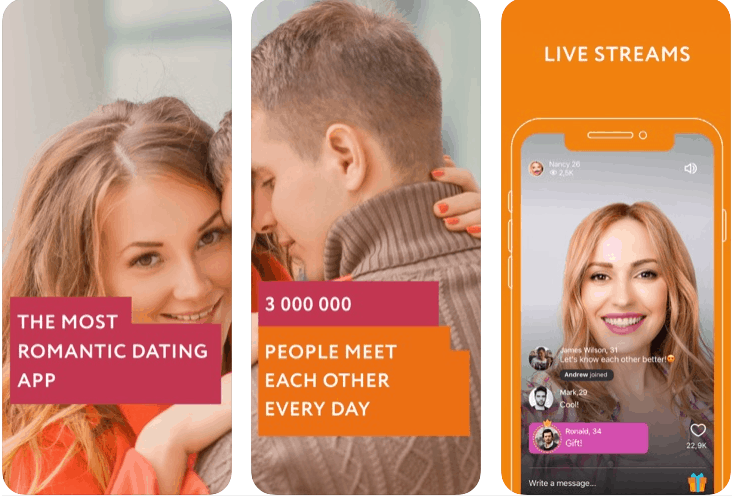 Mamba can be considered one of the largest social dating networks. This app is available in 15 countries and has over 23 million active users. The app provides high-quality video calling. Moreover, it claims that over 3 million users find their partners daily. So, singles must not lose hope and try their luck with Mamba.
10. IMVU
IMVU is a 3D avatar-based social experience and the most recommended random video chat application. It is a dating app to meet new people and find your partner.
Although this app is free and paid, we recommend you go with the paid one if you are looking for a genuine partner. IMVU is an interesting app where users can use 3D avatars to make profiles and start searching for their matches.
11. Talk
JusTalk is a high-quality video, voice, and group calling app. JusTalk provides a multi-guest room, allowing users to video chat with up to 9 people in a single window. You can also use various filters and effects to add glitters to your video conversation.
12. Twoo
Twoo offers an ideal platform to meet strangers from all over the world. You can hold on with individuals on free video calls and talk and chat with them. Making new friends is easy here. Above all, it lets you discover people near you by confirming your zone.
Also, you can check out other profiles and directly start a conversation with those you are interested in. However, the most loving feature of Twoo is that it lets you see the people who visited your profile without asking you to purchase any premium plan.
13. LIVU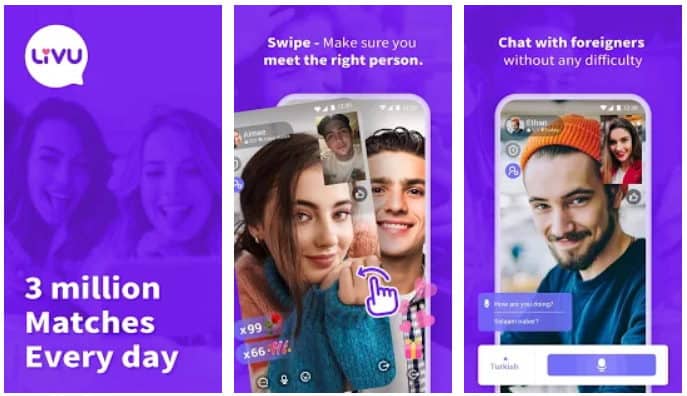 LIVU sets the example of an addictive video chatting app. It finds your match randomly from across the world. You can share numerous stickers throughout every video call to make things go perfectly.
The interface is very interactive, which is the best thing to notice about LIVU. Besides, you can also chat with your mates for free, which will be saved in its database only if you want to.
14. Blued: Gay Dating & Video Chat
Many gays also have ambitions and affection to show love to gay friends. So Blued is the best option for gays. There are almost 10 million downloads and the best 18+ random video chat app without coins for gay people. One of the main parts of this app is that it is a private app with the privacy that every gay needs.
You can video chat with gays on live stream in meet hot boys, share live locations, and send gifs over Blued. One good news is that it is available on Android and iOS. To install, meet, make new friends, and find the love of your life.
15. Hitwe
Hitwe Is a unique dating app that sets itself apart from other apps in the market. Unlike other dating apps that rely on swipes and matches, Hitwe focuses on developing genuine connections between people based on shared interests and hobbies.
What makes Hitwe special is its emphasis on community building. Users can join numerous interest-based organizations and connect with like-minded folks who share their passions. From reading clubs to hiking lovers, Hitwe has various organizations for members to discover.
Download for Android
16. Qeep
Qeep users can break the ice and start talking to one another by playing one of the many games on the platform. Qeep also includes a function called "Match" that enables its users to connect with others who share their interests and/or live in the same area.
Qeep's "Live" function is another standout feature, enabling users to stream live videos and engage with their viewers in real time. Users can express themselves and make instantaneous connections with this function.
17. Azar
The purpose of Azar Live, a social program, is to facilitate communication between people all over the world through live video chat. The program's matching algorithm pairs people up based on commonalities, such as their interests and where they live.
The video chats can be more entertaining with the help of the app's unique filters and effects. Azar Live's built-in translation feature allows users to converse with those who speak various languages. Azar Live is the place to go if you want to try something new and interesting with your friends.
Visit Site: https://azarlive.com/
18. MICO
Mico is a video chat and live-streaming app that facilitates user communication. It uses an intricate algorithm to pair users with whom they will have much in common regarding interests and pastimes.
To help users bond, this software provides options for exchanging digital presents and playing social games.
Mico has features like video verification and real-name authentication to ensure the safety of its users. It's an exciting and interesting way to meet new people in a risk-free setting.
19. Chamet
Chamet has been on the internet for a while with more than 15 million users worldwide, which can be a great medium to start video chatting with strangers.
Regardless of your language, you can start talking in your preferred language and country. In Chamet, you will get every feature you need. All in all, you can start live video there along with a 1-to-1 video chat.
Download for Android
20. Chatspin
Since Chatspin's inception in 2015 to now, it has made more than 1 billion connections with millions of users. Like other apps, it has the same feature as a 1to1 video call with strangers.
The interesting thing is you can add a filter to your video to make it more enjoyable. Moreover, it supports HD video calls, so everything will be crystal clear. Besides this, there is an option to connect with local people or abroad.
Download for Android
FAQs
Are random video chat apps free?
Many are free, but some might have premium features that require payment.
Can I remain anonymous on random video chat apps?
Most apps allow anonymity, but remember that complete anonymity online is challenging due to IP tracking and other data collection.
Are random video chat apps safe?
Safety varies by app. Some have safety measures like moderation and user reporting, but risks like inappropriate content or privacy breaches exist. Always use caution.
Are there age restrictions on these apps?
Most apps require users to be at least 18 or 13 with parental consent, but age verification methods vary.
Conclusion
These random video chat apps without coins will help you grow your friend circle in 2023. What are you still waiting for? Please choose any of them that suits you and meet some interesting people. Who knows, somebody might be waiting for you. Also, do let us know which one you liked the most.