Most of the essential human communication is now shifted to text messaging. Pretty much all people prefer texts over any other mode of communication.
That is why there are a lot of messaging apps. But some conversations are supposed to be secrets; for them, you need secret messaging apps. 
These apps provide you with a safe and secure platform to send and receive messages from specific users. In addition, you can keep them hidden on your smartphone. 
In this guide, we have listed the best secret messaging apps for iPhone. These messaging apps will help you keep your conversations private and your privacy protected. 
Best Secret Messaging Apps for iPhone (iOS)
1. Signal Private Messenger
Signal Private Messenger is one of the iPhone's most famous secret messaging apps. This app can easily hide your messages and talk to everyone you want. On top of that, you can also create groups and securely send photos, videos, and other attachments to the groups.
The great thing about the app is that it does not store any of your data. Also, it does not access your communications. So overall, it is a safe app with end-to-end encryption for enhanced security. With these safety features, you can quickly go with Signal for your secret messaging. 
2. Telegram
Telegram is one of the best messaging apps you can find right now. When WhatsApp announced a shady privacy policy, many people migrated to Telegram. As a result, it has one of the biggest user bases for any messaging app.
You do not necessarily have to share your contact number to chat on Telegram. It supports high-quality data transfer. All of the other chat features on this app are pretty seamless. Stickers are quite fun on Telegram, and other chat features are seamless. So if you are looking for a safe and reliable secret messaging service, Telegram is the way to go. 
3. Viber
Viber is one of the most famous secret messaging apps on the list. Its popularity is because it offers a fast, secure, and seamless experience. You can use this app for texting and making calls to other people securely.
This app supports high-quality audio calls and can work seamlessly on WiFi and mobile networks. One of the remarkable features of the app is that it allows you to make free international calls. In addition, the app regularly updates to fix security issues or bugs so you can rely on it. 
4. Snapchat
While Snapchat is a fun social media app, it is also one of the best secret messaging apps. It is one of the best apps for secret messaging for many reasons. First, all the chats here are temporary; you can save whatever you think is essential. 
Then, you will be notified instantly if someone tries to take a screenshot of the chats. So if you want a secure messaging app where you are in control, this one is it. 
5. Private Message Box
If you are constantly worried that someone else might read your messages, and you are worried about your privacy, then Private Message Box is the ideal messenger for you. With this messaging app, you can easily hide your secret conversations with other people. 
You can set up a PIN to keep some chats hidden and safe. In addition, the app supports free texting between you and other PMB app users when you sign in with your number. The app's interface is clean, and you will significantly like it. So make sure that you try it. 
6. Apple Notes
The stock Notes app on the iPhone is pretty great and has received a lot of significant updates. You might not think of it as a secret messaging app, but this app can be used cleverly. All you have to do is create notes and type your private messages in them. 
Then you can share those messages with only the people you want. It syncs with all your Apple devices so you will have no issue sharing it with others. This is more fun as you can experiment with a lot of different things at the same time. 
7. Wire Secure Messenger
Wire is one of the best apps if you strictly depend on secure communications. All of your sensitive information is secured and protected by encryption. Furthermore, this whole thing is protected by European privacy laws. Besides that, you also get all of the usual chat features.
The best thing about the app is that it is compatible with all social media channels. So all of your data is always in sync. This app allows you to send messages, call with secure channels, share files securely, and log in with multiple accounts. Make sure to try this one out. 
8. Line
For people who want a secret message app that can provide both privacy and security, Line is the perfect app. It was one of the most popular messaging apps back in the day. In addition, the app allows you to allow or disable end-to-end encryption. 
Since the app used to be popular, it has a reasonably large user base, and you can easily connect with other people. You can use the app for texting, voice calls, video call, etc. Then the stickers you get on this app are great. Overall, it is a simple, fun texting app with good security features. 
9. Threema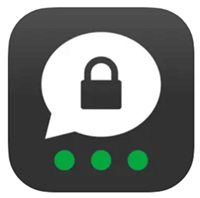 Regarding top-secret messaging apps for iPhone, Threema has always been a first choice for everyone that helps you chat securely from evil eyes. Even it helps hide you from hackers, third-party tools, and government & corporations.
The end-to-end encryption-supported app lets you audio, and video call secretly. Moreover, it automatically deletes the delivered message very soon. You can create a private group as well.
10. Private Texting SMS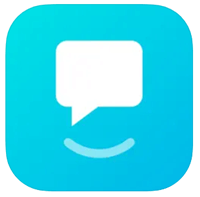 Do you ever want to send an SMS without exposing your number? Private Texting SMS is an app that allows us to send SMS anonymously. Besides this, it also supports image messaging.
It has an excellent feature Caller ID, which helps you to know about the third person you are calling. What's more? You can delete individuals and whole conversations at once. Not only this, but it also gives the option to use either permanent or temporary numbers.