Don't you think you should have some apps to maintain the security of the phone? As it is essential to protect your data. To resolve this issue, we researched and found the best security apps for Android, which will preserve every crucial data of your phone.
Security plays a vital role as it consists of private data that no one will want to share. However, the Inbuilt security function of phones does not provide that many features that you will get from these apps. Sometimes you may want to hide your private pics, apps, and many other things that are only possible with these apps.
List of Top Security Apps For Your Android Smartphone:-
These best android security apps will help you to boost your security in every aspect. From hiding pics to hiding the browser history, you can perform various functions. These apps will help you to hide other apps, videos, images, and also can protect with the passcode. Nowadays, hackers can even steal your data and can hack your devices so you can stay safe through these apps. So let's check out the apps and manage the security of your phone.
1) Google Find My Device
If your phone is lost or stolen, then you can easily track your phone with the help of this app. It will provide you with your phone location through Gmail. The best part of this app is that you can lock your stolen device instantly.
Locking the device will ensure that no one anymore can access your phone. The app is directly associated with the google and tracks the location with the help of google account. 
Download Google Find My Device
2) AppLock
You may have heard the app of this app, as it the best android app for security management. The app will allow you to protect your phone. The provide parental control, which means you can restrict your child's phone if you are a parent.
If you are a teenager and afraid that someone will check your pics or messages, then you can hide or protect the app. The best features of the app are it contains incognito browser, which did not remember browser history.
Download Applock
3) Glasswire
Did your mobile data is ending up quickly? Then don't worry, this app will help you out. The app monitors the internet and wifi usage in real-time. It will help you to save your data by sending alerts on how much your data is used. You can also see the real-time graph, which will tell you how much data you used and on which app. 
Download Glasswire
4) Firefox Focus
The app will help you to surf the internet more privately. With the help of this app, no one can track you as it automatically blocks all online trackers. The best feature of this app is it also blocks all advertisements so you will not get frustrated by any unwanted ads. Deleting history and cookies is so easy because of its user-friendly interface. Your pages will load faster with fewer data through this app.
Download Firefox Focus
5) ProtonVPN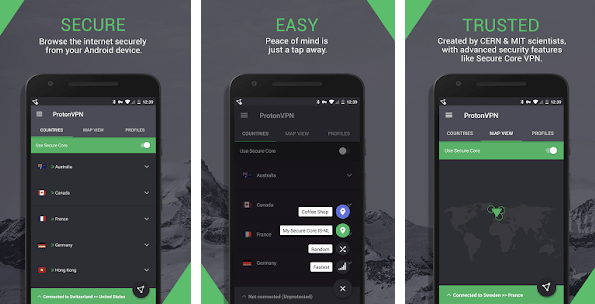 You may have heard about various type of VPN, but this VPN will provide all premium features free. It supports more than ten country locations so that you can change your IP with ten other countries. The app will help you to access the websites which will be blocked by your ISP by changing your IP. 
Download ProtonVPN
6) Signal Private Messenger
Are you finding some private apps to keep your chats secret, then this app is for you? You can chat with your contacts secretly here by hiding their conversations. The app uses the high-end encryption protocol, which helps to maintain the security of your messages. You can also create groups as well as all your friends. The interface of this app is unique, which makes it faster and simple.
Download Signal Private Messenger
7) LastPass Password Manager
Are you get tired of remembering the passwords, then this app will help you to store all your passwords secretly. It is the type of secure vault which allows you to save your login info and other vital details privately. You can also generate secure passwords with the help of this. You can set up the pin or fingerprint lock, which will secure the app, and no one can open the app.
Download LastPass Password Manager
8) Bouncer
This app will help you to give permissions to other apps temporarily. If you want to share location with any other apps just for one time, then this app will provide them with permission temporarily. It will increase the security and battery life of your phone. The app will also warn you if there is any background app to maintain the security. 
Download Bouncer
9) Resilio Sync
If you ever worried about getting data loss of data theft, then don't worry anymore. Resilio Sync is a free service that helps you to create your very own cloud storage. The computer application can turn your PC into a cloud machine where you can send or receive your important files back and forth.
It is a great service for those who don't want to spend a lot of money on online cloud services. Also, it is more secure as your own PC! The app is easy, even for beginners. It's also entirely free.
Download Resilio Sync
10) Tor Project (four apps)
Tor Project is one of the most obvious applications when it comes to privacy and security in android devices. As a Tor client, you can have access via Orfox, Tor Browser, and Orbot, which serves as a proxy server for Tor to remain anonymous.
By using Tor services, you can stay anonymous on the internet and can save yourself from countless scams and frauds. These are all excellent security apps for those who are a little more advanced.
Download Tor Project
11) andOTP
Two-Factor authentication is a must when you're talking about some privacy and security in your smartphone. This app is completely free to use and can provide you second-factor authentication in most of the day to day services.
AndOTP supports the latest TOTP protocol and is so easy to use that android enthusiasts like it very much. It only needs a few permission in the initial setup, which can open aces to multiple security features like backup, google authenticator, etc.
Download AndOTP
12) Authy 2-Factor Authentication
If you have used Google's or Microsoft's authentication services, then you will find Authy much similar to that. You get codes from it which you can use o authenticate for login. It makes the login process so secure that nobody can log in except you even if that have to password!
The great news is that the app also comes with offline support, device syncing, and supports major websites and account types. Also, it is totally free with no ads or in-app purchases.
Download Authy 2-Factor Authentication
13) Nox Security
Nox Security is an all in one security and antivirus app for Android. This free app helps you with file encryption, call and notification blocker, wifi security, antivirus, and many more. It is a very reliable application that takes care of the complete security of your Android device.
In addition, it also works as an app locker and battery-saving master. You can further use it to clear some space on your device by cleaning all the unwanted junk files.
Download Nox Security
14) Lookout Security & Antivirus
Lookout is another complete package of security and antivirus tools for your Android device. It performs multiple jobs at the same time and further works like your security advisor. It looks after your identity theft protection, identity restoration, and insurance, and basic security and antivirus.
Besides, you also get the Find My Phone option, which helps you locate your device even from a distance. It includes vast useful options that are helpful in maintaining the efficiency of your device.
Download Lookout Security & Antivirus